Business Career Guide
Business professionals work in a wide range of economic sectors, including both traditional and fast-growing industries. Furthermore, with rapid advances in technology constantly creating chances to innovate and explore new markets, there are multiple career paths open to graduates with a business degree. Given the number of options available, it can help to know what sort of opportunities exist in this constantly expanding field.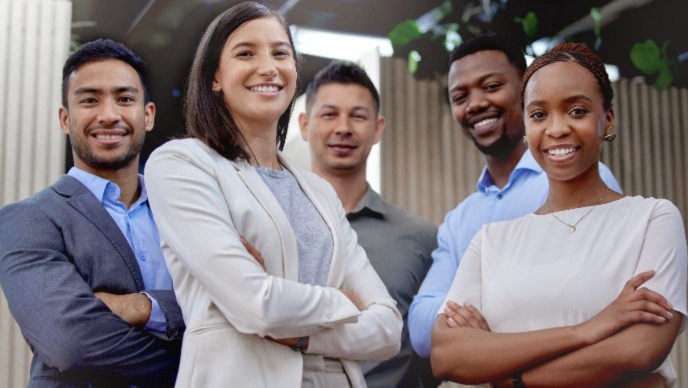 What Jobs Can You Get With a Business Degree?
While they include conventional roles in marketing, human resources, and finance, business occupations are also emerging in areas such as information technology and global supply chain management. These jobs exist in many different sectors, including banking, healthcare, manufacturing, and hospitality, to name a few. Depending on your choice of major, a business degree may therefore prepare you to choose from a myriad of employment opportunities. Below are a few common careers by sub-field.
Business Management Degree Jobs
A business management degree is a flexible credential that is designed to equip you with a general understanding of various business operations. This degree may qualify you for a range of positions.
Finance Degree Jobs
Finance is an exciting business sub-field where individuals forecast profits, identify new investment opportunities, and conduct research on emerging markets. A finance degree may train you to find employment in banking or insurance, as well as many other sectors.
Marketing Degree Jobs
Marketing may be one of the fastest-changing professions in business when it comes to using new technologies to reach customers. A marketing degree can equip you with the most up-to-date training to find employment in this field.
Human Resource Degree Jobs
Individuals who study human resources learn how to effectively utilize a company's workforce. A degree in this business subfield can lead to employment in just about any type of organization as an HR specialist.
Sales Degree Jobs
Degrees in sales train graduates to increase a company's market share. While an education in this subfield is not always necessary to get a job, it can show employers that you have the necessary soft skills to be a successful salesperson.
Other Business Careers
While a conventional path to starting a career in business may entail finding full-time employment with a large corporation or similar organization, it's also possible to strike out on your own with a business degree. For instance, an entrepreneurship major can provide you with the knowledge and skills to start your own company. Alternatively, you may decide to work as a private consultant for a list of curated clients. In other words, there are many different potential business opportunities available to graduates — some of which can give you greater control over your career trajectory.
How Much Can You Make in a Business Career?
Individuals employed in business and finance occupations make an annual median salary of $76,570, which is significantly higher than the economy-wide average of $45,760. However, while they are typically better compensated than the average U.S. worker, salaries for employees vary considerably based on their role and the type of industry they work in.
For example, computer and information system managers make annual median wages of $159,010, and their compensation tends to be relatively uniform across different economic sectors. This may be a reflection of the fact that tech skills are highly valuable in most business settings. On the other hand, human resource specialists earn $62,290 in annual wages, but their pay is markedly different depending on whether they work in healthcare, employment services, or government.
Additional factors such as your level of education and previous experience can also influence your pay. In short, while business professionals, on average, earn higher wages than others, how much you can make with a degree in this discipline depends on multiple factors.
How to Get a Job in Business
The business world can be a fast-paced and competitive place. Additionally, with business being amongst the most popular majors in the country, competition for open positions can be quite stiff when you graduate. But getting a job in business is far from impossible, especially for those who can set themselves apart as qualified candidates to potential employers. Doing so requires possessing the right educational qualification as well as a combination of skills and experience that match a specific role's requirements.
Degrees
A bachelor's degree from an accredited college or university is the minimum requirement for almost every business career. But if you want to distinguish yourself in a competitive labor market, it's important to have a major that is closely associated with your desired career path. For instance, if you want to work in sales, a major in marketing or a similar area will help you stand out when compared to other applicants. Similarly, a human resources degree will better qualify you to find employment in HR rather than finance.
If you're aiming for a middle to high-level position, a graduate degree along with a combination of real-world work experience is typically required. MBAs, for example, allow students to gain hands-on business experience as well as advanced training and can offer a clear path toward positions that require management responsibilities.
Certifications
Certifications are an excellent way to demonstrate to employers that you are an expert in a particular business area. In many cases, they can help you stand out for a job in a sea of well-qualified candidates. Below are some common certifications that can help you advance your business career.
Certified Business Analysis Professional (CBAP) This certification is meant to show proficiency in business analysis. CBAPs are strategic thinkers who are trained to identify new business opportunities while addressing potential challenges.
Project Management Professional (PMP) The PMP certification can signal to employers that you have the knowledge and experience to be an effective leader when it comes to executing business plans in different economic environments.
While it is largely voluntary, you may be required to gain certification to progress in certain business professions. For instance, if you want to further your accountancy career by offering clients audit and tax services, becoming a Certified Public Accountant is necessary.
Skills Required
While technical knowledge in areas such as marketing, finance, or human resources is absolutely essential for jobs in these respective subfields, business professionals also need to have a set of soft skills in order to carry out their daily responsibilities. Below is a list of capabilities that can help graduates show potential employers their ability to thrive in a dynamic business environment.
Business professionals must often interface with colleagues, partners, stakeholders, and customers. The ability to communicate effectively with these groups is therefore essential for success.
Regardless of their size, all businesses routinely face challenges related to supply issues, product management, personnel, and a variety of other operations. Knowing how to recognize these challenges and offer solutions is, therefore, an important trait to have in the business world.
For businesses to remain competitive, they often need to recognize market niches or offer products and services that fulfill an unmet need. Individuals who are creative and can identify new opportunities can be an asset for organizations looking to expand their customer base.
Advice From a Current Business Professional
Jay York is a marketing professional and agency owner with over 12 years of experience. He is the CEO and founder of Grove Brands, a company that helps businesses develop strong storytelling brands and continue to grow through organic digital strategies.
How Would You Describe Your Job?
As the owner of a branding and marketing agency, my job is to lead a team of creative and digital marketers professionals to develop authentic, story-driven brands for our clients and help them grow through organic digital marketing strategies. Running a boutique agency is far more than simply the core of the business––it requires handling countless other functions, including marketing, sales, accounting, invoicing, and more.
How Did You Break Into the Business World? Did You Study Business at the College Level?
My foray into the world of branding and marketing began as the vocalist of a band in the mid-2000's. I developed a love and passion for creating brands that immediately tell a story and then market them through digital means. These were some of the earliest days of social media and internet marketing. This led me to pursue my degree in Marketing at the University of South Florida, and after earning my BS in 2010, I sought out roles to utilize my degree.
This started me off on a career path with roles including marketing coordinator, brand and business dev, social media manager, et al. During this time, I developed my design and branding skills on the side which I was most passionate about, which led me to start my current business.
What Are Some Exciting Developments in Business Recently, and How Can Students Take Advantage of Them?
Business is constantly being impacted by technological advancements, and today, those advancements are happening faster than ever. While there are some core constants in business, having an understanding of popular culture and staying on top of the latest technological trends can open up a world of possibilities for students.
In my industry, for instance, tools that put web design in the hands of designers (and not just developers) are causing a massive shift in how businesses create and manage their websites. Students can greatly benefit from learning these skills––and college is the perfect time to do just that.
What Soft Skills Do You Think Are Needed To Be Successful in This Field?
Communication is absolutely critical in the marketing field, as well as any other. Being able to effectively convey a message––whether to a client, a coworker, a partner, etc.––will get one far. This is something you can work on in school. Whether it's striking up conversations with people you know and people you don't or learning how to write effective emails.
Creativity and a willingness to learn are also core tenants of the marketing world. Creativity is helpful for pursuing more creative aspects of the marketing world, but a willingness to learn will get you far. Because new things are constantly coming, keeping up with them will set you apart.
Frequently Asked Questions About Business Careers
Should You Pursue a Career in Business?
Deciding to pursue a career in business should be a personal decision that first takes into account your life circumstances, financial situation, and other obligations. That being said, there are many strong reasons to work in this field. Chief amongst them is a steady supply of future jobs as well as salaries that are well above the U.S. economy-wide average.
Moreover, given the constantly evolving nature of the economy, working in business can result in an exciting career where you're always challenged and have multiple opportunities to grow personally and professionally. You should, therefore, absolutely consider pursuing a business career if you want to explore multiple job opportunities in a variety of economic sectors.
Related Articles
The Highest-Paying Business Degrees
Learn about the business degrees that can lead to the highest salaries for graduates and how you can choose the right one for you.
Career Guides
Discover your dream job and what you need to do to get it, including all educational requirements. Make the best choice for your future by learning more.