Biology Degree Jobs: Top Careers by Pay & Growth
Biology is the study of life, and students learn how body systems work, grow, and interact to keep organisms functioning and able to reproduce. Specializations focus on different types of life: human biology (including genetics), zoology, cellular and molecular biology, and botany. Biology students learn about the atoms that comprise living creatures, the bodies built from those atoms, and the ecosystems of creatures living together in groups.
We used data from the U.S. Census Bureau and the Bureau of Labor Statistics to report on the highest earning, fastest growing, and most popular occupations for biology degree graduates. Learn more about the data and how we used it to create this resource here.
Learn more about the best jobs for this degree
---
Highest Earning Jobs for Graduates with a Biology Degree
A B.S. in biology can open the gates to a range of high earning careers. At the upper end are surgeons and other doctors, followed by dentists: if you're willing and able to pursue the necessary higher degrees, you can join professions with median salaries well over $150,000 a year. Pharmacists are also paid well but require advanced schooling and licensure. Medical and health services managers earn a median salary of $100,000 and often require only a B.S. at the entry level, though a master's degree can help you qualify for higher-paying positions.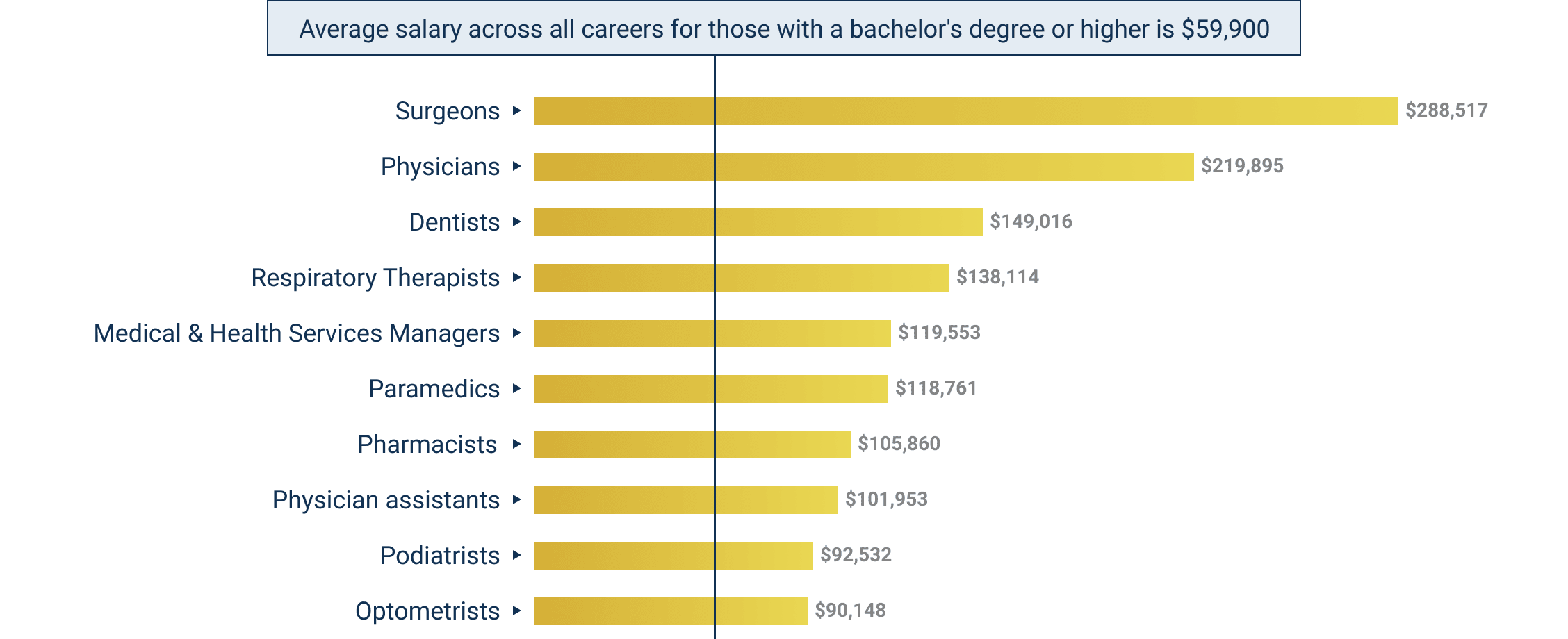 ---
Fastest Growing Jobs for Graduates with a Biology Degree
A number of biology-related job categories are projected to grow very quickly over the next 10 years. At the upper end are nurse practitioners (NPs) with a staggering 51% growth rate through 2029. Third in line are physician assistants, whose 31.3% growth is lower than NPs but still far ahead of the U.S. average. Respiratory therapists and medical assistants also look to enjoy healthy job growth. These numbers tell a story when compared to a category that's noticeably absent from this list: physicians. A coming shortage of doctors in the U.S. has led to the consequent growth in jobs that fulfill some of the same functions — for example, NPs have developed into primary-care providers with the ability to prescribe medication.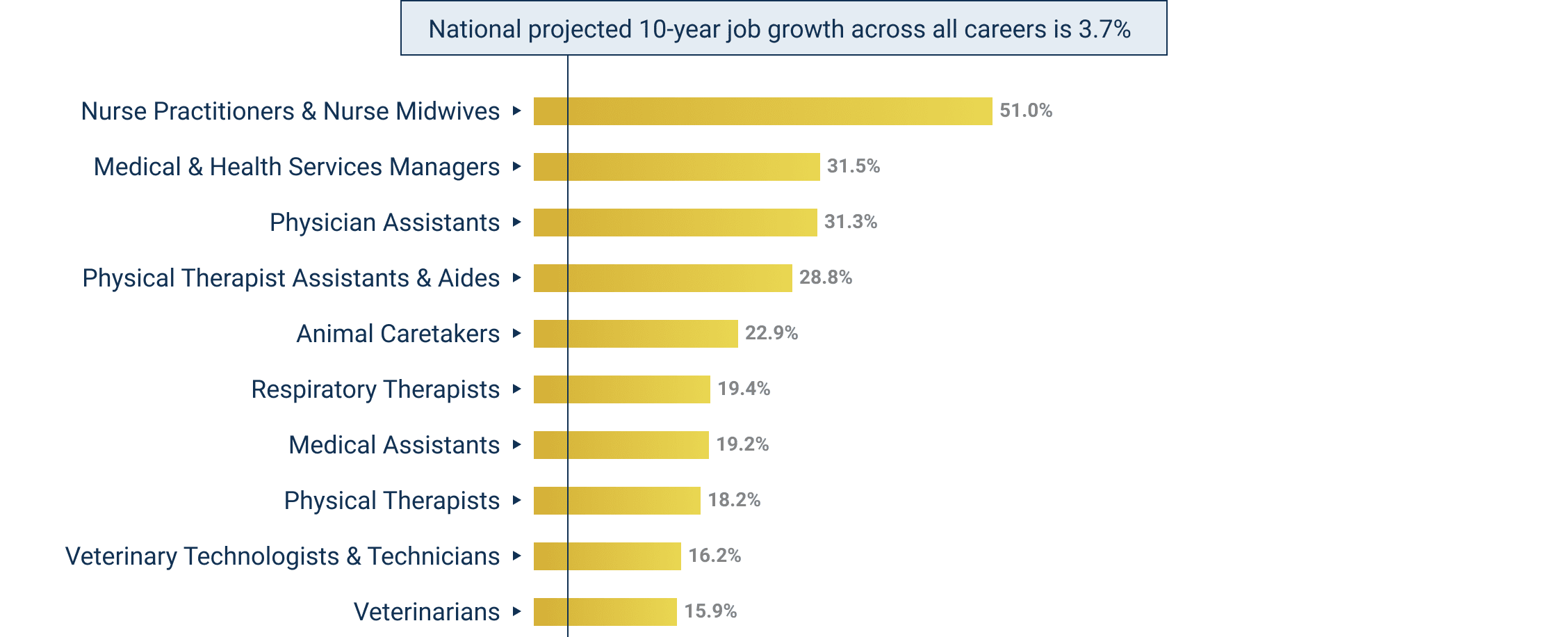 ---
Biology Degree Career Tracks
Biology is a versatile area of study, and graduates are prepared to enter many fields. Two notable career tracks (based on salary and projected job growth) are healthcare and education. A bachelor's degree in biology is the first step toward the highest-paying jobs in healthcare: physicians, dentists, and pharmacists require years more schooling to begin practice. Some of the fastest-growing jobs require only an associate or bachelor's degree for entry, including health practitioner support technician and clinical laboratory technician. In the field of education, biology graduates might become teachers in primary or secondary education settings, though further education and certification will be required. Some students go on to earn their doctorates in biology, where they can become professors and conduct meaningful research.
| Field | Jobs for Biology Majors |
| --- | --- |
| Health Care | Clinical laboratory technician, dentist, health practitioner support technician, health services manager, pharmacist, physician, registered nurse, therapist |
| Education | Education administrator, elementary and middle school teacher, secondary school teacher |
Top Skills For Biology Graduates
Research
Medical professionals at all levels of care need precise patient histories and accurate test results in order to properly diagnose and treat illness or injury. They also need to consult reliable sources when presented with unfamiliar situations or groupings of symptoms. Students develop these habits in college by consulting existing literature, taking careful measurements, and following detailed steps using the scientific method.
Problem-solving
This is another important skill developed during a biology degree, which emphasizes identifying a problem, proposing a solution to it, and taking discrete steps to reach that goal.
Technical savvy
Professionals in all health care settings use many more technical devices than in previous generations, including complex diagnostic instruments and computers with specialized software. Teachers also use the latest instructional technology to help their students learn and acquire technical skills of their own.
Communication
This skill isn't necessarily developed by studying biology, but it's important to most career tracks in health care and education. Diagnostic technicians need to give clear instructions to patients, doctors and dentists need to talk on the level of non-expert patients (who are often in distress), and teachers must make complex concepts understandable and engaging.
Most Popular Jobs for Graduates with a Biology Degree
Some jobs that are popular with biology majors require only a bachelor's degree. The largest category is clinical laboratory technologists and technicians, who use sophisticated equipment to analyze biological samples in a variety of laboratory settings, including hospitals, private clinics and doctor's offices, and colleges and universities. The median pay for these professionals is about $53,000 a year, and the projected 7.3% growth in jobs is about twice the average for all U.S. occupations. Not all university labs are dedicated to biological research, but biology provides the best foundation for lab techs who want to work in health care.
| Career Type | Average Annual Salary | Projected Job Growth 2019-2029 |
| --- | --- | --- |
| Physicians | $219,895 | 4.0% |
| Dentists | $149,016 | 2.6% |
| Physical scientists | $76,820 | -3.1% |
| Clinical laboratory technologists and technicians | $48,789 | 7.3% |
| Life scientists | $86,768 | 5.9% |
| Pharmacists | $105,860 | -3.3% |
| Biological scientists | $61,442 | 3.2% |
| Postsecondary teachers | $61,682 | 7.4% |
| Physician assistants | $101,953 | 31.3% |
| Veterinarians | $90,042 | 15.9% |
---
Most Lucrative Entry-Level Biology Degree Jobs
A bachelor's degree in biology can lead to a diverse array of career options, but the most lucrative entry-level positions are usually found in the lab. Here are three options for those who've earned a bachelor's degree in biology.
Clinical laboratory technologist
Clinical laboratory technologists, also known as medical laboratory scientists, are an essential component of the health care industry. Working in labs, using sophisticated scientific equipment, they analyze blood, urine, and tissue samples, looking for abnormalities that can help inform doctors about a patient's health conditions. In larger lab facilities, clinical laboratory technologists may specialize in researching specific conditions, such as cancer or autoimmune diseases, on a broader scale.
---
Environmental scientist
Environmental scientists may be found working in labs or outdoors, collecting samples and analyzing data about specific aspects of the environment, such as air pollution, water contamination, or soil erosion. Some are employed by government agencies, helping to identify problems and solutions that become policy or law. Others work with businesses and organizations, helping ensure that the organizations comply with laws and minimize their impact on the environment.
---
Microbiologist
Microorganisms, which include bacteria, viruses, algae, fungi, and some parasites, are all around us and within us. Microbiologists use complex instruments and computers to study these microorganisms and compile data about them. Microbiologists' work is vital to many aspects of our daily lives, from identifying treatments for infectious diseases to improving our food supply to addressing issues in the global environment.
---
Frequently Asked Questions About Jobs for Biology Graduates
What can you do with a bachelor's degree in biology?
A B.S. in biology lays a foundation for a huge variety of career paths. With the relevant license, graduates can pass on their knowledge in a classroom, assess patients in a critical care facility, run delicate machinery during clinical lab trials, or prepare an orthodontics patient for surgery. New graduates may find lucrative entry-level career opportunities as clinical laboratory technologists and environmental scientists.
A B.S. in biology might also show a graduate-school admissions officer that you're serious about a career requiring an advanced medical or scientific degree. It can also allow you to work in a lab or medical setting while you pursue that higher degree.
Is biology a good degree?
In general, earning a bachelor's degree leads to more earnings and less unemployment over the span of a career. And our list of highest-paying biology jobs is full of careers that provide salaries well above the U.S. average. If you earn a biology B.S. and work in a fast-growing sector, ask your employer whether they would partially fund a further degree. Many health care companies provide tuition assistance, and one research organization found that Cigna earned a return on its investment in employee education.
The Federal Reserve Bank of New York examined U.S. unemployment rates by college majors, and biology is firmly in the middle of the list of majors at 4.2%. The Miscellaneous Biological Science category has lower unemployment at 2.7%, and biochemistry offers a very low rate of 1.8%. This may be because biology majors often pursue jobs in medicine and health care, which are among the fastest-growing sectors in the labor market.
Professional Associations
American Nurses Association (ANA) - The ANA seeks to advance the nursing profession by advocating for members, encouraging healthy working environments, and maintaining high professional standards.
Related Articles
2023 Best Online Biology Degrees
Find the best online biology degrees in 2023 by exploring our list of colleges ranked by popularity.
15 Highest Paying Jobs for College Graduates
Discover the 15 highest paying jobs for college graduates and see the median annual salary, career outlook, and requirements for each position.