What Are the Best Certifications to Get a Job?
Many careers require professional certification to demonstrate your ability to perform your job well — these certifications may also be the precursor to licensing where required. While many jobs do not require certification, becoming certified and earning credentials may help increase your marketability, so you remain competitive and keep your skills relevant.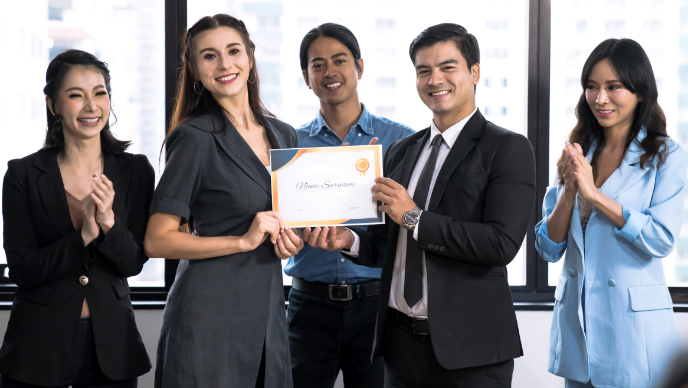 What Are Professional Certifications?
Professional certification shows you are competent and qualified to do your job. Professional organizations and other nongovernmental bodies award them. Earning a certification means you've achieved competency in a narrow, specialized skill set within your field by passing an examination.
Earning a certification means you've achieved competency in a narrow, specialized skill set within your field by passing an examination.
While a certificate shows you've accomplished what's needed to complete an educational, trade, or vocational program, certification shows expertise in the practical application of your training. You may also receive credentials after passing a certification exam — initials designating the certification — confirming your achievements.
Certification may also be necessary for licensure to practice legally. For example, a public accountant must pass a certified public accountant examination to become a CPA and apply for a state license. Likewise, teachers generally need a license or certification to teach in public schools legally. Additionally, certain occupations in health care may require certification, or employers may prefer it.
Types of Professional Certifications
There are three main types of certifications depending on the career you may choose, the industry, and job development goals.
Profession-wide certifications indicate that individuals in fields such as medicine, teaching, accountancy, or business have competencies in skills meeting professional standards. These certifications apply to a profession as a whole, making them extremely portable.
Product-specific certifications are common in industries such as computer science and information technology. These certifications validate proficiencies in areas such as software applications, programming languages, and coding. They may need to be more regularly maintained as these technologies evolve rapidly.
Corporate or internal certifications may be specific to one company. An employer may award their own certifications upon completion of training or other internal programs. They may not hold much value outside of the organization and therefore have limited portability.
Popular Professional Certifications
We've identified several popular certifications within these categories that may be a professional requirement or beneficial to your career because they demonstrate your proficiency.
Accounting and Finance
There are certifications within accounting that you may consider after earning your accounting degree. The American Institute of Certified Public Accountants (AICPA) offers several specialty certifications. The most popular is that of Certified Public Accountant (CPA) — only credentialed CPAs can complete Security and Exchange Commission (SEC) filings. You may be eligible to take the CPA exam once you graduate with a bachelor's degree in accounting and a minimum of 150 credit hours, though requirements may vary by state.
Other popular accounting and finance certifications include:
Computer Technology
There are numerous product-specific certifications you can earn in technology. They generally don't have education requirements but may require hands-on experience. Some of the most popular and in-demand information technology certifications include:
Health Care
As the health care field continues to grow and outpace other industries, so does the need for qualified — and often certified — professionals. There are certifications available for those in clinical and administrative roles, such as medical assistants and medical billers and coders. For example, the American Health Information Management Association (AHIMA) is responsible for administering several certifications, including the Certified Coding Specialist — Physician-Based (CCS-P), Certified Coding Associate (CCA), and Registered Health Information Technician (RHIT) credentials.
Other health care certifications include:
Human Resources
Some of the most coveted jobs in human resources can benefit from certification. The most prestigious certifications are offered through the Society for Human Resource Management (SHRM).
Project Management
Project managers see a project through from start to finish, ensuring timely completion, budget adherence, and accuracy — they work in almost all industries and specialties. The Project Management Professional (PMP) certification is one of the most respected certifications. It can be earned after graduating with a bachelor's degree and acquiring at least 36 months of work experience leading projects and 35 hours of project management education/training.
Some colleges and universities also offer project management certifications, but these may not be as widely- recognized as the PMP. Always research these programs before registering or ask prospective employers which credential they prefer.
Where Do I Get Professional Certifications?
Professional organizations typically offer certifications because they have their pulse on occupational standards and employer expectations. You usually do not need to be a member of these associations, but membership can reduce your exam fees.
Professional organizations typically offer certifications because they have their pulse on occupational standards and employer expectations.
Product developers may also offer certification for users of their products. This includes software, programming, coding, and information system technologies. For example, Google and Adobe provide certifications for their products, as do Microsoft and Cisco.
Renewing Professional Certifications
Most professional certifications require renewal for a small fee. You usually have to renew your credentials every two to three years. To be eligible for renewal, you may have to complete continuing education units (CEUs) to keep your skills relevant and up to date. Product-specific certifications may require renewal with each update which may occur frequently.
How Much Do Professional Certifications Cost?
The cost of professional certifications varies from profession to profession. However, it usually costs several hundred dollars to pay for the exam and fees. For example, it costs about $500 to take the SHRM certification exams and roughly the same for the PMP. In contrast, taking the CPA exam is more expensive, broken up into four sections costing a little more than $200 each.
10 In-Demand Careers With Professional Certifications
We've found several careers through the U.S. Bureau of Labor Statistics (BLS) that are in demand and require or prefer certification. These jobs typically have higher-than-average job growth through 2031, and many pay higher than average salaries, though your earnings potential may depend on where you live. Certifications can also be the gateway to career advancement.
Annual Median Salary:
$93,000
Degree: Bachelor's degree in business or a related field, sometimes an MBA
Certification: Not required, but the Certified Management Consultant credential may boost marketability.
These professional analysts who are sometimes called consultants help organizations become efficient. They advise senior management about how to cut costs and increase revenue.
Annual Median Salary:
$38,660
Degree: Does not require a degree but may require completing a postsecondary certificate of completion
Certification: Some states require certification for entry or advancement and the Dental Assisting National Board (DANB) offers certification opportunities
Dental assistants duties may vary from office to office, but generally include assisting dentists during oral procedures, recordkeeping, and scheduling. They may also assist patients with billing and payment processing.
Annual Median Salary:
$36,930
Degree: Does not require a degree but does require completing a postsecondary certificate of completion
Certification: State-level certification is required and some states require national certification through the National Registry of Emergency Medical Technicians (NREMT)
Society relies on the services of trained EMTs and paramedics to help during medical emergencies. They respond to 9-1-1 calls, assess conditions, and administer treatments to stabilize patients during transport to emergency rooms and hospitals.
Information Security Analyst
Annual Median Salary:
$102,600
Degree: Bachelor's in computer science
Certification: Though not required, certification such as CompTIA Security+ or those offered through (ISC)2 may be preferred by employers
Information security analysts administer security measures to secure and protect an organization's computer networks and systems.
Interpreter and Translator
Annual Median Salary:
$49,110
Degree: Bachelor's degree, preferably in the language they will be translating
Certification: Certification such as those offered from the Registry of Interpreters for the Deaf (RID), the American Translators Association (ATA), or the Certification Commission for Healthcare Interpreters (CCHI) may make you more competitive
Interpreters and translators are fluent in at least one other language besides English. This can include a foreign language or American Sign Language. They can read, write, and speak effortlessly in both. They may work in various environments including nonprofits, hospitals and clinics, schools, and public service.
Annual Median Salary:
$77,030
Degree: Bachelor's degree in supply chain management or related field
Certification: Not required for most positions, but certification from the Association for Supply Chain Management (ASCM) may be preferred. Certification from the Defense Acquisition University (DAU) is required for Department of Defense acquisitions
Logisticians analyze and coordinate an organization's supply chain. They manage a product's life cycle, maintain business relationships with suppliers and clients, and may propose cost and time-saving measures in the transport of goods.
Annual Median Salary:
$37,190
Degree: Does not require a degree but does require a postsecondary certificate of completion
Certification: Generally not required, but employers may prefer certifications such as those offered by the American Association of Medical Assistants (AAMA), American Medical Technologists (AMT), or the National Center for Competency Testing (NCCT)
Medical assistants are often the people who greet you and prepare you for your medical visit at the clinic or physician's office. They complete administrative and clinical tasks under the supervision of senior medical staff. Medical assistants measure vital signs, schedule appointments, enter patient records into a database, and prepare samples for laboratory tests.
Annual Median Salary:
$37,380
Degree: Does not require a degree but does require a postsecondary certificate of completion
Certification: Almost all employers require certification through organizations such as the National Center for Competency Testing (NCCT), the National Healthcareer Association (NHA), the National Phlebotomy Association (NPA), or American Medical Technologists (AMT)
Phlebotomists work in various inpatient and outpatient medical environments drawing blood for tests, transfusions, research, and blood donations. They gather and sterilize medical instruments used for blood draws and keep work areas clean and sanitary.
Substance Abuse, Behavioral Disorder, and Mental Health Counselor
Annual Median Salary:
$48,520
Degree: Bachelor's degree at a minimum, though some may require a master's degree
Certification: Certification requirements can vary by state and information can be found through the National Board for Certified Counselors.
Substance abuse counselors — also called substance use disorder counselors — advise individuals who suffer from substance use disorders, addictions, eating disorders, and mental health issues. They develop, recommend, and review treatment goals and plans with their clients.
Annual Median Salary:
$56,260
Degree: Does not require a degree but does require a postsecondary certificate of completion
Certification: While there is no industry certification, employers may prefer to hire those who are certified in areas such as electrical safety, tower climbing, and self-rescue
Wind turbine technicians install, maintain, and repair wind turbines. They collect turbine data for testing, research, and analysis, and troubleshoot electrical, mechanical, and hydraulic components and systems.
Are Professional Certifications Worth It?
Professional certifications can be worth it to set yourself apart from your competition, catch the eye of prospective employers, and help with job growth. They can be inexpensive yet help you demonstrate your invaluable skills to employers. In addition, you can study and take a certification exam in a short period which may be convenient and financially sound.
However, a certification's worth depends on your career goals, budget, and employer demand. Therefore, before you embark on a certification path, you may want to ask yourself a few questions.
Is the certification reputable?
There are a lot of certifications offered through various platforms online. It's imperative to ensure that the certification you are interested in is reputable, recognized, and valued by employers. Research the organization offering certification before registering and check career sites such as LinkedIn to see if others hold the same certification and what they do with it.
Will the certification add value to my career?
Aside from jobs requiring certification, some certifications can increase your marketability even though they may not be necessary. However, make sure this is the case. Check with prospective employers to see if they see value in the certification or if they would rather see you demonstrate the practical application of your skills through work experience. You don't want to waste time and money on a certification that may be unnecessary.
How quickly will the certification become outdated?
You'll have to renew your certification periodically, but how often? For example, certifications in high-tech may quickly become outdated because technology rapidly evolves. Expecting to renew a certification every couple of years is reasonable, but having to renew a certification more frequently may become an inconvenience unless it's an employer requirement.
FAQs About Professional Certifications
What Does Professional Certification Mean?
---
A professional certification means that you have proven your competency within your profession by passing an exam to earn credentials. It goes beyond earning a degree or certificate of completion and shows you can effectively apply your skills to meet professional standards.
What Are the Best Professional Certifications?
---
The best certification will be the one that helps you meet your career goals. However, some of the best certifications you can get include the Project Management Professional (PMP) certification, certifications offered by the Society for Human Resources Management (SHRM), and those in accounting, such as the Certified Public Accountant (CPA) designation.
Do Professional Certifications Help?
---
A professional certification can help with job growth and potential salary increases. Certification shows employers you perform your job competently and apply your skills appropriately to meet professional standards. It can help you stand out from the crowd of your peers and gain a competitive advantage in the job market.
What Certifications Can I Get Online for Free?
---
Bottom Line
Professional certifications can lead to numerous jobs in high-growth fields. You can earn certifications through massive open online course providers (MOOCs), product developers, and even the organization for which you may already work. They can often be an affordable and convenient way to increase skills which can help with job development so you can meet your career goals.
Related Articles
Guide to Trade School Careers
Trade school careers are available in a variety of fields. Learn about the trades, find out how to enter a trade job, and see the salary and job outlook.
Business Career Guide
Learn about a career in business including potential careers and salaries, typical job requirements, and a business professional's own journey in our guide.