Best Online Community Colleges in Texas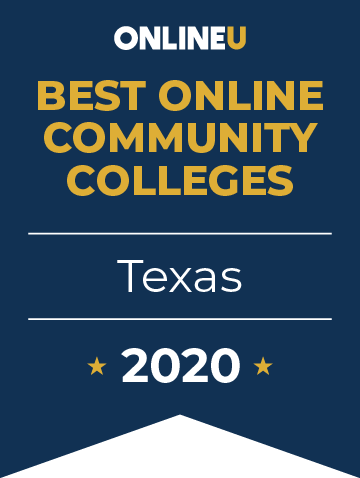 Rank
School

Annual Tuition

Locations

# 1

South Texas College

$2,310

McAllen

(and 2 others)

# 2

Tyler Junior College

$2,670

Tyler
# 3

Navarro College

$1,350

Corsicana

(and 2 others)

# 4

McLennan Community College

$3,348

Waco
# 5

Blinn College

$3,300

Brenham
# 6

Del Mar College

$3,260

Corpus Christi
# 7

Central Texas College

$3,390

Killeen
# 8

San Antonio College

$2,970

San Antonio
# 9

Palo Alto College

$5,100

San Antonio
# 10

St Philip's College

$2,970

San Antonio
# 11

Dallas College Cedar Valley Campus

$4,050

Lancaster
# 12

Trinity Valley Community College

$1,170

Athens
# 13

North Central Texas College

$1,710

Gainesville
# 14

College of the Mainland

$3,546

Texas City
# 15

Lone Star College System

$1,470

The Woodlands

(and 6 others)

# 16

Panola College

$2,520

Carthage
# 17

Wharton County Junior College

$2,790

Wharton
# 18

Northwest Vista College

$2,970

San Antonio
# 19

Laredo Community College

$1,500

Laredo
# 20

Tarrant County College District

$1,920

Fort Worth
# 21

Kilgore College

$1,530

Kilgore
# 22

Alvin Community College

$1,380

Alvin
# 23

Coastal Bend College

$2,100

Beeville
# 24

Austin Community College District

$2,550

Austin

(and 2 others)

# 25

Brazosport College

$2,715

Lake Jackson
2020 Online Community Colleges in Texas - Ranking Details
For each school, we conducted manual research to provide prospective students with more details about the schools' online programs. Explore online degrees offered and accreditation information below.
Frequently Asked Questions About Online Community Colleges in Texas
Overview of Online Community Colleges in Texas
As the second most populous state in the country, Texas is home to 50 community college districts that collectively serve over 700,000 students every year. With an enrollment of 74,300, the Lone Star College System is the largest of these institutions. Some two-year colleges in the state also offer bachelor's degrees. Additionally, in 2019, lawmakers enacted legislation to make it easier for students to transfer community college credits into a four-year program as part of the 60X30TX initiative to increase access to higher education. Students interested in pursuing an associate degree can also take advantage of various state-sponsored programs that aim to help Texans receive a college education and gain employment after graduating.
Students interested in pursuing an associate degree can also take advantage of various state-sponsored programs that aim to help Texans receive a college education and gain employment after graduating.
Texas students can enroll in fully online programs for their associate degree and complete classes with either part- or full-time schedules. According to the Texas Comptroller of Public Accounts — an agency that oversees the state's financial functions — the most popular degree and certificate subjects are in the "liberal arts and sciences" alongside "general studies and humanities." A large proportion of students also pursue associate degrees in healthcare-related fields. Additionally, while enrollment in bachelor's programs has been steadily declining in recent years, Texas residents are increasingly attending community college. In 2020, enrollment in two-year colleges surpassed that of four-year institutions for the first time since 2004.
It's important to verify an online college's accreditation to ensure it's a high-quality institution. To learn more, visit OnlineU's comprehensive accreditation hub.
Cost of Online Community Colleges in Texas
With students paying an annual in-state tuition rate of $2,270, Texas is one of the most affordable states to attend community college in the country. Even out-of-state learners pay roughly $2,000 below the national average to attend two-year institutions in Texas.
Attending community college through distance learning is typically less expensive than the in-person route because students can avoid certain costs, such as those related to relocation, daily transport, and on-campus housing. Texas students can further reduce the cost of higher education by completing college coursework while in high school through a dual enrollment program. Other options include federal and state work-study programs, which allow individuals to offset tuition costs by working part time and simultaneously earning their degree. Lastly, individuals with certain disabilities or those who face difficult life circumstances can apply for tuition exemptions and waivers.
Students can explore College for All Texans — a state-sponsored website — for more information on how to afford online community college.
Financial Aid for Community College Students in Texas
Like their on-campus peers, online students can apply for need- and merit-based federal, state, and private financial aid. Distance learners should consider these options before applying for student loans, as they don't have to repay gift aid. To apply for financial assistance, students need to fill out the Free Application for Federal Student Aid (FAFSA), an online form that gathers an individual's personal information to determine whether they qualify for grants and scholarships. Undocumented, or non-citizen, students are ineligible to submit the FAFSA but can still apply for aid through the Texas Application for State Financial Aid. Below is a brief list of state-sponsored education grants for Texas residents.
Students attending or planning to enroll in a public two-year college can apply to the TEOG. Award amounts range from $1,711-$3,238 per semester, depending on the type of institution they attend. Students must meet various academic and coursework requirements to be eligible.
The TPEG grant provides funds to Texas students based on their financial need. Students need to register for Selective Service in order to be eligible.
Those pursuing their first associate degree can receive up to $3,497 per year through the TEG. Applicants must register for Selective Service, be enrolled at least "3/4 time," and demonstrate financial need to receive funds.
Employment Outlook in Texas
With one of the fastest growing economies in the nation, Texas continues to attract businesses and skilled workers from around the world. Recent growth has been driven by gains in the oil and gas industry, which accounts for 15% of the economy, as well as an influx of tech companies making Texas their homebase. Given this, the Texas Workforce Commission projects a 12.7% increase in jobs across all industries in the state through 2028. These openings are largely expected in healthcare and biosciences, IT, and professional services.
The Texas Workforce projects a 12.7% increase in jobs across all industries in the state through 2028.
Careers for Texas Community College Graduates
An online associate degree or community college education can help someone gain an entry-level position in one of Texas' growing industries. With the state's largest employers including many well-known companies — such as American Airlines, Dell, BP, Toyota, and JP Morgan — graduates can pursue a wide range of careers depending on their education. According to BLS data, the highest paying jobs are in healthcare and IT. While some professions in these sectors require a bachelor's degree, associate degree holders may still qualify for certain entry-level positions that are expected to grow as fast, or even faster, than the U.S. average of 8%.
Below is a list of potential careers for Texas students with an associate degree, along with salary and job outlook data from the BLS.
Related Articles
Best Online Colleges in Texas
Compare the best online colleges in Texas. Top schools include UT Permian Basin, Midwestern State University, and Texas Tech University.
Best Online Colleges in Michigan
There are a number of online schools in Michigan offering degrees and programs. These are the best schools, ranked based tuition rates and alumni salaries.