2020 Best Online Community Colleges in Pennsylvania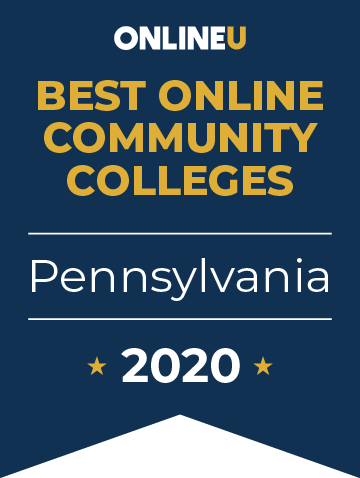 Rank
School

Annual Tuition

Locations

# 1

Bucks County Community College

$5,115

Newtown
# 2

Montgomery County Community College

$4,464

Blue Bell
# 3

Community College of Allegheny County

$6,960

Pittsburgh

(and 2 others)

# 4

Northampton County Area Community College

$3,210

Bethlehem
# 5

Lehigh Carbon Community College

$3,180

Schnecksville
# 6

Westmoreland County Community College

$3,990

Youngwood
# 7

Harrisburg Area Community College-Harrisburg

$5,407

Harrisburg
# 8

Delaware County Community College

$3,750

Media

(and 3 others)

# 9

Community College of Philadelphia

$4,929

Philadelphia
# 10

Pennsylvania Highlands Community College

$4,526

Johnstown
2020 Online Community Colleges in Pennsylvania - Ranking Details
For each school, we conducted manual research to provide prospective students with more details about the schools' online programs. Explore online degrees offered and accreditation information below.
This website offers school details to prospective students as an informational resource. The appearance of a school listing on this website should not be interpreted as an endorsement of the school by this site.
Related Articles
Best Online Colleges by Salary in Texas
Compare the best online colleges by salary in Texas based on data from the U.S. Department of Education. The top school in 2021 is UT Permian Basin.
2020 Best Online Community Colleges in California
These are the best community colleges in California offering online degrees. Compare tuitions for the top-ranked schools.