Best Online Community Colleges in New York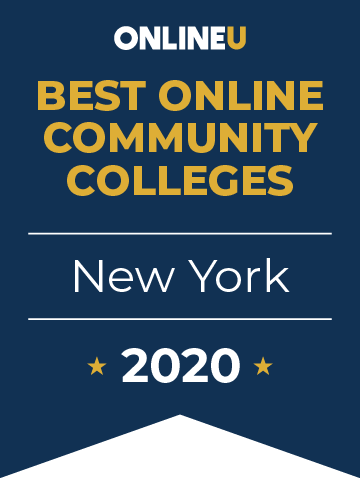 New York is home to one of the largest community college systems in the U.S., providing many opportunities to earn online Associate of Arts, Associate of Science, or Associate of Applied Science degrees. In addition to these associate degrees, students can complete general education requirements necessary for transfer to a bachelor's degree program. Students in New York choose online community colleges because of convenience, affordability, and breadth of programs in such fields of study as accounting, cybersecurity, psychology, travel and events management, informatics, and social or health sciences. Of the schools on this list, 16 cost less than $5,000 per year. Read more about online community colleges in New York and how much they cost, what it's like to attend, and potential career opportunities after graduation.
View our methodology for more details or learn more about OnlineU.
| Rank | School | Annual Tuition | Locations |
| --- | --- | --- | --- |
| # 1 | Hudson Valley Community College | $4,800 | Troy |
| # 2 | Herkimer County Community College | $4,890 | Herkimer |
| # 3 | Cayuga Community College | $4,844 | Auburn |
| # 4 | Monroe Community College | $4,380 | Rochester |
| # 5 | Broome Community College | $4,728 | Binghamton |
| # 6 | Suffolk County Community College | $5,470 | Selden |
| # 7 | Ulster County Community College | $4,680 | Stone Ridge |
| # 8 | Finger Lakes Community College | $4,722 | Canandaigua |
| # 9 | Rockland Community College | $4,912 | Suffern |
| # 10 | North Country Community College | $6,572 | Saranac Lake |
| # 11 | Niagara County Community College | $4,560 | Sanborn |
| # 12 | Adirondack Community College | $4,800 | Queensbury |
| # 13 | Tompkins Cortland Community College | $5,100 | Dryden |
| # 14 | Fulton-Montgomery Community College | $4,900 | Johnstown |
| # 15 | Genesee Community College | $4,350 | Batavia |
| # 16 | SUNY Corning Community College | $4,872 | Corning |
| # 17 | Clinton Community College | $5,518 | Plattsburgh |
| # 18 | Sullivan County Community College | $5,016 | Loch Sheldrake |
| # 19 | Erie Community College | $4,900 | Buffalo |
| # 20 | Onondaga Community College | $4,990 | Syracuse |
| # 21 | Jefferson Community College | $4,920 | Watertown |
| # 22 | Jamestown Community College | $5,040 | Jamestown |
2020 Online Community Colleges in New York - Ranking Details
For each school, we conducted manual research to provide prospective students with more details about the schools' online programs. Explore online degrees offered and accreditation information below.
Overview of Online Community Colleges in New York
New York boasts two community college systems: the State University of New York (SUNY) and the City University of New York (CUNY). SUNY has 30 community colleges statewide serving 174,000 students, many of whom enroll in the 324 online associate degree programs currently offered. CUNY serves approximately 91,000 students with seven community colleges and 12 online associate degree programs in the five boroughs — Manhattan, Staten Island, Brooklyn, Queens, and the Bronx — that make up New York City.
A community college is a good place to start exploring career options and degree paths. Students enroll in SUNY and CUNY to earn associate degrees to boost their prospects in the highly competitive New York job market. Many save money by completing their first two years of college and general education credits before transferring to a bachelor's degree program. Most online associate degree courses are worth three credit hours. It takes full-time students approximately two years to complete a 90-credit associate degree. Part-time students often take longer to finish.
Students enroll in SUNY and CUNY to earn associate degrees to boost their prospects in the highly competitive New York job market.
Some community colleges in the SUNY and CUNY systems have noted higher graduation and transfer rates. Because tuition and other factors vary by campus, always check individual campus information when doing your research.
How Much Does it Cost to Attend Community College in New York?
Average yearly tuition and fees in New York are $5,390 for in-state students and $9,340 for out-of-state students — much higher than the $3,730 national average for full-time, in-district students. SUNY charges tuition based on state residency for online programs. However, CUNY charges in-state tuition for all online programs regardless of residency, which helps students save money.
---
The State of New York enacted the first accessible college tuition program in the U.S. with the Excelsior Scholarship to address affordability. The Excelsior Scholarship provides free community college tuition for approximately 940,000 individuals and families earning less than $125,000 a year.
---
Students who meet the following specific requirements may qualify for the Excelsior Scholarship:
Established New York residency
Enrollment in a SUNY or CUNY community college
Completion of 30 credit hours per year
Continued residency in New York after graduation
Federal financial aid can also help pay for tuition. Students should first fill out a Free Application for Federal Student Aid (FAFSA) to see if they qualify for federal grants, scholarships, work study programs, or student loans. Federal student loans offer lower interest rates than traditional loans through private lenders and have more flexible repayment options.
Attending an Online New York Community College
Working students may consider online learning as a convenient way to complete their education. Classes are often small in size and asynchronous, so students can log in anytime and virtually anywhere to complete tasks. Distance learning programs may also appeal to students who are not interested in traditional campus life and want to focus on their classes and career goals without distraction.
Those eager to gain industry-specific job skills without completing an associate degree or general education courses for transfer can earn certificates online in areas of study such as culinary arts, medical billing and coding, dental assisting, computer networking, and court reporting. Community college certificate programs may be a convenient way to pursue higher education and gain marketable skills.
SUNY and CUNY have a state-recognized Transfer Guarantee Program for students transferring within these systems, allowing students who meet general education requirements to transfer from a two-year college to a four-year program as juniors. Both SUNY and CUNY systems offer several online bachelor's and graduate programs at their four-year universities. Students transferring to schools outside these systems would still have standard enrollment requirements to meet, including official transcripts, a minimum 2.0 GPA, an application fee of approximately $50, and sometimes a letter of intent.
Careers After Community College in New York
While earning an online associate degree in New York can prepare students for work anywhere, many stay local after graduation. The SUNY and CUNY online community college programs help students acquire the in-demand skills New York employers desire. Students can network with peers and faculty online to make professional connections and boost career opportunities.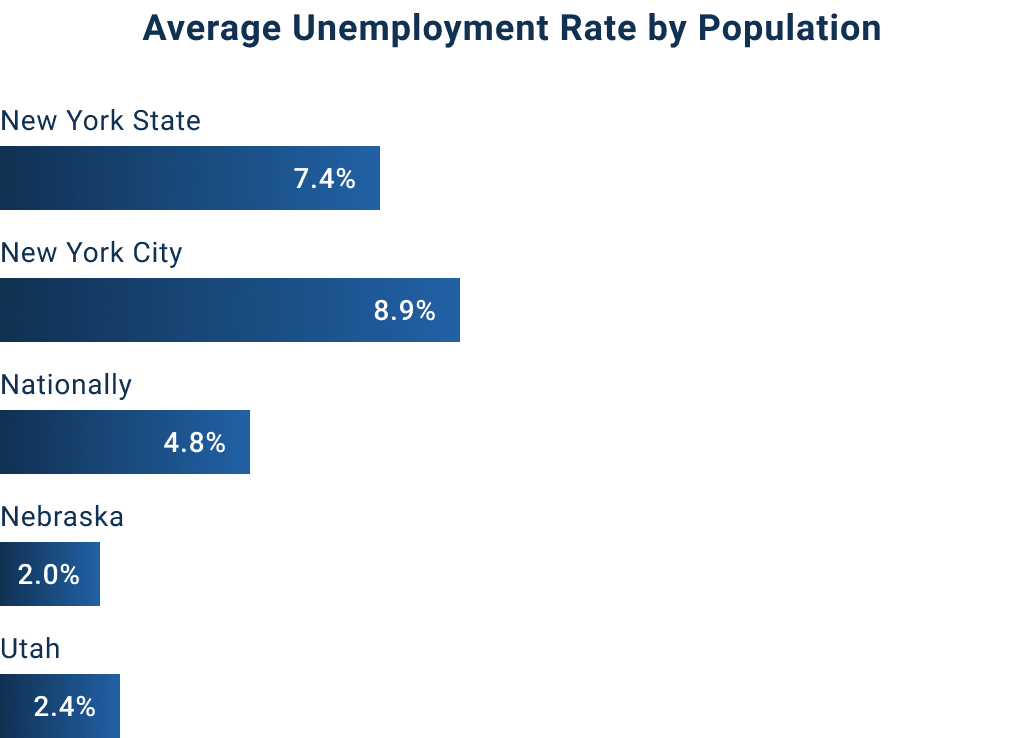 When searching for work in areas with high unemployment rates, such as New York's tight job market, community college graduates with marketable skills may have a competitive edge. As of September 2021, state unemployment is 7.4% and in New York City alone it's 8.9%. These figures are much higher than the 4.8% national average unemployment rate reported by the BLS in September, or the rates in states like Nebraska and Utah, which hover around 2%.
It's imperative to carefully consider future job prospects before enrolling in an online program. Finding work in a growth area increases your marketability. According to the New York State Department of Labor, there are three top job sectors that are showing high growth rate projections through 2028:
Healthcare and Social Assistance enjoy a job growth rate of 34%. SUNY and CUNY both offer online programs in health information technology, community and human services, dental assisting, medical assisting, and health studies to meet this demand.
Education Services are seeing a job growth rate of 14.9%. Students can earn an online associate degree or a certificate in early childhood education, educational studies, teaching assistance, developmental disabilities, and special education assistance.
Professional and Business Services lists a job growth rate of 14.6%. SUNY and CUNY offer associate degree and certificate programs in areas such as business administration, communications, accounting, marketing, paralegal, and business and environmental sustainability.
Where you choose to live may also dictate your earning potential and overall livability. Cost of living indexes measure how far your salary will go toward expenses in one place as compared to another. While these numbers take into account many factors and can change over time, a recent analysis found that New York City ranks very high at 187.2, where the U.S. average is 100. Other areas throughout New York state ranked lower than the national average, such as:
Between lower unemployment rates and a lower cost of living, choosing to live outside of New York City after graduation from a New York community college may be more affordable.
This website offers school details to prospective students as an informational resource. The appearance of a school listing on this website should not be interpreted as an endorsement of the school by this site.
Related Articles
Best Online Community Colleges in Maine
These are the best community colleges in Maine offering online degrees. Compare tuitions for the top-ranked schools.
Online Nursing Programs in New York
Browse our list of accredited online nursing programs in New York. Learn about licensure and how to become a nurse in New York once you've earned your degree.