Best Online Community Colleges in New Hampshire
By James Holbrook | Updated 8/24/2022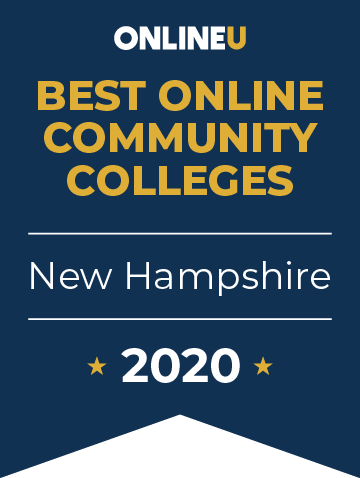 The following four community colleges grant online associate degrees and certificates in the state of New Hampshire. The cost per credit at each school is $215 per credit hour however, credit requirements vary by program and school. Manchester Community College - NH is ranked #1 and offers an online Associate of Science in Accounting and an Associate of Science in Management. NHTI-Concord's Community College offers 13 online associate degrees, the most on the list. Students can choose from degrees such as an Associate in Science in Accounting and an Associate in Science in Hospitality and Tourism Management.
View our methodology for more details or learn more about OnlineU.
2020 Online Community Colleges in New Hampshire - Ranking Details
For each school, we conducted manual research to provide prospective students with more details about the schools' online programs. Explore online degrees offered and accreditation information below.
Overview of Higher Education in New Hampshire
New Hampshire is one of the original 13 colonies and has a long history of quality education. Altogether, New Hampshire has nearly 200,000 college students. Between resident, non-resident, and online students, New Hampshire colleges awarded 33,990 degrees and 1,931 certifications in 2020.
There are 24 colleges in New Hampshire, and they offer nearly 400 undergraduate degree programs and nearly 200 graduate programs. Seven of these New Hampshire colleges are community colleges, twelve are private universities, and six are public universities.
The state of New Hampshire has a very strong online education program. All seven community colleges offer online associate and bachelor's degrees, and both private and public universities offer undergraduate and graduate programs online.
What Colleges Are In New Hampshire?
New Hampshire divides its universities into three groups:
Most university students in New Hampshire attend its private institutions, which are not collected under a larger umbrella.
Community Colleges
New Hampshire's seven community colleges serve over 26,000 students annually through their 200 associate degrees and certificates. The community college system is fifty years old and continues to adapt to new technology and evolving student interests.
These colleges also offer financial aid. For example, the New Hampshire Community College System spent $1.3 million on financial aid during the 2021-2022 school year.
The state emphasizes how easy it is to transition between a 2-year community college and a 4-year university with New Hampshire's Transfer Pathways. This allows you to get the best college degree at an affordable price.
Graduation Rates
New Hampshire has the 3rd highest college completion rate in the country. This includes their many online students. With their commitment to train 4,000 educators in online teaching, it's easy to see why the state places so high. The state and its colleges offer a wide range of programs that help its graduates succeed after graduation.
Online Colleges in New Hampshire
Nearly every college in New Hampshire offers online degree programs. New Hampshire's biggest industry is Smart Manufacturing/High Technology, and the state applies those skills to its educational institutions. The state's institutions know that most of its students are out-of-state and online, so they emphasize their online programs.
In addition to degree programs online, New Hampshire colleges offer verified certificates, bootcamps, digital badges, and MOOCs (Massive Open Online Courses). These programs increase an individual's skills without having to earn an entire degree. Since 2019, New Hampshire has awarded approximately 10,000 of these digital badges. These non-degree credentials are not only popular in New Hampshire: There are 967,734 unique credentials across the United States.
Accreditation
When choosing a university, make sure to check their accreditation status. An institution becomes accredited after an independent agency determines whether it meets quality academic standards.
Schools may be accredited by the U.S. Department of Education or an organization such as the New England Commission of Higher Education.
Cost of Online Community Colleges in New Hampshire
New Hampshire community colleges — and especially their online programs — are the most affordable in the state.
All online courses are $215 per credit hour, which is lower than the regional New England cost of $323 per credit hour. In addition to lower rates, the Community College System offers financial aid for all students and half-price tuition for senior citizens. For the fourth year in a row, the Community College System voted not to increase its tuition rates.
Financial Aid for Online Students in New Hampshire
All of New Hampshire's colleges are generous with financial aid. In 2020, community colleges provided $23,839,703 in financial aid. Public universities offered $205,805,547, and private universities offered $529,089,807.
Popular Online Bachelor's Programs at New Hampshire Colleges
| Institution Type | Most Popular | 2nd Most Popular | 3rd Most Popular |
| --- | --- | --- | --- |
| Community Colleges | Nursing | Business Administration | General Studies |
| Public Universities | Business Administration | Psychology | Communication and Media Studies |
| Private Universities | Business Management | Health Professions | Psychology |
Business Administration/Management - A bachelor's degree in business provides students with the ability to succeed in a variety of industries, as faculty teach them skills like problem-solving, data analysis, and project management. A degree in business administration or management can lead to a career as a bank manager, business/management consultant, or production manager, to name a few.
Communication and Media Studies - In today's media-focused world, communication and media studies degrees provide students with the opportunity to learn about creating content for television, radio, newspapers, magazines, and the internet, which can potentially lead to a lucrative career. Communication and Media Studies degrees are also good for anyone interested in advertising, charity work, politics, culture, and education.
Psychology - The study of the human mind, psychology covers group dynamics, mental illness, brain anatomy, and intelligence. Even if you aren't interested in becoming a psychologist or counselor, a bachelor's degree in psychology can boost a career in sales, advertising, and other fields requiring communication and soft skills.
Nursing - The United States needs nurses — more than ever. Pursuing a degree in nursing allows you to work in medical clinics, hospitals, care facilities, and patients' homes. According to the Bureau of Labor Statistics (BLS), the median annual salary for registered nurses is over $77,000, and the job is projected to grow by 9% through 2030.
Curious to learn more about one of the most popular degrees among the state's community colleges? Check out our list of the best nursing degree programs in New Hamshire.
Employment Outlook for College Graduates in New Hampshire
The New Hampshire Department of Education predicts that 65% of jobs in New Hampshire will require a post-secondary degree by 2025. This includes credentials, certificates, and degree programs, all of which New Hampshire colleges offer online. New Hampshire community colleges offer vocational and associate degrees to help graduates find fulfilling and successful careers.
According to the New Hampshire Department of Education, the most sought after skills are communication, teamwork, sales, leadership, and problem-solving. With New Hampshire's expansive technology industry, its colleges help their students learn and grow these skills. They also prepare students for New Hampshire's most in-demand jobs: data analysis, AI, digital marketing, automation, business development, and mechanics.
FAQs About Online Colleges in New Hampshire
Are Online Degrees Respected?
---
Yes, online degrees are respected by most employers, and their popularity is only growing. An increasing number of colleges in New Hampshire and across the U.S. are incorporating distance education into their degree programs. So now, more than ever, employers see online programs as equivalent to traditional college degrees.
Does New Hampshire Have Good Online Colleges?
---
Absolutely. New Hampshire is one of the oldest states, and their history of education stretches far back. All 24 colleges in New Hampshire offer online degrees as well as credentials, non-degree programs, and career training courses.
Are There Scholarships in New Hampshire For Online College?
---
Yes, the state and colleges offer many scholarships and grants that give students the opportunity to afford a quality education. Online students are also encouraged to apply.
For more information, check out our 2022 Guide to Scholarships.
Related Articles
2023 Best Online Colleges in Connecticut
Find the best college in Connecticut offering online degrees in 2023. Compare tuitions among the top-ranked online schools.
Best Online Colleges in Vermont
There are many options for online colleges in Vermont. We used tuition and median alumni salary data to calculate the best return on investment.