Best Online Community Colleges in Nevada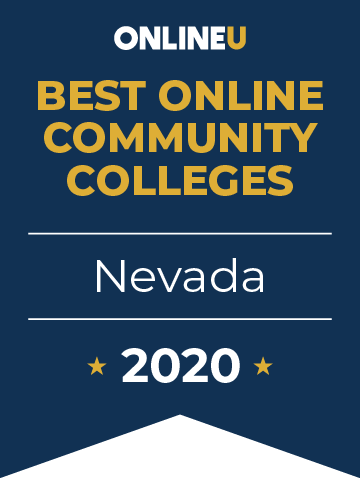 Enrolling in an online community college in Nevada can save time and money for students eager to develop their professional skills or ease their way into college. From information technology and cybersecurity to criminal justice and healthcare, Nevada's community colleges have online programs that aim to meet industry demands. General education courses and associate degrees prepare students for advanced online bachelor's or master's degree programs. Below, we rank the four community colleges in the state of Nevada that grant online associate degrees and certificates. Read on to learn more about online colleges in Nevada, including how much they cost and potential career opportunities after graduation.
View our methodology for more details or learn more about OnlineU.
2020 Online Community Colleges in Nevada - Ranking Details
For each school, we conducted manual research to provide prospective students with more details about the schools' online programs. Explore online degrees offered and accreditation information below.
Overview of Online Community Colleges in Nevada
Nevada community colleges' online associate degree programs are designed to be completed in two years by full-time students, but it's a longer process for part-time students. Overall, students must complete approximately 60 credit hours, including 40 general education credits. If students want to pursue additional education, they can transfer these credits to a four-year university — such as the University of Nevada-Reno or University of Nevada-Las Vegas — to save time and money.
The Nevada System of Higher Education (NSHE) recorded that almost 47,500 students were enrolled throughout Nevada's community college system, with graduates earning 5,835 associate degrees in the fall of 2020. In fact, graduation rates have been steadily increasing since 2011. According to NSHE, the majority of graduates were female, attended part-time, and were between the ages of 17-29. The most popular degree paths were liberal arts, physical science, and engineering.
Many of these degrees awarded in 2020 were earned in Nevada through distance learning. Students choose to enroll in Nevada's online schools because of their convenience and the state's unique degree programs. For example, if students work in Nevada's thriving gaming or hospitality industry and seek career advancement, they can complete their education online to accommodate their schedule. The College of Southern Nevada offers associate degrees in casino management and hospitality management along with a certificate in hotel management. The curriculum and flexibility of online education can enable students to meet their career goals.
Accreditation for Online Colleges in Nevada
Accreditation ensures that a school — whether it's online or in-person — consistently meets high academic standards and students receive a quality education. In addition, accreditation is necessary for students to use federal financial aid and transfer credits from one accredited institution to another.
The Council for Higher Education Accreditation and the U.S. Department of Education recognize 19 national and seven regional accreditation boards. Most non-profit universities are regionally accredited. Regional accreditation is the preferred type of accreditation because it's prestigious and well-established. The Northwest Commission on Colleges and Universities accredits schools in Nevada. Students should visit Ed.gov to check an online school's accreditation status.
Tuition for Nevada Community Colleges
Community college tuition is more affordable in Nevada than other Western states — except California and New Mexico, which cost considerably less. Tuition rates and fees cost an average of $3,398 for Nevada residents in the 2019-2020 school year. Students can obtain residency by living in Nevada for 12 months prior to starting classes. The average tuition is $10,588 for non-residents of Nevada, but non-residents attending a Western Undergraduate Exchange (WUE) member school can save money. WUE schools charge non-residents the in-state costs for tuition and fees plus an additional 50%, potentially reducing student debt.
Students may also qualify for fee waivers through NSHE. To be eligible, they must meet specific requirements, such as being one of the following: a former foster child, member of the National Guard, veteran, Purple Heart recipient, or member of a federally recognized Native American tribe or nation within Nevada's boundaries.
Scholarships for Nevada Students
Completing the U.S. Department of Education's Free Application for Federal Student Aid (FAFSA) determines students' eligibility for financial aid, including federal student loans, federal grants, and scholarships. Grants and scholarships are the best way to pay for higher education. When they receive these awards, students don't have to repay anyone or worry about loan interest rates because there are no strings attached.
Nevada offers several private scholarships for community college students, including those enrolling in distance education:
In addition to scholarships, check to see if you qualify for other aid, such as GI Bill benefits or employer-paid tuition programs. Your school's financial aid office can also direct you to resources that can help make higher education more affordable.
Careers After Community College in Nevada
Online learning is designed to prepare you for jobs anywhere, especially in Nevada if you plan to stay after graduation. You may make connections through school that can lead to job opportunities in the state. Nevada is home to several key industries — health, aerospace and defense, IT, manufacturing and logistics, mining, natural resource technologies, and tourism and gaming.
As of October 2021, Nevada's unemployment rate is 7.3% — still significantly higher than the national rate of 4.6% — has steadily fallen from 2020 highs. As the job market strengthens, the following is a sampling of occupations in Nevada projected for high growth that you can get with an associate's degree:
Computer network support specialists
Mechanical engineering technicians
Paralegals and legal assistants
Physical therapist assistants
Veterinary technicians and assistants
Web developers
Nevada has an affordable cost of living which measures how far your income will go toward living expenses. Nevada Tomorrow indicates the cost of living index is 103 in the Las Vegas metro area — including Henderson and Paradise — compared to the U.S. average of 100. The Reno-Sparks area is a little higher at 113. So, it can be cheaper to live in Nevada than other places in the West, such as California or Washington, where a person's salary doesn't stretch as far.
This website offers school details to prospective students as an informational resource. The appearance of a school listing on this website should not be interpreted as an endorsement of the school by this site.
Related Articles
Online Nursing Programs in Nevada
Browse our list of accredited online nursing programs in Nevada. Learn about licensure and how to become a nurse in Nevada once you've earned your degree.
Best Online Community Colleges in California
These are the best community colleges in California offering online degrees. Compare tuitions for the top-ranked schools.