2020 Best Online Community Colleges in Nevada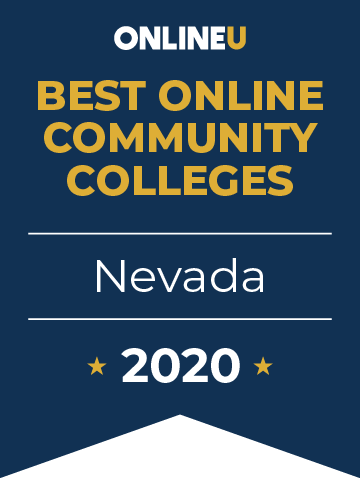 There are four community colleges in the state of Nevada that grant online associate degrees and certificates. Ranked #1, Great Basin College costs just $3,247 per year and offers a wide variety of online degrees, including 20 online associate degrees. Truckee Meadows Community College, ranked #2, has an even greater selection of online degrees. Students have 15 options, including an AA in Anthropology and an AAS in Business.
View our methodology for more details or learn more about OnlineU.
2020 Online Community Colleges in Nevada - Ranking Details
For each school, we conducted manual research to provide prospective students with more details about the schools' online programs. Explore online degrees offered and accreditation information below.
Overview of the Nevada Community College System
The Nevada Community College System, established in 1969, is part of the Nevada System of Higher Education. Comprised of four community colleges, it includes the College of Southern Nevada, Western Nevada College, Great Basin College and Truckee Meadows Community College. The total enrollment is 14,129 students.
There is a free college system, offered through The Nevada Promise Scholarship, but living costs are not covered. In order to be eligible for the Nevada Promise Scholarship, students must complete the application, apply for admission, file a FAFSA, work with mentors and perform 20 hours of community service. No minimum GPA is required and half-time students are not eligible.
Average funding per full-time student for all schools in the state is around $8,298. More than 5,600 associate degrees were awarded during the 2016-17 academic year, and Bachelor of Arts, Bachelor of Science and Bachelor of Applied Science programs are also available at the community college level. Many online programs and courses are offered as well.
The mission of Nevada community colleges is to promote academic excellence and prepare students for careers in the state of Nevada, contributing to a strong economy and facilitating job growth on both the local and state level. All community colleges are accredited by the Northwest Commission on Colleges and Universities (NWCCU), an organization that accredits colleges in seven states. NWCCU is recognized by the U.S. Department of Education as the authority on quality education and higher education institutions in the U.S. Northwest region.
This website offers school details to prospective students as an informational resource. The appearance of a school listing on this website should not be interpreted as an endorsement of the school by this site.