Best Online Community Colleges in Montana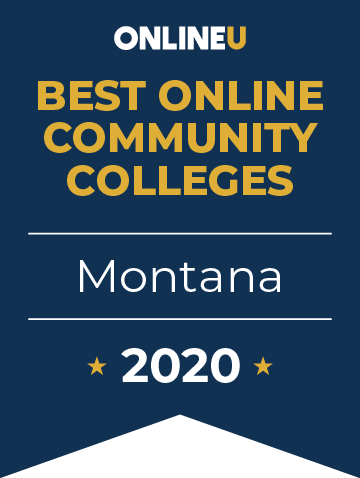 These Montana community colleges provide opportunities to earn an associate degree or certificate entirely online. At #1-ranked Dawson Community College, students can select one of seven different online associate degrees, including an Associate of Applied Science in Criminal Justice and an Associate of Applied Science in Business Management. Miles Community College, ranked #2, has the lowest tuition on the list at $2,670 per year.
View our methodology for more details or learn more about OnlineU.
2020 Online Community Colleges in Montana - Ranking Details
For each school, we conducted manual research to provide prospective students with more details about the schools' online programs. Explore online degrees offered and accreditation information below.
#1
Dawson Community College
Annual Tuition:

$6,304

Locations: Glendive
Accreditation:

NWCCU
Dawson Community College is partnered with a statewide program that provides best-in-class online courses. This partnership allows DCC to provide a wide range of online courses that run for either 15-, 10-, or 6-weeks. Associate degrees are offered online in many areas of applied sciences, as well as the arts. The science courses can be completed entirely online, and there's no requirement for a lab-based module. Certificates of Technical Studies are also available online in Rural Organization Employee Management and Human Resources.
#2
Miles Community College
Annual Tuition:

$2,670

Locations: Miles City
Accreditation:

NWCCU
Miles Community College offers online associate degree programs in sciences and the arts. These programs are delivered via online classes with accompanying coursework that needs to be submitted on a weekly basis. MCC also provides distance learners with a range of certificate options and professional development programs that are available through Ed2Go. Online education is delivered through online coursework and interactive television, allowing students to experience the classroom environment without having to travel to campus. Prospective students can take an Online Readiness Test to assess whether the online learning environment is a good option for them. Distance learners have access to tutoring and technical support.
#3
Montana State University-Great Falls College of Technology
Annual Tuition:

$3,440

Locations: Great Falls
Accreditation:

NWCCU
Great Falls College of Technology offers over 100 online courses, as well as fully online and hybrid degree options. Associate of Arts, Associate of Science, and Associate of Applied Science degrees are among those offered entirely online. Certificates are available online in several healthcare fields. With the dedicated Technology Assistance Center, faculty at Great Falls College of Technology deliver engaging and effective online lessons. Almost all online classes are delivered via the D2L Brightspace learning management system, an intuitive virtual learning environment that has a focus on simplicity.
Related Articles
2023 Best Online Colleges in Montana
Students hoping to earn degrees at online colleges in Montana have several options in their state. Explore the Montana best schools in 2023.
Online MSW Programs in Indiana
Find CSWE-accredited online MSWs in Indiana. Learn about licensure and how to become a social worker in the state.