Best Online Community Colleges in Mississippi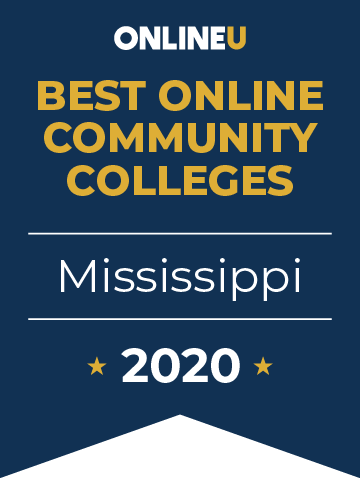 Mississippi is home to five community colleges that give their students the opportunity to earn an online associate degree or certificate. They all cost $5,000 or less per year. Holmes Community College is ranked #2 and is the most affordable school on this list, costing just $2,600 in annual tuition. Northwest Mississippi Community College, ranked #3, offers 16 online associate degrees, including 13 different AA degrees and four AAS degrees.
View our methodology for more details or learn more about OnlineU.
2020 Online Community Colleges in Mississippi - Ranking Details
For each school, we conducted manual research to provide prospective students with more details about the schools' online programs. Explore online degrees offered and accreditation information below.
Overview of the Mississippi Community College System
The Mississippi community college system is made up of 15 colleges throughout the state, with a total enrollment of 49,319 students. The mission of Mississippi community colleges is to create an environment of excellence in learning to promote prosperity in the state of Mississippi. Five core values are embodied in the educational process: professionalism, integrity, partnerships, innovation and diversity.
A wide variety of programs are offered, including university-track academic courses, technical skills, training and education aimed at specific jobs and types of employment, high school equivalency courses, and adult education. Over 2,500 courses are taught by more than 1,300 instructors through the Mississippi Virtual Community College.
The state of Mississippi does not have a free community college program. The average funding per full-time Mississippi community college student for all schools in the state—including state appropriations, local appropriations, and government grants and contracts—is $9,957.13.
Admission requirements may vary, but students are generally required to submit transcripts from the last high school or college they attended. Those without high school transcripts and those who did not attend an accredited high school may submit their GED score or an ACT composite score. All incoming students under the age of 21 must take the ACT or SAT, or take the Accuplacer test. Prospective students may apply online.
This website offers school details to prospective students as an informational resource. The appearance of a school listing on this website should not be interpreted as an endorsement of the school by this site.
Related Articles
Online Nursing Programs in Mississippi
Browse our list of accredited online nursing programs in Mississippi. Learn about licensure and how to become a nurse in Mississippi once you've earned your degree.
Online MSW Programs in Mississippi
Find CSWE-accredited online MSWs in Mississippi. Learn about licensure and how to become a social worker in the state.