Best Online Community Colleges in Michigan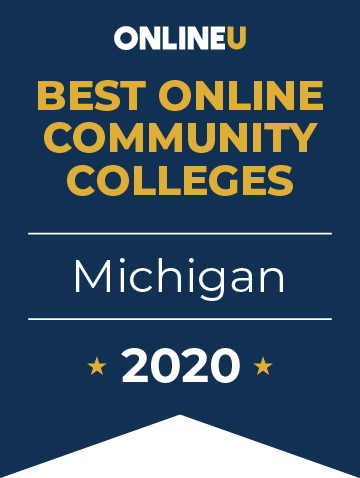 These are the best community colleges in Michigan for students who want to pursue an associate degree or certificate entirely online. Tuition for these community colleges ranges from $2,929 at Oakland Community College to $6,480 at Lansing Community College, but all of the schools are great options for prospective students. They will find the widest selection of online associate degrees at #3-ranked Washtenaw Community College, which offers 27 fully-online associate degrees, including an AA in Secondary Education, an AAS in Retail Management, and an AA in Liberal Arts.
View our methodology for more details or learn more about OnlineU.
Rank
School

Annual Tuition

Locations

# 1

Kirtland Community College

$3,872

Roscommon

(and 1 other)

# 2

Mid Michigan College

$4,386

Harrison
# 3

Washtenaw Community College

$3,240

Ann Arbor
# 4

Gogebic Community College

$3,844

Ironwood
# 5

Grand Rapids Community College

$3,450

Grand Rapids

(and 1 other)

# 6

Bay de Noc Community College

$3,870

Escanaba
# 7

St Clair County Community College

$3,930

Port Huron
# 8

Northwestern Michigan College

$5,940

Traverse City
# 9

Lansing Community College

$6,480

Lansing
# 10

Bay Mills Community College

$2,945

Brimley
# 11

Delta College

$3,565

University Center
# 12

Glen Oaks Community College

$5,610

Centreville
# 13

Mott Community College

$4,594

Flint
# 14

Jackson College

$6,127

Jackson
# 15

Oakland Community College

$2,929

Bloomfield Hills

(and 1 other)

# 16

Schoolcraft College

$5,130

Livonia
2020 Online Community Colleges in Michigan - Ranking Details
For each school, we conducted manual research to provide prospective students with more details about the schools' online programs. Explore online degrees offered and accreditation information below.
Overview of Online Community Colleges in Michigan
Michigan's 28 community college campuses are located throughout the state, from southern Michigan in Monroe County and Glen Oaks through the upper peninsula in Bay De Noc and Gogebic County. These schools enrolled over 365,000 students in the 2020-21 school year and conferred 6,146 certificates and 19,407 associate degrees. Programs range from general education and the humanities to STEM and nursing, and you can complete many online — which is just one of the many benefits of online community college.
With an online certificate program, you can prepare for job readiness in professions such as medical billing and coding or computer information systems.
If you are interested in a two-year degree, you can choose from various associate programs, including several that lead to high-paying jobs.
Accreditation
Community colleges are institutionally accredited by one of several boards across the U.S. recognized by the Council for Higher Education Accreditation (CHEA) — the Higher Learning Commission (HLC) accredits Michigan's community colleges. Regional accreditation affirms that schools meet educational quality standards established by CHEA. Individual programs, such as nursing, at these schools may also be programmatically accredited.
Popular Online Community College Programs in Michigan
Community colleges in Michigan offer diverse associate degree and certificate programs. These programs prepare students for the job market and four-year bachelor's degrees. We've identified some of the most popular programs in which Michigan students enroll.
| Certificates | Associate Degrees |
| --- | --- |
| Accounting | Accounting |
| Behavioral Science | Agricultural Operations |
| Business | Business Administration |
| Coding | Computer Information Systems |
| Computer Science | Criminal Justice |
| Early Childhood Education | Early Childhood Education |
| Electronics | Education |
| Emergency Medical Technician | Energy |
| Hospitality | General Education |
| Information Technolog | Health Information Technology |
| Law Enforcement | Legal Assistant |
| Machine Technician | Marketing |
| Mechanical Systems | Nursing |
| Medical Assistant | Pre-Social Work |
| Medical Billing and Coding | Psychology |
| Precision Machine Technology | Radiologic Technology |
Cost of Online Community Colleges in Michigan
The average in-state tuition at community colleges in Michigan is $3,570, which is on par with $3,400 nationally. However, out-of-state tuition is significantly less than the $8,210 national average at $6,750. In-state tuition at schools on our rankings list ranges from $2,929 to $6,480. Online students generally pay the same tuition as their on-campus peers depending on residency, though schools may waive some campus fees. Tuition does not include the costs for books and school supplies.
Financial Aid for Michigan Students
You may need to apply for financial assistance to help pay for school. Almost 40% of undergraduate students in Michigan receive financial aid. Additionally, about 18% of students enrolled in two-year institutions receive an average of $4,715 in student loans.
Community college students can apply for federal financial aid by completing a Free Application for Federal Student Aid (FAFSA).
Community college students can apply for federal financial aid by completing a Free Application for Federal Student Aid (FAFSA). You may be eligible for Pell grants or scholarships that don't require repayment, a federal work-study program, or a low-interest federal student loan with flexible repayment options. The current administration is also exploring debt relief options for student loans.
Additionally, some schools on our rankings offer tuition payment plans which enable you to break up a lump-sum tuition into affordable monthly payments and alleviate some of the burden of student loan debt.
The Michigan Reconnect Scholarship provides free tuition for eligible community college students that attend schools in-district. You may qualify if you are 25 years or older, have not previously earned a degree, or enroll in an associate degree program or a program to earn a Pell-eligible skill certificate. Your school can confirm program eligibility.
The state of Michigan provides several other financial aid opportunities for students, depending on eligibility:
| | |
| --- | --- |
| Dual Enrollment Program | Allows high school students to dual enroll in community college to complete ten college courses while still in grades 9-12 |
| Fostering Futures Scholarship | Students who have been in foster care since their 13th birthday, complete a FAFSA, and enroll at least part-time in community college |
| Michigan Competitive Scholarship | Undergraduate students pursuing their first degree, have taken the SAT, and scored at least 1200 may be eligible to apply |
| Police Officers and Firefighters Survivor Tuition Grant | Surviving children and spouses of Michigan police officers and firefighters killed in the line of duty who do not hold a degree may be eligible to apply for a tuition waiver |
| Tuition Incentive Program | High school students who are Medicaid recipients may be eligible to apply for tuition assistance to complete a certificate or associate degree program after high school graduation |
Careers for Michigan Community College Graduates
Community college graduates have opportunities for employment in Michigan's high-growth industries. The state's unemployment was 4.3% in May 2022 compared to 3.6% nationally. This signifies a steady decline since unemployment highs during the first year of the global pandemic. The most significant gains in employment since 2021 have been in leisure and hospitality and mining, at approximately 12% growth each.
The Michigan Works Association has identified other fast-growing careers in several industries across the state, many of which are obtainable with a certificate or an associate degree.
Cardiovascular Technician

Environmental Field Technician
Michiganians work in these top industries that employ the most workers as identified by the Michigan Economic Development Commission (MEDC):
The MEDC has also identified Michigan's largest employers with a majority of those in the automotive and manufacturing industries, which is not surprising considering the state's rich automotive history:
| Employer | Industry |
| --- | --- |
| Whirlpool Corp. | Consumer products and services |
| Joyson Safety Systems | Automotive |
| Ford Motor Co. | Automotive |
| Stryker Corp. | Health care |
| Stellantis NV | Automotive |
| Dow Inc. | Manufacturing |
| General Motors Co. | Automotive |
| Kellogg Co. | Food and beverage |
| BorgWarner Inc. | Manufacturing |
| Masco Corp. | Manufacturing |
Job Growth
The Michigan Bureau of Labor Market Information and Strategic Initiatives has made the following employment projections for job growth through 2030:
| Occupation | % of Growth |
| --- | --- |
| Occupational Therapy Assistant | 37.5% |
| Dental Laboratory Technicians | 35.4% |
| Medical Appliance Technicians | 31.2% |
| Massage Therapists | 29.5% |
| Industrial Machinery Mechanics | 28.2% |
| Home Health and Personal Care Aides | 25.2% |
| Physical Therapist Aides | 25.2% |
| Sound Engineering Technicians | 20% |
| Audio and Video Technicians | 18.8% |
| Diagnostic Medical Sonographers | 18.1% |
| Medical Assistants | 17.6% |
| Paralegals and Legal Assistants | 17.5% |
| Health Care Support Occupations | 17.5% |
| Mobile Heavy Equipment Mechanics | 14.5% |
| Environmental Science and Protection Technicians | 13% |
| Electric, Electronic, and Electromechanical Assemblers | 12.9% |
| Medical Equipment Repairers | 11.7% |
| Machinists | 11.1% |
| Emergency Medical Technicians | 11% |
Should You Attend Community College in Michigan?
You should consider attending a community college in Michigan if you want to earn a certificate, an associate degree, or credits to transfer to a four-year bachelor's degree program. Tuition can be affordable, and you may incur little to no student loan debt, especially if you are eligible to attend for free through the Michigan Reconnect scholarship program or can take advantage of one of the state's other funding options.
However, as with any decision that impacts the future, it helps to consider other factors to weigh the pros and cons of attending community college in Michigan.
The potential benefits include:
You'll have an opportunity to explore your options. If you're not quite ready to pinpoint a four-year degree or career path, a community college education gives you time and space to explore your interests.
Online classes provide flexibility. Attending school online can be convenient if you work full time, have a busy schedule, or find it difficult to commute to school and maneuver around campus. You can study on your own time when and where your schedule permits.
Community colleges provide workforce training. A community college education may benefit you if you aren't interested in a degree program. They offer numerous trade, vocational, and skills training certificates that help prepare you to become job-ready for in-demand careers across industries, including health care, law enforcement, technology, and business.
The potential drawbacks include:
The selection of bachelor's degrees is limited. If you want to earn a bachelor's degree from a community college in Michigan, you'll be limited in what you can choose. Right now, opportunities are limited to culinary arts, electronics, energy, and maritime and marine technology.
Scholarship opportunities may be challenging to find. Private scholarships generally stipulate that students enroll in bachelor's degree programs at a minimum and may require SAT scores for eligibility. Finding scholarships for students at the community college level may be more difficult.
You may not be able to transfer all of your credits to a four-year university. A four-year university may reject some of your credits if they don't feel the courses were rigorous enough.
FAQs About Online Community Colleges in Michigan
What Colleges in Michigan Are Online?
---
All of the community colleges on our rankings list are online through Michigan Colleges Online. There are over 1,200 online courses available among 28 community colleges.
Is Community College Free in Michigan?
---
You may be eligible to attend an in-district community college in Michigan for free through the Michigan Reconnect scholarship. You must be 25 or older, a Michigan resident for at least a year, and don't already have a college degree to apply. You can earn an associate degree or a Pell-eligible skill certificate.
What Is the Cheapest Community College in Michigan?
---
Oakland and Bay Mills are the cheapest community colleges in Michigan on our rankings list. Annual tuition is $2,929 and $2,945 respectively.
Can You Get a Bachelor's Degree at a Community College in Michigan?
---
You can get a bachelor's degree in select subjects such as culinary arts, electronics, and energy at several community colleges in Michigan. Colleges on our rankings list that offer these programs include Schoolcraft, Northwestern Michigan, and Jackson.
Related Articles
Best Online Community Colleges in Texas
These are the best community colleges in Texas offering online degrees. Compare tuitions for the top-ranked schools.
Best Online Colleges in Michigan
There are a number of online schools in Michigan offering degrees and programs. These are the best schools, ranked based tuition rates and alumni salaries.