Best Online Community Colleges in Michigan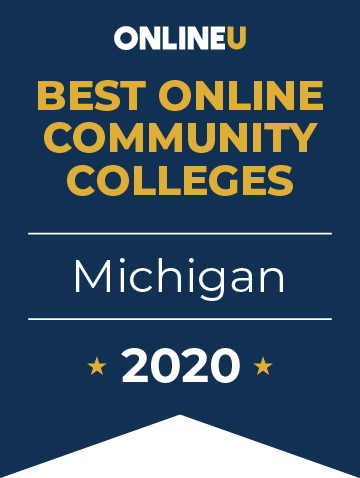 These are the best community colleges in Michigan for students who want to pursue an associate degree or certificate entirely online. Tuition for these community colleges ranges from $2,929 at Oakland Community College to $6,480 at Lansing Community College, but all of the schools are great options for prospective students. They will find the widest selection of online associate degrees at #3-ranked Washtenaw Community College, which offers 27 fully-online associate degrees, including an AA in Secondary Education, an AAS in Retail Management, and an AA in Liberal Arts.
View our methodology for more details or learn more about OnlineU.
Rank
School

Annual Tuition

Locations

# 1

Kirtland Community College

$3,872

Roscommon

(and 1 other)

# 2

Mid Michigan College

$4,386

Harrison
# 3

Washtenaw Community College

$3,240

Ann Arbor
# 4

Gogebic Community College

$3,844

Ironwood
# 5

Grand Rapids Community College

$3,450

Grand Rapids

(and 1 other)

# 6

Bay de Noc Community College

$3,870

Escanaba
# 7

St Clair County Community College

$3,930

Port Huron
# 8

Northwestern Michigan College

$5,940

Traverse City
# 9

Lansing Community College

$6,480

Lansing
# 10

Bay Mills Community College

$2,945

Brimley
# 11

Delta College

$3,565

University Center
# 12

Glen Oaks Community College

$5,610

Centreville
# 13

Mott Community College

$4,594

Flint
# 14

Jackson College

$6,127

Jackson
# 15

Oakland Community College

$2,929

Bloomfield Hills

(and 1 other)

# 16

Schoolcraft College

$5,130

Livonia
2020 Online Community Colleges in Michigan - Ranking Details
For each school, we conducted manual research to provide prospective students with more details about the schools' online programs. Explore online degrees offered and accreditation information below.
This website offers school details to prospective students as an informational resource. The appearance of a school listing on this website should not be interpreted as an endorsement of the school by this site.
Related Articles
Best Online Colleges in Michigan
There are a number of online schools in Michigan offering degrees and programs. These are the best schools, ranked based tuition rates and alumni salaries.