Best Online Community Colleges in Maryland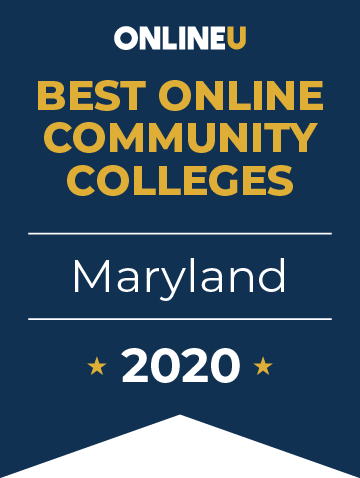 These are the community colleges in the state of Maryland that make it possible for their students to earn an associate degree or certificate entirely online. Ten of the schools on this list have annual tuitions under $4,000, so attending these online community colleges is both affordable and convenient. The #1-ranked school on this list, Montgomery College, charges students just $3,960 per year, and gives them the ability to choose among nine online associate degrees, including an AAS in Criminal Justice, an AA in Business, an AAS in Early Childhood Education Technology, and more.
View our methodology for more details or learn more about OnlineU.
Rank
School

Annual Tuition

Locations

# 1

Montgomery College

$3,960

Rockville

(and 2 others)

# 2

Harford Community College

$3,986

Bel Air
# 3

Anne Arundel Community College

$3,480

Arnold
# 4

College of Southern Maryland

$3,825

La Plata

(and 3 others)

# 5

Frederick Community College

$4,489

Frederick
# 6

Carroll Community College

$4,080

Westminster
# 7

Baltimore City Community College

$2,640

Baltimore
# 8

Hagerstown Community College

$3,630

Hagerstown
# 9

Chesapeake College

$3,750

Wye Mills
# 10

Allegany College of Maryland

$3,750

Multiple Locations

# 11

Prince George's Community College

$3,360

Largo
# 12

The Community College of Baltimore County

$3,660

Baltimore
2020 Online Community Colleges in Maryland - Ranking Details
For each school, we conducted manual research to provide prospective students with more details about the schools' online programs. Explore online degrees offered and accreditation information below.
This website offers school details to prospective students as an informational resource. The appearance of a school listing on this website should not be interpreted as an endorsement of the school by this site.
Related Articles
Best Online Colleges in Virginia
There are many Virginia colleges and universities that offer online degrees. Find the best options ranked here with tuitions and alumni salaries.
Online Nursing Programs in Pennsylvania
Browse our list of accredited online nursing programs in Pennsylvania. Learn about licensure and how to become a nurse in Pennsylvania once you've earned your degree.