2020 Best Online Community Colleges in Louisiana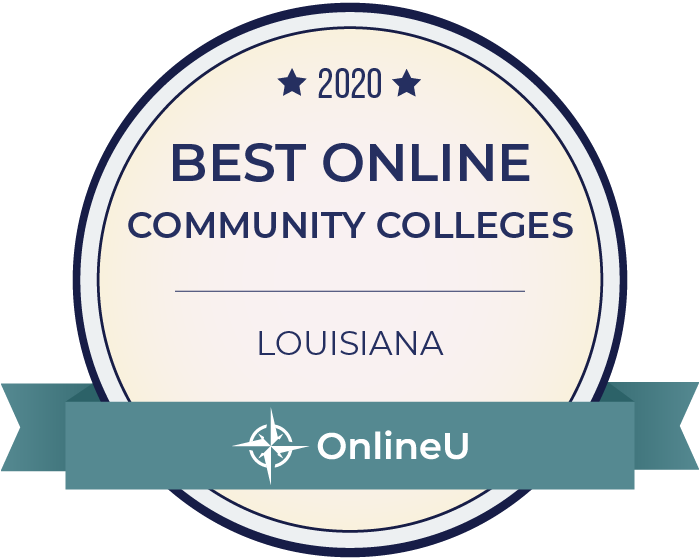 These are the three community colleges in Louisiana that offer fully online associate degrees and certificates. They all have tuitions under $5,000, so they are all affordable options for Louisiana students. Delgado Community College, ranked #2, provides the biggest selection of online degrees. Students can pick among 27 different online associate degrees, including an Associate of Applied Science degree in Business Management, which has seven concentrations available in fields such as Music Business, Marketing, and more.
View our methodology for more details or learn more about OnlineU.
2020 Online Community Colleges in Louisiana - Ranking Details
For each school, we conducted manual research to provide prospective students with more details about the schools' online programs. Explore online degrees offered and accreditation information below.
Overview of the Louisiana Community College System
The Louisiana Community and Technical College system (LCTC), comprised of 12 community colleges spread throughout the state, has a total enrollment of 25,052 students. Louisiana has a free college program which covers living costs. Half-time students are not eligible. Other eligibility requirements include a minimum GPA of 2.5, a minimum ACT score of the prior-year state average, meeting TOPS Louisiana residency requirements and U.S. citizenship or permanent residency.
Average funding per each full-time student for all schools in the state is $7,141.75. LCTC offers two scholarships: the Give Where We Live Scholarship and the Five for Six Scholarship. The former is funded through employees of the system ($500 scholarships are awarded annually) and the latter is awarded to students without a high school diploma or equivalency.
Admission requirements may vary, but first-time freshmen generally fall into one of four categories: high school graduate, GED/HiSET recipient, non-high school graduate (must take an Ability to Benefit Test) or home-schooled graduate (transcripts are not required, but applicants must demonstrate that they have completed a state-approved or regionally accredited program). Applicants must submit their immunization records or have completed an immunization waiver. Males must submit proof of registration with selective service.
LCTC colleges offer both on-campus and online associate degree programs, many of which transfer directly to four-year institutions. The mission of Louisiana community colleges is to train students to think critically and prepare them to reach their academic, career and personal goals.
This website offers school details to prospective students as an informational resource. The appearance of a school listing on this website should not be interpreted as an endorsement by the school of this site.