Best Online Community Colleges in Georgia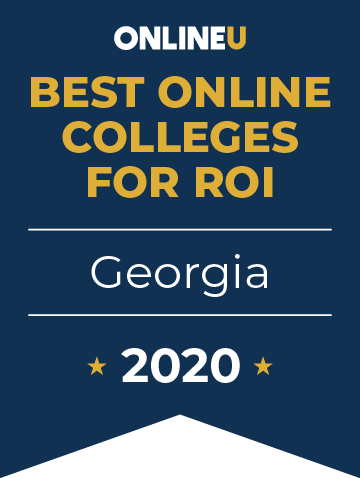 Online community colleges in Georgia enable students to conveniently and affordably earn associate degrees or certificates through distance learning. Our rankings list includes the top 16 community colleges in Georgia that we've identified using our methodology, which incorporates retention rate, online enrollment, and how many online associate degrees a college offers. Schools on our list design programs to teach industry-specific skills, including those suitable to Georgia's top occupations. Students may earn associate degrees to build job skills or pursue advanced degrees from four-year universities, and they can accomplish it all online while managing their busy schedules.
Alumni salaries were provided by PayScale. View our methodology for more details or learn more about OnlineU.
| Rank | School | Annual Tuition | Mid-Career Salary |
| --- | --- | --- | --- |
| # 1 | University of Georgia | $9,790 | $86,700 |
| # 2 | Georgia State University | $8,948 | $79,600 |
| # 3 | Augusta University | $6,892 | $75,300 |
| # 4 | Georgia Southern University | $5,766 | $74,400 |
| # 5 | University of North Georgia | $6,090 | $72,400 |
| # 6 | University of West Georgia | $5,463 | $72,000 |
| # 7 | Albany State University | $5,487 | $70,000 |
| # 8 | Mercer University | $14,250 | $70,800 |
| # 9 | Columbus State University | $6,510 | $67,500 |
| # 10 | Valdosta State University | $6,060 | $67,100 |
| # 11 | Georgia Southwestern State University | $5,970 | $65,900 |
| # 12 | Brenau University | $19,530 | $67,600 |
| # 13 | Georgia Military College | $7,110 | $65,700 |
| # 14 | Clayton State University | $5,490 | $65,200 |
| # 15 | Savannah College of Art and Design | $37,575 | $68,200 |
| # 16 | Savannah State University | $5,286 | $61,100 |
| # 17 | LaGrange College | $18,450 | $61,900 |
| # 18 | Middle Georgia State University | $8,670 | $58,800 |
| # 19 | Toccoa Falls College | $11,040 | $57,100 |
| # 20 | Reinhardt University | $13,950 | $57,200 |
| # 21 | Dalton State College | $3,204 | $55,200 |
| # 22 | Fort Valley State University | $5,363 | $54,000 |
| # 23 | College of Coastal Georgia | $3,204 | $51,400 |
| # 24 | Life University | $12,126 | $52,300 |
Salary data provided by

2020 Online Colleges in Georgia Ranking Details
For each school, we conducted manual research to provide prospective students with more details about the schools' online programs. Explore online degrees offered and accreditation information below.
---
Overview of Online Colleges in Georgia
There were over half a million students enrolled in Georgia's higher education system in 2019, with almost 130,000 attending two-year colleges after high school. Georgia's online community colleges support the state's economy and workforce development by offering diplomas, certificates, technical skills development, and associate degree programs. Online community colleges may be an accessible way for students to balance multiple responsibilities, work within a tight budget, or live far from campus to further their education and expand employment opportunities.
Eleven schools on our list belong to the Technical College System of Georgia (TCSG), which offers students over 600 academic programs at various levels across multiple disciplines. According to the Georgia Budget & Policy Institute (GBPI), approximately 71% of TCSG students are enrolled part-time, and around one-third live in rural communities. These students — who are mostly female — often pursue associate degrees in liberal arts, nursing, and business administration.
Online associate degree programs generally take full-time students two years to complete and longer for those attending part time. While program lengths may vary, students generally need to complete a minimum of 60 credit hours to graduate with an online associate degree.
Tuition and Funding for Georgia Community Colleges
Georgia has one of the least expensive community college systems in the country — it's one of the top 10 most affordable states for in-state residents pursuing a two-year education. The annual tuition of community college is $2,990 for Georgia residents and $8,330 for non-residents, as compared to the national averages of $3,400 and $8,210, respectively. The GBPI's Higher Education Data Book cited above describes how almost $4 billion in proceeds from the state's lottery supports TCSG through scholarships, loans, grants, and funding for dual enrollment, which helps keep costs lower for students.
Georgia has one of the least expensive community college systems in the country.
Additionally, online students often pay less for college than their on-campus peers, and students in Georgia are no exception. Many schools reduce tuition rates for distance learners or eliminate fees in an effort to alleviate some of the financial burden students may face while funding their continuing education.
Georgia has two programs that offer free community college tuition. The Georgia Quick Start program is a partnership between TCSG and Georgia employers to provide free training for jobs in the manufacturing, aviation, automotive, healthcare, business operations, distribution, and food industries. The program trains individuals in the relevant skills that help prepare them for employment within participating organizations. Similarly, the Hope Career Grant provides free adult education to those pursuing careers in 17 high-demand fields, including nursing, criminal justice, computer technology, and early childhood education. Degrees are available online and credits may also transfer to bachelor degree programs within the university system of Georgia. Students could also pursue several other options that may help them pay for community college in Georgia:
Students can become Georgia residents to pay in-state tuition fees. To do so, they need to prove that they have established residency for 12 months immediately prior to the first day of classes.
Careers After Online Community College in Georgia
Employment experts predict that by 2028, 10.9% of all Georgia jobs will require some postsecondary education, such as a certificate or associate degree. Online associate degrees from Georgia's community colleges can help prepare students for jobs anywhere in the country and diverse careers across a broad range of Georgia's growing industries, including the top growth sector that accounts for over one-fifth of all new jobs in the state: healthcare and social assistance. Other leading industry sectors include food service, professional and business services, and administrative and support services. Top jobs in these industries requiring only an associate degree include the following:
---
A robust job market with skilled workers contributed to Georgia's low unemployment rate of 2.6% as of December 2021, less than the 3.9% national average.
---
Along with opportunities for career development, Georgia may be considered an affordable place to live.The cost of living index measures how far income goes towards living expenses, such as housing, food, healthcare, and transportation. For example, one survey measures the U.S. cost of living index at 100, with Georgia's index at 93.4, meaning salary goes a bit farther in Georgia than it may in other places across the country. It also costs slightly less to live in Georgia than neighboring Florida and North Carolina, but the cost of living is a bit more than in Tennessee or Alabama.
This website offers school details to prospective students as an informational resource. The appearance of a school listing on this website should not be interpreted as an endorsement of the school by this site.
Related Articles
Online Nursing Programs in Georgia
Browse our list of accredited online nursing programs in Georgia. Learn about licensure and how to become a nurse in Georgia once you've earned your degree.
Best Online Community Colleges in North Carolina
These are the best community colleges in North Carolina offering online degrees. Compare tuitions for the top-ranked schools.