Best Online Community Colleges in Florida
By Jordan Beliles | Updated 7/20/2022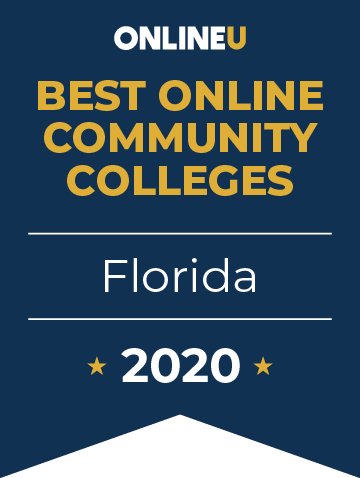 In Florida, students can earn an associate degree or certificate online at any of these 19 community colleges. Many of these schools also offer online bachelor's degrees, allowing students who've earned an associate degree to seamlessly continue their education. Ranked #1, Hillsborough Community College has a tuition rate of just $2,654 per year. Students there can earn one of 11 online associate degrees, such as an AA in Business Administration, an AA in Psychology, and an AS in Criminology and Criminal Justice Studies.
View our methodology for more details or learn more about OnlineU.
Rank
School

Annual Tuition

Locations

# 1

Hillsborough Community College

$2,654

Tampa
# 2

Florida Gateway College

$3,099

Lake City
# 3

Seminole State College of Florida

$2,393

Sanford

(and 3 others)

# 4

Santa Fe College

$2,753

Gainesville
# 5

Eastern Florida State College

$3,120

Cocoa
# 6

St. Johns River State College

$2,365

Palatka

(and 2 others)

# 7

Valencia College

$2,473

Orlando

(and 2 others)

# 8

South Florida State College

$2,375

Avon Park

(and 1 other)

# 9

Tallahassee Community College

$3,024

Tallahassee
# 10

State College of Florida-Manatee-Sarasota

$3,074

Bradenton

(and 2 others)

# 11

College of Central Florida

$2,483

Ocala

(and 2 others)

# 12

St. Petersburg College

$3,352

Clearwater
# 13

Indian River State College

$3,114

Fort Pierce

(and 4 others)

# 14

Florida SouthWestern State College

$2,436

Fort Myers

(and 3 others)

# 15

Polk State College

$3,366

Winter Haven
# 16

Broward College

$2,400

Fort Lauderdale
# 17

Pasco-Hernando State College

$3,155

New Port Richey
# 18

Florida Keys Community College

$2,483

Key West
# 19

Pensacola State College

$3,137

Pensacola
2020 Online Community Colleges in Florida - Ranking Details
For each school, we conducted manual research to provide prospective students with more details about the schools' online programs. Explore online degrees offered and accreditation information below.
Overview of Higher Education in Florida
Over the years, Florida has become a beacon for higher education. According to Statista, the Sunshine State ranks fifth in the country for the number of post-secondary schools it has to offer, with 128 four-year universities and 48 two-year colleges.
While quantity doesn't always equal quality, Florida's innovative 2+2 Transfer Pathways program has allowed for more students to graduate from an online community college and enter a bachelor's program at a university. The program works by state universities agreeing to accept transfer credits that students earn at the community college level. Historically, some universities have only accepted certain transferable credits, making it more difficult to achieve a bachelor's degree. For Florida online colleges, however, Transfer Pathways has broadly expanded student's access to higher education.
When it comes to earning a degree from an online community college in Florida, the advantages are crystal clear: The options are abundant and the path to a bachelor's degree is there for the taking. Now, let's take a look at some of the options for attending online colleges in Florida.
Online Schools in Florida
As stated above, Florida colleges online offer benefits that go beyond the general benefits of online community colleges.
Among these schools, students will find many varieties of associate degrees and certificates — most of which can be taken fully online and on a flexible schedule. For example, Hillsborough Community College in Tampa, Florida offers 21 online programs in total. This includes associate degrees in criminology, math education, hospitality administration, and fire science technology. Its programs are designed with transferable credits in mind, leaving graduates with options to apply to a four-year university.
Transferable credits are an important selling point for many online community colleges in Florida.
Furthermore, Florida is a part of the State Authorization Reciprocity Agreement (SARA), which is a national program designed to bolster distance learning initiatives. Florida Gateway College and Eastern Florida State College are two such institutions that offer consumer protections for students engaging in online coursework.
Online community colleges in Florida have several pathways to achieve career advancement. Many institutions, such as Seminole State College, have a long list of technical certificates that students can achieve through remote learning. This includes subjects in IT — such as network support and client specialist — or project management certificates that can be leveraged into a number of professional fields.
Accreditation of Online Colleges in Florida
Accreditation means that a college has been independently evaluated by a third-party education organization, such as the U.S. Department of Education. Schools that meet this standard have viable financials and qualified academic programs. Many Florida schools have regional accreditation through specific accrediting organizations, such as the Southern Association of Colleges and Schools as well as the Commission on Colleges.
When applying to online colleges in Florida, it's important to verify that they are an accredited institution. It's important to ensure accreditation for several reasons, and one of these is that the school offers transferable credits. As mentioned above, Florida online colleges offer easy routes to transfer credits from an associate degree to a bachelor's degree. However, colleges that are not accredited may not be a part of the state's 2+2 Transfer Pathways program.
Another consideration when it comes to accreditation is a school's ability to provide financial aid:
Popular Online Degree Programs at Florida Community Colleges
Not all community college graduates need to pursue a bachelor's degree. Those with an online associate degree can go on to lead successful careers without incurring more tuition costs.
Many roles in the medical field can be obtained through associate degrees. Radiologic technologists and sonographers, for example, earn roughly $61,000 to $75,000, while dental hygienists earn median salaries of over $75,000. At Sante Fe College, an accredited online community college with a 59% graduation rate, you can get an Associate of Science in Health Information Technology and an Associate of Science in Nursing.
Criminal justice associate degrees present another lucrative, viable program option to pursue at online community colleges Florida. For example, St. Johns River State College offers an AS in Criminal Justice Technology, which delves into courses such as Police Administration, Criminal Evidence, and Court Procedures. On average, these graduates can earn up to $66,020 as a police detective.
Cost of Florida Colleges Online
While the online college experience isn't for everyone, most of these schools are more affordable than traditional four-year universities. This makes distance learning attractive to students on a budget.
The average community college student will see $4,072 in annual tuition costs. Overall, online associate degrees from community colleges can cost upwards of $8,300. Keep in mind, online bachelor's degrees may reach $13,919 per year. According to EducationData.org, Florida averages a tuition cost of just $2,580 for in-state community college students. This makes it the 8th most affordable state for this particular education track.
Financial Aid for Online Students in Florida
Florida has many resources available for students seeking financial aid to pay for their online college tuition. Some students may qualify for fee exemptions if they are in an early admission program or find themselves enrolled in an approved apprenticeship. If you're a full-time employee or a student intern supervisor at a state university, you may qualify for tuition-free waivers. Florida also offers a number of scholarship opportunities, as well as financial aid for unhoused students and waivers for military members.
The Bright Futures Scholarship Program is one of Florida's most important financial aid programs. Students may be eligible for up to 100% tuition coverage based on their academic performance during high school through Florida Academic Scholars (FAS), or 75% of their tuition through Florida Medallion Scholars (FMS). Eligibility is based on test scores and an individual's GPA. Keep in mind, the FMS is less competitive than the FAS, which is only awarded to the top performing students in each Florida county.
Aside from Florida-specific aid, there are plenty of ways to seek help through national financial aid programs. The Free Application for Federal Student Aid (FAFSA) is a national program that provides financial assistance to students who need it.
Employment Outlook for Community College Graduates in Florida
According to the Florida Department of Economic Opportunity's short-term employment projections, the state expects a 5.1% job growth among all industries statewide into 2023. This includes 146,333 new hospitality jobs added by the second quarter of 2023, plus 59,639 new roles in the same period for the utilities, trade, and transportation industries. This helps illustrate the fact that several prominent corporations based in Florida hire thousands of graduates from local colleges and universities.
Online students, in particular, are finding a lot of employment opportunities through the Department of Defense, which sees 8% of these graduates working for the Air Force.
Miami Dade College, a community college and member of The Florida College System, has several health care programs, which alumni can use as a stepping stone to employment with large health care providers in the state. This includes Baptist Health, University of Miami, and Mount Sinai, to name a few.
FAQs About Florida's Online Community Colleges
Are Online Degrees Respected?
---
The idea that online degrees don't hold as much weight as traditional degrees is an antiquated notion. Online colleges are just as respected as traditional universities. The majority of the largest, most sought-after institutions offer both online and on-campus degree programs. Furthermore, when you receive your degree from a university's online program, it most likely won't mention that you earned your credentials through distance learning.
Does Florida Have Good Online Colleges?
---
Florida has some of the best colleges in the country, many of which offer online programs allowing for remote learning at a student's convenience.
When looking more specifically at our list of the best online community colleges in Florida, it's important to take into account each school's assigned Salary Score. This is a metric we use to determine the potential salary outcomes for graduates of a certain program. The scale is between 0 and 100, with a school's score representing how high a program's salary outcome will be in comparison to a different school with the same degree option.
Are There Scholarships in Florida for Community College?
---
Scholarship opportunities are widely available for online community colleges in all states. Along with grants and financial aid, the Florida Tax Credit Program incentivises corporations to donate to Scholarship-Funding Organizations (SFOs). In turn, this increases the amount of financial assistance that students have for scholarships in the state. There's also the Florida Student Scholarship and Grant Programs that includes a list of available scholarships for students.
Related Articles
Best Online Community Colleges in California
These are the best community colleges in California offering online degrees. Compare tuitions for the top-ranked schools.
Best Online Community Colleges in Georgia
These are the best community colleges in Georgia offering online degrees. Compare tuitions for the top-ranked schools.