Best Online Colleges in Virginia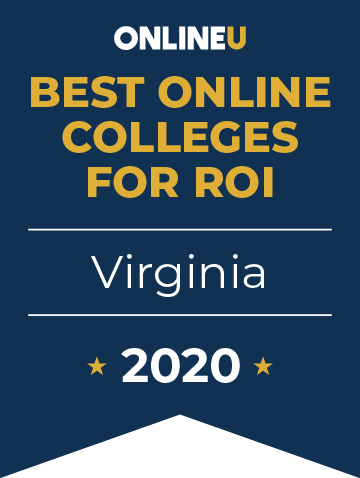 With more college graduates than the national average, Virginia's higher education system is highly ranked, competitively priced, and has a broad curriculum. Students can enroll in online colleges in Virginia, including a wide span of bachelor's programs, to develop the skills needed to achieve their career goals. The convenience of distance learning allows students to learn while balancing life's responsibilities. We've listed Virginia's best online degree programs below based on tuition costs and alumni salaries: Tuition ranges from $5,752 to $15,180 annually, and alumni salaries are between $56,300 and $103,300.
Alumni salaries were provided by PayScale. View our methodology for more details or learn more about OnlineU.
| Rank | School | Annual Tuition | Mid-Career Salary |
| --- | --- | --- | --- |
| # 1 | University of Virginia | $13,260 | $103,300 |
| # 2 | Hampton University | $9,000 | $80,500 |
| # 3 | Old Dominion University | $10,680 | $79,400 |
| # 4 | Jefferson College of Health Sciences | $7,922 | $79,000 |
| # 5 | Virginia Commonwealth University | $14,596 | $75,400 |
| # 6 | Radford University | $11,350 | $71,900 |
| # 7 | Eastern Mennonite University | $14,940 | $69,100 |
| # 8 | Norfolk State University | $5,752 | $62,500 |
| # 9 | Liberty University | $11,700 | $61,900 |
| # 10 | Averett University | $14,400 | $59,000 |
| # 11 | Virginia Wesleyan University | $12,768 | $58,000 |
| # 12 | Bluefield College | $10,950 | $56,500 |
| # 13 | Mary Baldwin University | $15,180 | $56,300 |
Salary data provided by

2020 Online Colleges in Virginia Ranking Details
For each school, we conducted manual research to provide prospective students with more details about the schools' online programs. Explore online degrees offered and accreditation information below.
---
Online Higher Education in Virginia
Over 420,000 students enrolled in Virginia's four-year public and private institutions during the 2020-21 school year. Overall, approximately four out of 10 Virginia residents hold a bachelor's degree or higher, which is more than the national average. Meanwhile, enrollment in distance education has been steadily rising in Virginia over the last 15 years. Nearly 40% of Virginia's college students enrolled in online coursework in 2018 at the associate, bachelor's, master's, and doctoral levels. The number of online students in Virginia outpaced the national average of 35%.
An online program can prepare students for a diverse array of careers in Virginia and offers greater flexibility than a traditional in-person degree. Students juggling obligations may fit an online degree program into their busy schedules to increase future job opportunities. An online program with an asynchronous format can allow students to learn anytime and from anywhere, as long as they have a strong broadband connection.
The Importance of Accreditation
Online students can trust the integrity of accredited schools and programs because accreditation ensures a school consistently meets high academic standards. For example, this process guarantees instructors and courses are thoroughly vetted. Additionally, by attending regionally accredited schools, students are able to obtain financial aid and transfer credits.
The Council for Higher Education Accreditation and the U.S. Department of Education recognize 19 national and seven regional accreditation boards. Regional accreditation is often preferred over national accreditation because it has more regulations in place to ensure high academic standards and quality. The Southern Association of Colleges and Schools Commission on Colleges regionally accredits Virginia's non-profit colleges and universities. The Database of Postsecondary Institutions and Programs can be used to verify a school's accreditation status.
Tuition in Virginia: Ways to Make College More Affordable
College tuition rates and fees in Virginia diverge from the national average for higher education. The average resident's tuition and fees average at $13,655 to attend Virginia's public university system in the 2019-20 school year, which is significantly higher than the national average of $9,349. Attending Virginia's public school system also costs more than those in neighboring West Virginia, Maryland, and North Carolina. In contrast, Virginia's private universities charge an annual average of $23,493 for tuition and fees, which is lower than the yearly national average of $32,769.
Online tuition and fees vary by school, though many institutions charge students based on residency. Tuition and fees for out-of-state students in Virginia averaged $35,831 from 2019-20, as compared to the national average of $27,023. In Virginia, it may be worthwhile to gain in-state residency before attending college if cost is a major concern. To help pay in-state tuition costs, Virginia's governor approved legislation to provide free community college tuition for low- and middle-income students in 2021. This program would allow some students to start earning college credits for free before transferring to four-year degree programs. This could help make it more affordable to earn a degree in high-demand fields, such as healthcare and computer science.
Below are several other ways prospective students may be able to save money on tuition in Virginia's higher education system:
Funding an Online Degree in Virginia
The first step when it comes to applying for financial aid involves completing the Free Application For Federal Student Aid (FAFSA). Students may qualify for federal grants, scholarships, work-study programs, or low-interest federal loans. Scholarships and grants are the best ways to pay for college because they function as free money that students don't have to repay.
In addition to federal aid, several private scholarships and grants are available to online college students in Virginia:
Careers and Cost of Living in Virginia
Virginia can be an affordable place to live and work, depending on location. According to the U.S. Census, the median household income in Virginia is $74,222, which is higher than the national median of $69,560. Cost of living measures how far this income will go towards living expenses, such as food, rent, healthcare, and utilities. The average cost of living in Virginia is 103.7, which is slightly higher than the U.S. average of 100. The Washington-Arlington-Alexandria metro area has the highest cost of living at 149.9, while the Roanoke metro area has a significantly lower cost of living at 89. The Virginia Beach-Norfolk-Newport News metro area is almost on par with the national cost of living at 101.4.
Virginia has a relatively low unemployment rate of 3.6% — which is less than the national rate of 4.6% — and the state expects to gain over 275,000 jobs through 2028. Virginia industries poised for future growth include corporate services, information technology, life sciences, manufacturing, and supply chain management. The following list includes occupations within these high-growth industries that require the completion of a bachelor's program. The roles below are in high demand compared to the national average job growth of 8% across all occupations.
This website offers school details to prospective students as an informational resource. The appearance of a school listing on this website should not be interpreted as an endorsement of the school by this site.
Related Articles
Best Online Colleges in Kentucky
The schools featured here represent the best online degree programs in Kentucky, based on tuition rates and alumni salaries.
Online MBA Programs in Virginia
Find AACSB and ACBSP accredited online MBA programs in Virginia. Learn about job outlooks and MBA salaries in the state.