Most Affordable Online Colleges in Texas
Although many factors contribute to a prospective student's college decision, cost is often one of the most significant. Lower tuition rates make college accessible for a greater number of students and may result in less student debt after graduation. This is why we've created a ranked list of the most affordable online colleges in Texas alongside data-driven pros and cons that look at a range of factors important to student success. Students can combine this information with our ranked list of the best online colleges by salary in Texas and best online colleges by program to consider more options.
Following the list below, we've provided an overview of affordable online colleges in Texas, in addition to information about the costs of online and on-campus degrees, financial aid, and factors to consider in addition to affordability when conducting a college search. View our methodology for more details or learn more about OnlineU.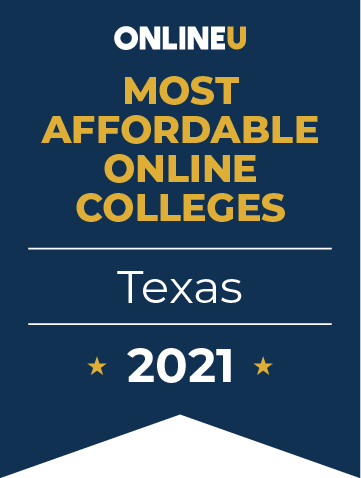 ---
---
---
Rankings Eligibility


21 Colleges Considered


Regionally or Nationally Accredited


Offers 10+ Online Bachelor's Degrees
Our Methodology

Why Trust Us?
60,000 Degrees Researched Annually
20,000 Hours Spent on Research Annually
Launching Rankings Since 2009
Meet Our Team
Media Kit
If you would like a free, high quality version of any of our badges, please send a request to press@optimal.com.
---
Overview of Affordable Online Colleges in Texas
Texas has many higher education institutions to choose from, including 50 public colleges and nearly 80 private schools (both non-profit and for-profit), and a total of six university systems. Colleges are available in locations across the state, from Dallas and Arlington to San Antonio. Several dozen of these schools offer online bachelor's programs, in subjects such as information technology, computer science, business administration, and organizational leadership. Many schools also offer online master's degrees, certificate programs, and doctorates. At the undergraduate and graduate levels, programs are delivered over internet-based learning platforms. This grants flexibility, because students can log in at convenient times to complete coursework, watch recorded lectures, and interact with classmates.
Online degrees aren't just convenient, they also tend to cost less than equivalent campus programs. Affordability is a major concern for most students, because accruing large amounts of student debt can affect their finances for many years. To find an affordable online degree program, students can compare tuition rates and additional fees across schools, along with the financial aid options available at each college.
Cost of Attending College Online in Texas
According to our analysis of manually collected data, tuition rates at Texas colleges can start as low as $6,187 a year, with affordable options ranging up to $10,350. As a point of comparison, the median tuition of the 21 Texas colleges we analyzed was $10,350. These numbers reflect in-state rates.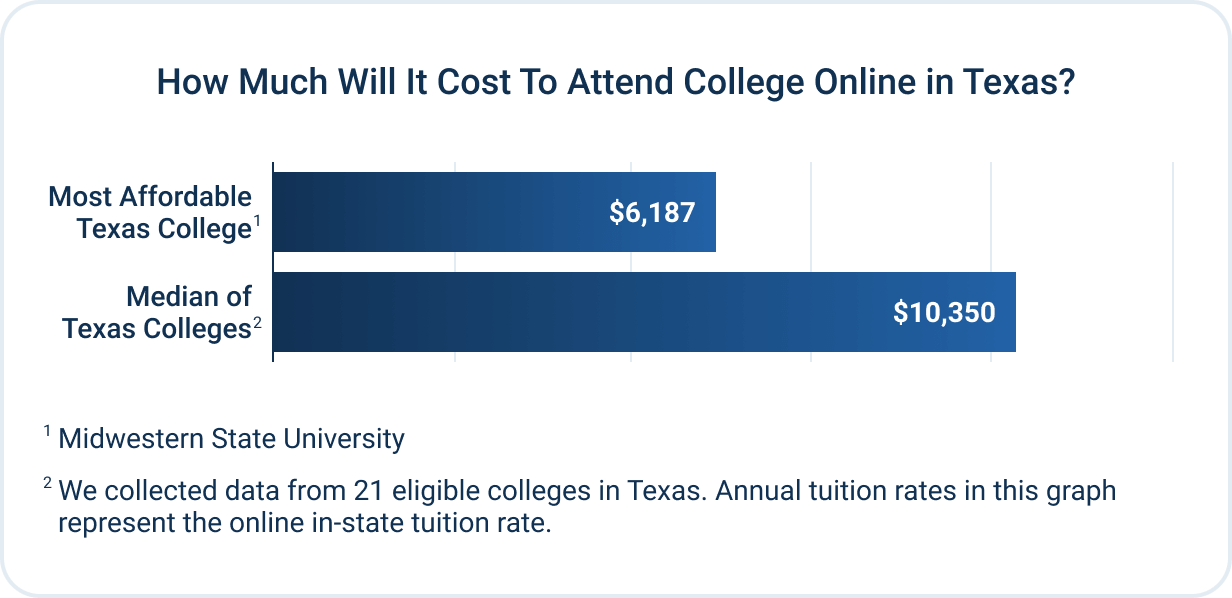 If you were to attend college in Texas in person, you might expect to pay:
$8,645 as an in-state student at a public institution
$25,031 as an out-of-state student at a public institution
$34,476 at a private university
This is according to annual averages from 2019 for all Texas bachelor's degrees (both online and in-person).
In-State vs. Out-of-State Tuition Rates for Online Learners
Many students pursuing online bachelor's degrees still pay the lower in-state tuition rate at public colleges no matter where they live. Even schools that do not grant the in-state rate to nonresidents may offer cheaper online tuition compared to what campus students would pay. Some public schools charge a rate that's between the in-state and out-of-state campus costs.
Why do colleges often charge lower rates for distance education? Online students can pay less because colleges can increase enrollment in online courses without doing major infrastructure upgrades. Such upgrades are a main reason why colleges have raised prices sharply in recent decades. Colleges spend more than they used to, paying high salaries to an increasing number of administrators and decking out campuses with expensive new facilities, then passing many of those costs on to students. Even so, such discounts for online learners are not universal, and private schools often charge the same rate for in-person and online programs regardless of a student's residency.
Many online students still pay the lower in-state tuition rate at public colleges no matter where they live.
In some cases, in-state students will pay a lower rate than out-of-state online students. So if you want to study through a Texas school, why not establish residency? In truth, it's difficult for nonresidents to gain Texas residency just by attending college in the state. They need to live there for at least a year before starting school and furnish proof of their intent to stay.
Additional Costs
While tuition forms the largest portion of college costs, it's not the only expense for campus students or online learners. Students also pay administrative fees that vary by institution and those enrolled online typically pay a technology fee each term, though they can sometimes avoid campus-specific fees. They'll also need books and supplies, along with a computer and reliable internet access. Online students don't need to pay for room and board or transportation, so they can subtract expenses from the total cost of their undergraduate degree.
Financial Aid
Financial aid is crucial for most students and a major factor in making higher education more affordable. In Texas, the median percentage of students who receive financial aid at their school is 96%. Prospective students can use the College Navigator tool from the National Center for Education Statistics to find financial aid data for any college in Texas, including:
Percentage of students receiving aid
Types of aid they receive
Average award amounts per student
Out-of-state online students don't qualify for Texas state programs, but distance learners are eligible for most other financial aid awards as long as they meet the requirements. These requirements generally begin with completing a Free Application for Federal Student Aid (FAFSA), which the federal government, state governments, and most colleges use to determine a student's financial status. Students with undocumented immigration status aren't eligible for federal aid, but Texas provides the Texas Application for State Financial Aid (TASFA) to let these students apply for state programs.
In Texas, the median percentage of students who receive financial aid at their school is 96%.
Most students receive more than one type of financial aid. A common form of aid is a loan, which is also the least desirable because it must be paid back with interest. Federal and Texas state loans offer more favorable interest rates than private lenders, but note that Texas only lends to in-state students attending Texas colleges. Most college students or their families end up taking out loans to help fund a degree.
Before considering loans, students should apply for financial aid that doesn't require repayment. One type is a work-study program that allows students to work part-time in return for a partial or full tuition waiver. But perhaps the most appealing forms of aid are scholarships and grants, which are called gift aid because they don't require repayment or work in exchange for the award. These programs make a degree more affordable by lowering its overall cost. The less a student has to pay using loans, the less debt they'll accrue in the future. This increases a degree's return on investment (ROI) because it allows students to keep or save more of their earnings once they start their careers.
Below are a few scholarships specific to students at Texas colleges. Carefully read through the requirements of each scholarship to determine your eligibility.
Are There Free Options for Online College in Texas?
Texas residents with financial need can earn a tuition-free online degree in the state, though they'll still be required to purchase books and supplies and might need to pay some fees. Texas residents can combine need-based federal and state grants and scholarships if they attend a Texas school, which may add up to cover the cost of tuition. Relevant programs are described at College for All Texans and include the TPEG, TEXAS Grant, TEG, and federal PELL Grant.
In addition to these funds, some individual public universities offer programs that cover the full cost of online education for eligible students. For example, students at the University of Texas at Austin may qualify for the Texas Advance Commitment, and Texas A&M students might be eligible for Aggie Assurance. Both programs award full tuition to students whose annual income is below a certain threshold. Applicants are automatically considered for these programs at their schools if their FAFSA or TASFA demonstrates the financial need requirements. To find similar programs at other public schools, contact that college's financial aid office.
Additional Factors to Consider
Cost is an important concern, but applicants should look at all aspects of their college search when considering an online education. For example, a school's graduation and retention rates will give you a picture of how likely you are to finish your program, and these numbers can indicate how much support a school provides its students. In Texas as a whole, median retention rates are on par with the national median of 76%, but individual colleges will vary.
Accreditation is another important factor to consider, as it means a college and degree program have been thoroughly evaluated by an approved organization and meet academic standards. In fact, at every level, from associate degrees to doctoral programs, accreditation is important.
Below are some additional questions that prospective students should ask themselves when considering different options before enrolling.
What Are My Career Goals?
This question includes two main parts: where you want to work and what your salary expectations are.
Picture your ideal career and some employers in that field. What information can you find about particular schools or programs that these employers look for? As a starting place, we've researched the top employers at ten Texas colleges offering online degrees.
If your goals include earning a certain salary, you can review the Salary Scores for your major. These scores will offer insights into the median salaries of a school's graduates and how those compare to other schools. In fact, we've ranked specific programs at Texas colleges. You can find which schools have the highest Salary Scores for programs like criminal justice, business, and nursing and healthcare. The most affordable programs don't necessarily pay off with the best salaries, so you may find it worthwhile to enroll in a more expensive program that could lead to higher earnings in the future.
What Do I Want From College?
Some online students thrive when they have easy access to a range of services, such as library resources, counseling, and responsive academic advising, or may look for specific programs like hybrid degree options that allow for on-campus interaction or degree completion programs. Others want to work with particular faculty members who are well known in their field. In addition, students may be excited to learn in general studies or liberal arts courses, or may be interested in a school that is known for a particular program. Applicants can get a feel for an online school by reading reviews from alumni, who may find the same things important.
Is Online Learning The Right Format For Me?
Online options exist across degree levels, and are available at some community colleges, four-year colleges, and schools offering graduate programs. However, some students find that they aren't suited to online classes for a variety of reasons: they work better with a structured classroom experience, they like to ask questions of professors during live sessions, or they miss the informal networking interactions among classmates. Depending on whether a student pursues a Bachelor of Arts or Bachelor of Science degree, there may also be programs that are more or less suited for the online environment or that come with unique considerations. Evidence suggests that graduation rates are lower for fully online students, though the cause isn't clear. Prospective students should weigh the flexibility of distance learning against the likelihood that they will finish their studies.
This website offers school details to prospective students as an informational resource. The appearance of a school listing on this website should not be interpreted as an endorsement of the school by this site.
Related Articles
Online Nursing Programs in Texas
Browse our list of accredited online nursing programs in Texas. Learn about licensure and how to become a nurse in Texas once you've earned your degree.
Best Online Community Colleges in Texas
These are the best community colleges in Texas offering online degrees. Compare tuitions for the top-ranked schools.