Most Affordable Online Colleges in Texas
Although many factors contribute to a prospective student's college decision, cost is often one of the most significant. Lower tuition rates make college accessible for a greater number of students and may result in less student debt after graduation. This is why we've created a ranked list of the most affordable online colleges in Texas alongside data-driven pros and cons that look at a range of factors important to student success. Students can combine this information with our ranked list of the best online colleges by salary in Texas and best online colleges by program to consider more options.
Following the list below, we've provided an overview of affordable online colleges in Texas, in addition to information about the costs of online and on-campus degrees, financial aid, and factors to consider in addition to affordability when conducting a college search. View our methodology for more details or learn more about OnlineU.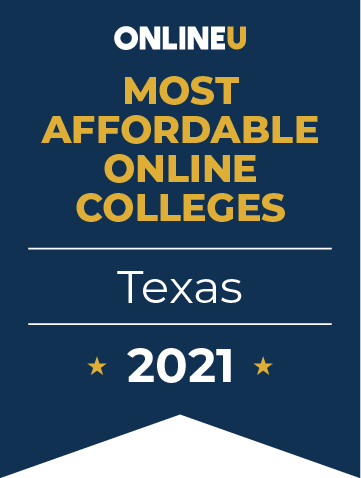 ---
---
---
Rankings Eligibility


21 Colleges Considered


Regionally or Nationally Accredited


Offers 10+ Online Bachelor's Degrees
Our Methodology

Why Trust Us?
60,000 Degrees Researched Annually
20,000 Hours Spent on Research Annually
Launching Rankings Since 2009
Meet Our Team
Media Kit
If you would like a free, high quality version of any of our badges, please send a request to press@optimal.com.
---
Overview of Affordable Online Colleges in Texas
Texas has many higher education institutions, including 106 public and 42 private institutions (nonprofit and for-profit) and a total of six university systems. Texas community colleges and two-year institutions offer online certificate programs and associate degrees. Four-year colleges and universities offer online degrees at the bachelor's, master's, and doctoral levels.
Online programs are popular because they provide scheduling flexibility and affordability. However, online degrees aren't just convenient, they also tend to cost less than equivalent campus programs. Tuition costs can be a significant concern because accruing large amounts of student debt can affect your finances for many years.
How Much Does It Cost To Go to College Online in Texas?
According to our analysis of manually collected data, tuition rates at Texas colleges can start at around $6,000 a year, with affordable options ranging up to approximately $10,000. Tuition rates may vary based on residency, but you may still pay the lower in-state tuition rate at public colleges no matter where you live. Even schools that do not grant the in-state rate to nonresidents may offer cheaper online tuition compared to what campus students would pay.
According to our analysis of manually collected data, tuition rates at Texas colleges can start at around $6,000 a year, with affordable options ranging up to approximately $10,000.
In addition to tuition, you'll also pay administrative fees that vary by institution and possibly technology fees as an online student, though campus-specific fees may be waived. You should also factor in expenses for books and supplies when determining your budget, along with a computer and reliable internet access. However, you won't have to worry about the cost of living on or commuting to campus when attending online.
Are There Any Free Colleges in Texas?
If you are a Texas resident with financial need, you may be eligible for free tuition, though you'll still be responsible for any related fees and books. You can also combine need-based federal and state grants and scholarships if you attend a Texas school, which may add up covering the tuition cost. Relevant programs are described at College for All Texans and include the TPEG, TEXAS Grant, and the TEG.
In addition, some individual public universities offer programs that cover the total cost of online education for eligible students. For example, University of Texas at Austin students may qualify for the Texas Advance Commitment, and Texas A&M students might be eligible for Aggie Assurance. Both programs award full tuition to students whose annual income is below a certain threshold. You are automatically considered for these programs after you apply for federal or state financial aid.
---
Contact your college's financial aid office to determine what programs they may offer.
---
Financial Aid for Texas College Students
Financial aid is crucial for most students and a significant factor in making higher education more affordable. Texas ranks second in the U.S. in total student financial aid, spending an average of $1,235 on each undergraduate student. In addition, 28.3% of undergraduates receive federal student loans. You can determine your eligibility for federal grants, work-study programs, or low-interest federal student loans with flexible repayment options by completing a Free Application for Federal Student Aid (FAFSA). If you have undocumented immigration status, you aren't eligible for federal aid, but you can complete the Texas Application for State Financial Aid (TASFA) to determine eligibility for state programs.
Texas ranks second in the U.S. in total student financial aid, spending an average of $1,235 on each undergraduate student.
Most students receive more than one type of financial aid. For example, you can apply for private scholarships once federal aid amounts are determined. Military veterans often use their GI Bill education benefits to help pay for school. Additionally, you may work for a company that offers an employer-paid tuition assistance program. As a last resort, you may rely on private loans, though be careful because interest rates can be high with few repayment options, increasing any financial burden. There are also other state-sponsored financial aid options open to Texas residents.
---
To find an affordable online degree program, you can compare tuition rates and additional fees across schools, along with the financial aid options available at each college. You can also review current
student debt relief plans
in anticipation of life after graduation.
---
Additional Factors To Consider
Cost is paramount, but you should explore other factors when considering online education. For example, a school's graduation and retention rates will show how likely you are to finish your program, and these numbers can indicate how much support a school provides its students. In Texas, the median retention rate for four-year public universities in Texas is 79%, which is slightly higher than the 76% national average, but individual colleges will vary.
Accreditation is another critical factor to consider, as it means a college has been thoroughly evaluated by an approved organization and meets academic standards. In fact, at every level, from associate degrees to doctoral programs, accreditation is essential. Schools may receive institutional accreditation, and a degree may be programmatically accredited, showing its curriculum meets industry standards. You can check with the Council for Higher Education Accreditation (CHEA) to verify accreditation status.
Below are some additional questions you should ask yourself before enrolling.
What Are My Career Goals?
Your career goals will dictate what level of education you want to pursue and where. For instance, some occupations, such as medical assistant or HVAC technician, require a certificate of completion from a two-year college or trade school. Other professions, such as a nurse practitioner and roles in educational leadership, require a graduate degree from a four-year university.
If your goals include earning a specific salary, you can review the salary scores for your major and our scoring methodology. These scores will offer insights into the median salaries of a school's graduates and how those compare to other schools. To help you, we've ranked the best online colleges in Texas. The most affordable programs don't necessarily pay off with the best salaries, so you may find it worthwhile to enroll in a more expensive program that could lead to higher earnings in the future.
What Do I Want From College?
Some online students thrive when they have easy access to a range of services, such as library resources, counseling, and responsive academic advising, or may look for or degree completion programs or hybrid degree options that allow for on-campus interaction. Others want to work with particular faculty members who are well known in their field or may be interested in a school known for a specific program. In addition, students may be interested in enrolling in general studies or liberal arts courses. Applicants can get a feel for an online school by reading reviews from alumni, who may find the same things important.
Is Online Learning the Right Format for Me?
Online options exist across degree levels and are available at some community colleges, four-year colleges, and schools offering graduate programs. However, some students find that they aren't suited to online classes for a variety of reasons:
They work better with a structured classroom experience.
They like to ask questions of professors during live sessions.
They miss the informal networking interactions among classmates.
Depending on whether a student pursues a Bachelor of Arts or Bachelor of Science, there may also be programs that are more or less suited for the online environment or come with unique considerations.
Top Online Degree Programs in Texas
We've identified the best online bachelor's degree programs in Texas. These programs include business, communications, criminal justice, nursing, and psychology. They are highly rated because they are affordable, meet Texas industry demands, and graduates earn high salaries. Therefore, you can potentially receive a good return on your investment by completing one of these online programs.
In Demand Industries in Texas
The Texas Workforce Commission (TWC) has identified in-demand industries throughout the state and jobs within each industry cluster, with the highest projected job growth requiring a certificate or degree. It's interesting to note that many jobs are in engineering, technology, finance, and accounting.
Industry
Occupations
Advanced Technologies and Manufacturing
Aerospace and Defense

Software Developers
Business Operations Specialists

Biotechnology, Life Sciences, and Health Care
Construction
Energy

General and Operations Managers
Business Operations Specialists

Information and Computer Technology

Software Developers
Computer Systems Analysts
General and Operations Managers

Petroleum Refining and Chemical Products

Accountants and Auditors
General and Operations Managers
Industrial Engineers

Transportation and Logistics

General and Operations Managers
Aircraft Mechanics and Technicians
Market Research Analysts
Software Developers
Accountants and Auditors
Top Paying Careers in Texas
CareerOneStop — with data from the U.S. Department of Labor's Bureau of Labor Statistics — has identified the highest-paying careers in Texas requiring a bachelor's degree. We've included a sample from their list across professions and industries that expect to experience higher than average job change or growth:
Annual Median Salary:
$101,140
Actuaries analyze statistical information, such as accidents, death, disability, and illness rates, to forecast risk and liability and future benefit payments. They work in finance, insurance, and the federal government.
Computer and Information Systems Managers
Annual Median Salary:
$151,260
Computer and information systems managers — also called IT managers — plan, coordinate, and manage an organization's computer-related activities. They may also determine an organization's computer needs and develop plans for meeting those demands.
Annual Median Salary:
$133,900
Financial managers are responsible for an organization's financial health. They develop an organization's economic plans, create reports, and manage investments.
Annual Median Salary:
$125,770
Human resources managers direct an organization's staffing and recruitment efforts, create and implement employee relations policies and processes, oversee administrative functions, and serve as a liaison between management and staff.
Annual Median Salary:
$128,030
Marketing managers oversee product and service marketing policies and programs, determine demand, identify potential customers, and research competition.
Medical and Health Services Managers
Annual Median Salary:
$102,110
Annual Median Salary:
$130,850
Petroleum engineers oversee drilling operations and develop and improve methods to extract gas and oil.
FAQs About Online Colleges in Texas
What College in Texas Has the Lowest Tuition?
---
The top three universities on our rankings list are among the cheapest in Texas, with annual tuition rates of about $6,000 for Texas residents pursuing undergraduate degrees. Texas community colleges average $2,270 annual tuition for residents, which is approximately $2,000 lower than the national average.
How Much Does a Bachelor's Degree Cost in Texas?
---
It costs an average of $8,016 for tuition and fees annually to attend a public four-year university in Texas as a resident, which equates to approximately $32,000 for a bachelor's degree. This amount jumps to $25,471 per year for out-of-state students or over $100,000 for a bachelor's degree.
Does Texas Have Good Online Colleges?
---
Texas has good online colleges, and you should be able to find one that fits your needs. When determining how good an online college is, there are several factors to consider, including graduation and retention rates, return on investment (ROI), entrance exam scores, and student reviews and satisfaction.
What Texas Colleges Are Online?
---
Texas Tech University, Texas State University, the University of Texas, and the Texas community college systems all offer online degree programs. Many others also do, including private colleges, universities, and trade schools throughout the state.
Related Articles
Online Nursing Programs in Texas
Browse our list of accredited online nursing programs in Texas. Learn about licensure and how to become a nurse in Texas once you've earned your degree.
2023 Best Online Colleges in Texas
Compare the best online colleges in Texas for 2023 and find the right school for your needs.