Best Online Colleges by Salary in Texas
At OnlineU, we've analyzed student outcomes to determine the best online colleges by salary in Texas, ranked by Salary Score. A high Salary Score means that graduates of a particular program tend to earn more after graduation than alumni of that same program at other schools. Students planning to reside in the Lone Star State may find it helpful to combine Salary Score data with employment information to make better-informed decisions about their career paths. Looking at Texas employment statistics from the Bureau of Labor Statistics or at the top employers of each ranked university can help with this.
Below, you'll find a ranked list of schools alongside data-driven pros and cons. Following this, we dive into an overview of online programs in Texas, information about careers in the state, and data about the cost of an online degree. View our methodology for more details or learn more about OnlineU.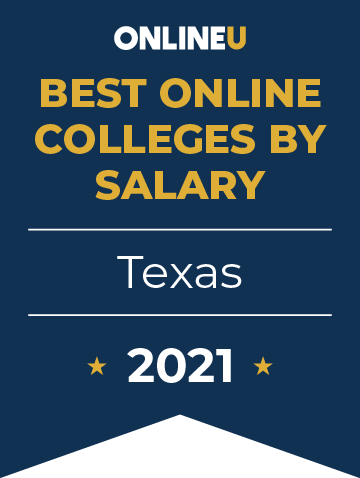 ---
---
---
Rankings Eligibility


21 Colleges Considered


Regionally or Nationally Accredited


Offers 10+ Online Bachelor's Degrees
Our Methodology

Why Trust Us?
60,000 Degrees Researched Annually
20,000 Hours Spent on Research Annually
Launching Rankings Since 2009
Meet Our Team
Media Kit
If you would like a free, high quality version of any of our badges, please send a request to press@optimal.com.
---
Overview of Online Colleges With High Salaries for Graduates
Texas is home to more than 100 Title IV colleges, including six distinct state university systems. Student enrollment at four-year colleges increased by 15% from 2010 to 2018 in the state. With the growing number of degree-seekers and an increasing demand for a diploma in the workforce, attending an online program at an accredited college might make sense for you.
Online education programs use e-learning learning platforms to deliver lectures, hold discussions, and assign tasks, allowing students to complete coursework from anywhere. Because of the flexibility that online classes offer, more prospective students are able to find a degree program that's suited for them.
With so many options to choose from, students should determine which factors are most important to them. Many students are motivated to attend college because of the career prospects and salary potential that often accompany a degree. If this is a major factor in your college decision, you want to be confident that a school will set you up for career success. To help determine this, we've ranked Texas colleges by their Salary Score.
---
What is Salary Score?

This measurement compares the starting salaries for a single school's alumni to the starting salaries for all other schools' alumni. A high Salary Score indicates that alumni from that college tend to earn more than alumni of the same program at other schools. Earnings vary significantly across majors, so we only compare salaries from the same program to determine which schools produce highly paid alumni no matter what they study.
---
In addition to future salary, you may be curious about which employers tend to hire graduates from a given school. We've gathered information about top employers recruiting students from each college to gauge how well a school might prepare you for your chosen industry. We cover this and more below.
Careers in Texas
A bachelor's degree can open doors to a variety of careers that pay well and feature steady job growth, and there is a diverse range of online options in programs such as public administration, human resources, and organizational leadership to get you there. According to the Bureau of Labor Statistics (BLS), the median annual salary for bachelor's degree graduates in the U.S. is $67,860. This is about $19,000 more than the median yearly earnings for alumni with associate degrees and $27,000 more than those of high school graduates. In general, each degree level leads to a higher salary potential, so some students may choose to pursue a graduate program after earning their bachelor's. Across the country, the college majors that tend to lead to the highest salaries include engineering, computer science, business administration, and finance and some of the fastest-growing industries include business management, nursing and healthcare, and software development.
This information represents the U.S. as a whole, and Texas has a unique economy that bears closer examination. According to the U.S. Census Bureau, 29.9% of Texas adults over 25 hold a bachelor's degree, which is lower than the percentages for other high-population states such as California (33.9%), New York (36.6%), and Pennsylvania (31.4%). This may indicate less job competition among Texas graduates in some of the state's top industries, such as aerospace and defense, energy, and information technology. Data from Massachusetts Institute of Technology researchers notes relatively high wages for Texas employees who work in management, computer and mathematics occupations, architecture and engineering, and law, though it's unclear what percentage of the sample holds a master's degree or doctoral degree.

Below, we've listed a few jobs that students can pursue in Texas once they've earned a bachelor's degree, with median annual salaries provided by the BLS unless otherwise noted. These jobs represent some common industries Texas graduates enter from some of the best colleges in the state. Texas is a large state with a dynamic economy, however, so this list represents only a few possibilities in major or fast-growing sectors.
Top Employers of Texas Online College Graduates
Different colleges may more strongly prepare people for certain careers and employers compared to others. For example, the University of Texas Permian Basin feeds many graduates to two Texas school districts as teachers and administrators, and the university's highest Salary Scores are in English and psychology-related majors. The top employer of Wayland Baptist University alumni is the U.S. Air Force, and alumni from the university's criminal justice and corrections program tend to earn more than graduates of the same program at other schools. Our recent study provides additional information, examining which employers hire from the top online colleges in Texas.
Can I Get a Job With an Online Degree?
There has certainly been stigma against hiring online graduates in the past, but evidence suggests that this is changing. Employers are primarily concerned that an applicant's degree is from an accredited school, not whether they took online courses.
But what is accreditation? It's a stamp of approval from a recognized accrediting agency that has reviewed a college and determined that its degree programs meet specified criteria for quality. Schools can earn several types of accreditation, including national accreditation (usually granted to technical and trade institutions) and the more academically rigorous regional accreditation.
Prospective students should first consider regionally accredited colleges. Although both forms of accreditation allow students to apply for federal financial aid, students can only transfer credits to one regionally accredited school from another — these schools usually don't recognize coursework completed at nationally accredited institutions.
Applicants can take several steps to vet the legitimacy and quality of an online degree program. Attending a legitimate program increase the likelihood that you'll finish the entire program and earn your degree, and that your education will prepare you with relevant skills for the workplace:
| | |
| --- | --- |
| | Review College Navigator to find a school's retention and graduation rates, which may indicate the level of support a school grants its students. The National Center for Education Statistics created this tool to present prospective students with meaningful data. |
| | |
| --- | --- |
| | Read student and alumni reviews, focusing on a college's online students and those in the program you're interested in (if available). |
How Much Does It Cost to Attend Colleges Online in Texas?
Many students are rightly concerned about the costs and potential loan debt associated with higher education. From our research of the best online schools by salary in Texas and using in-state rates, the median annual tuition of an online bachelor's degree is $9,690 and ranges from $6,252 to $30,690 a year. In comparison, the median for online bachelor's programs at all U.S. schools is $13,919.
One way to reduce the cost of a degree is by attending a community college before pursuing a four-year degree — transfer students can save money by applying credits from their general studies to four-year programs, earning a degree more quickly. It may also be helpful to apply to a relatively affordable Texas college. Texas residents can attend public institutions where they qualify for a lower state tuition rate. In fact, even out-of-state students may qualify for this lower in-state rate through online learning.
However, even students at more expensive schools should try to reduce costs by applying for as much financial aid as possible. Students may begin this process by completing a Free Application for Federal Student Aid (FAFSA) to determine their financial status. Scholarships, grants, and work-study programs are ideal because these funds don't require repayment after graduation, although many students end up taking out student loans as well. (Applicants with undocumented immigration status can use the Texas Application for State Financial Aid instead, because they aren't eligible for federal aid.) Financial aid recipients may need to maintain full-time status and a specific GPA to renew their aid each year.
The median annual tuition of an online bachelor's degree is $9,690 and ranges from $6,252 to $30,690 a year.
Although upfront costs are important, they shouldn't be the only consideration — it's worth weighing a degree's cost against the future salary you're likely to earn as a graduate. Research each college's programs to find out what you can expect to earn after graduating. You may decide that a greater potential payoff is worth higher initial costs.