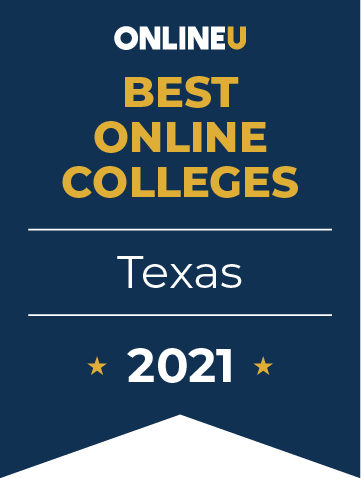 ---
---
Highest Salary
| | |
| --- | --- |
| Salary Score: | 76 |
| Acceptance Rate: | 89% |
| Annual Tuition: | $10,620 |
Bottom Line:
The University of Texas-Permian Basin alumni earn a higher average salary and tend to owe significantly less in student loan debt than graduates of other programs. However, the university has relatively low graduation and retention rates compared to other schools. Students should research what the university offers in terms of online services and support.
---
Pros:
| | |
| --- | --- |
| | UT-Permian Basin's Salary Score is 76, meaning that alumni tend to earn more than graduates from the same major at other schools. |
| | Students tend to graduate with less debt compared to other U.S. colleges, with a median debt of $16,149 per student. |
| | Online students pay the same tuition as in-state students, regardless of where they live, making UT-Permian Basin more accessible for out-of-state students. |
Cons:
| | |
| --- | --- |
| | This university has a graduation rate of 41%, which is lower than the median of 54% for all schools. |
Top Employers:
Ector County ISD
Midland ISD
Pioneer Natural Resources
Midland College
Chevron
Most Affordable

Midwestern State University
Wichita Falls
| | |
| --- | --- |
| Salary Score: | 43 |
| Acceptance Rate: | 81% |
| Annual Tuition: | $6,187 |
| Out-of-State Tuition: | $8,137 |
Bottom Line:
Midwestern State University, the most affordable Texas college with online programs, may be a good choice for students looking to save money on their education. The university's high acceptance rate and low tuition make it an accessible option. Those looking to maximize their investment, however, may opt for a school with a higher Salary Score.
---
Pros:
| | |
| --- | --- |
| | Midwestern State University offers affordable tuition rates for both in-state ($6,187) and out-of-state ($8,137) students. |
| | This school may be an accessible option for students, with an acceptance rate of 81%. |
| | While all ranked schools perform well in terms of the percent of alumni working one year after college, Midwestern State is among the highest at 97%. |
Cons:
| | |
| --- | --- |
| | Midwestern State's Salary Score of 43 is the lowest of ranked colleges in Texas, meaning alumni of a given program tend to earn less than graduates of the same programs at other schools. |
| | This university has a graduation rate of 42%, which is lower than the median of all U.S. colleges (54%). |
Top Employers:
United Regional Health Care System
Wichita Falls ISD
Baylor Scott & White Health
Texas Health Resources
United States Air Force
Staff Pick

Texas Tech University
Lubbock
| | |
| --- | --- |
| Salary Score: | 74 |
| Acceptance Rate: | 69% |
| Annual Tuition: | $8,760 |
| Out-of-State Tuition: | $21,030 |
Bottom Line:
Texas Tech University alumni tend to have higher salaries than graduates of other schools. This, alongside a relatively high graduation rate, may indicate robust student resources and programs. The upfront cost may be challenging for some, however, as fewer students receive financial aid here than at other schools.
---
Pros:
| | |
| --- | --- |
| | Texas Tech University's Salary Score is 74, meaning that alumni of a given program tend to earn more than graduates of the same programs at other schools. |
| | This university has a graduation rate of 60%, which is higher than the median of 54% for all U.S. colleges. |
| | Texas Tech offers a relatively affordable rate to in-state online students, and has the highest Salary Score of schools with annual tuition rates below $9,000. |
Cons:
| | |
| --- | --- |
| | 78% of students receive financial aid, compared to a median of 96% across U.S. colleges. |
| | Out-of-state online students pay more than double what in-state online students pay, so the cost may be less accessible for nonresidents. |
Top Employers:
Fidelity Investments
USAA
AT&T
Amazon
Dell Technologies
---
Rankings Eligibility


21 Colleges Considered


Regionally or Nationally Accredited


Offers 10+ Online Bachelor's Degrees
Our Methodology

Why Trust Us?
60,000 Degrees Researched Annually
20,000 Hours Spent on Research Annually
Launching Rankings Since 2009
Meet Our Team
Media Kit
If you would like a free, high quality version of any of our badges, please send a request to press@optimal.com.
---
Best Online Bachelor's Programs From Texas Colleges
---
---
---
---
---
---
Overview of Higher Education in Texas
College enrollment has been climbing in Texas for years. Total enrollment in the state was just over 227,000 students for the 2020-2021 year at accredited schools — approximately 93% were listed as Texas residents. Of the degree-granting institutions in Texas:
103 are public colleges and universities.
71 are private non-profit colleges.
61 are private for-profit schools.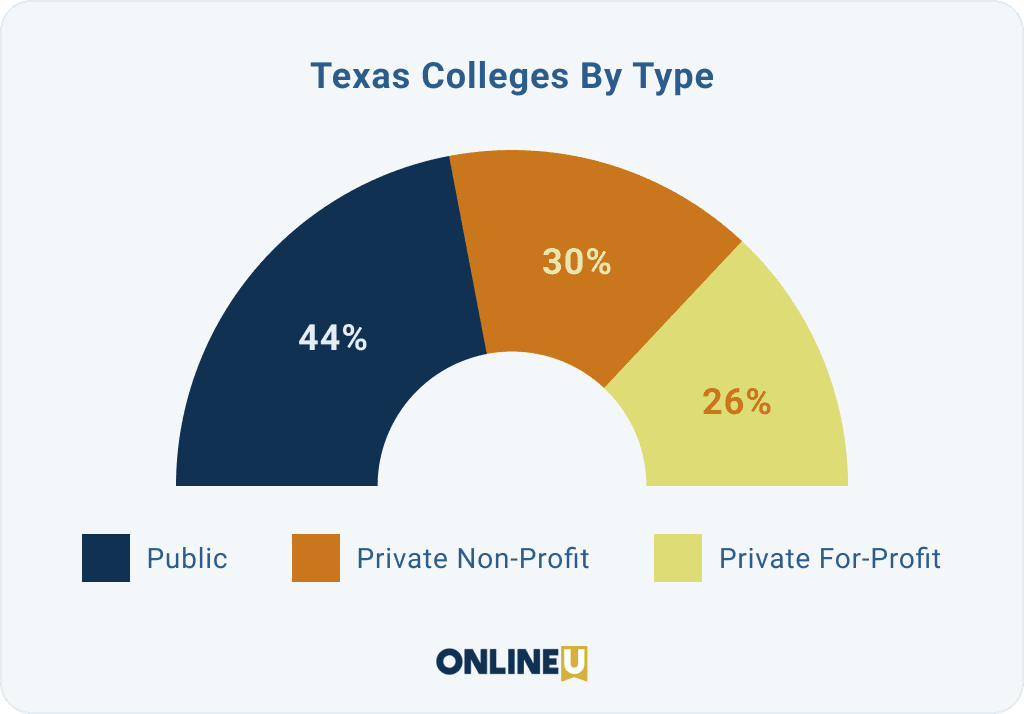 Texas features a large community college system. In fact, most transfer students to four-year universities had previously earned a general studies associate degree at one of the state's 128 two-year colleges. Overall, graduation rates at public Texas colleges are in line with the nationwide average: 39% of those entering a public college in Texas in 2014 graduated within four years, and 65% graduated within six years. Compare that to 2013 (most recent data available) NCES nationwide graduation rates of 41% and 64%, respectively.
Online Colleges in Texas
Online learning is well represented in Texas at every level — from certificates to doctoral degrees — and at both private schools and public university systems such as the University of Texas and the University of Houston. Texas colleges provide a variety of degree options through distance education, including programs in business, criminal justice, nursing, and psychology.
Online learning is well represented in Texas at every level — from certificates to doctoral degrees — and at both private schools and public university systems such as the University of Texas and the University of Houston.
Most online degree programs feature asynchronous classes, which have no live components. Students log in to a learning management platform to view lectures, post in forums, and submit coursework. Alternately, some programs feature synchronous elements such as live lectures over video, and others are designed for hybrid delivery with a mix of asynchronous work and some on-campus class meetings. These programs offer greater flexibility for students who juggle other responsibilities, and this convenience may help explain the increased popularity of online classes.
Frequently Asked Questions About Online Education in Texas
Are Online Degrees Respected?
Much of the stigma around online degrees has eroded as big-name universities have entered the online space and many on-campus students take at least some online courses. A degree earned from an accredited school is the most important credibility factor for job seekers, not the mode of course delivery. What's more, a diploma won't indicate that a student earned the degree online.
Does Texas Have Good Online Schools?
Many Texas colleges that offer online degrees feature competitive salaries upon graduation. For example, the top three Texas colleges by salary all have Salary Scores of 74 and higher, which places them relatively high in our nationwide rankings. This may mean that alumni received an education that prepared them for well-earning post-graduate careers. With a goal of ensuring online student success,Texas colleges typically offer services to distance learners, such as academic support, library and tech resources, and even career consultation services. These resources are geared toward ensuring the success of online students.
Are Online Colleges in Texas Accredited?
Many Texas colleges with online degrees are accredited at either the national or regional level. Both designations mean that a school has passed a thorough, independent examination of its educational quality, but regional accreditation is more rigorous and allows students to transfer credits more easily. Our rankings lists feature mainly regionally accredited online colleges in Texas. Applicants can check a school's accreditation status using the Department of Education's Database of Postsecondary Institutions and Programs.
Cost of Online Colleges in Texas
College is a major expense for most students, so it's important to understand the costs and how to possibly mitigate them. Here are the costs to attend a Texas college, with data from the U.S. Department of Education:
Texas residents at four-year public schools pay an average of $8,598 annually.
Nonresidents at four-year public institutions pay an average of $24,889 annually.
All students at four-year private schools pay an average of $36,014 annually.
Texas residents at public two-year schools pay an average of $2,380 annually.
Nonresidents at public two-year schools pay an average of $6,373 annually.
Each amount includes tuition and mandatory fees but excludes room and board. These numbers are a helpful starting point for understanding how much a degree will cost, but they aren't specific to online bachelor's degrees in Texas.
---
Online-specific costs aren't as widely reported, but according to our manual research of 21 Texas schools offering undergraduate degrees online, the median annual tuition is $10,350, and tuition rates range from $6,187 to $30,690 a year.
---
Notably, most public Texas universities charge the in-state tuition rate to full-time online students regardless of residency. These lower tuition rates favor out-of-state students who would otherwise pay a higher amount per credit to study on campus. Some private Texas colleges also charge less tuition to online students because the overhead costs per student are lower.
Students should keep in mind extra fees they'll need to pay on top of tuition, which vary by school and program. Online students usually have to pay a technology fee to cover the costs associated with data storage and learning management platforms for online courses. However, there are some costs online students can avoid, such as room and board or campus recreation fees.
Financial Aid for Online Students in Texas
To help reduce upfront costs, students can apply for financial aid from the federal government, the Texas state government, their college, or private sources. The best options are gift aid funds that don't need to be repaid, such as grants and scholarships. Although 66% of students at non-profit Texas schools receive financial aid, most of these students fund the remaining balance of their education using loans, which require repayment with interest. It's advisable to exhaust government loans before turning to private lenders, which charge higher interest rates.
66% of students at non-profit Texas schools receive financial aid.
The financial aid process begins with the Free Application for Student Financial Aid (FAFSA) to determine eligibility for federal aid. Most states and colleges use the information for the same purpose. Students with undocumented immigration status should complete the Texas Application for Student Financial Aid. Although these students can't receive federal funds, they may qualify for some state programs. All students should check with their school's financial aid office to see which programs the college participates in.
Texas provides several aid opportunities for students who demonstrate financial need. In general, state programs are reserved for state residents — including online learners — and can be renewed if the students maintain a specified GPA. Students may be eligible for the following Texas funds:
Students in a Reserve Officers' Training Corps (ROTC) program can earn $10,000 off tuition and fees annually if they sign a four-year commitment to the U.S. military or branch of the Texas Guard and meet high school eligibility requirements.
Students demonstrating financial need can qualify for partial funding if they maintain a part-time job while attending a Texas college at least half-time.
This is another need-based grant for students at public Texas schools. The award amount is at the discretion of the institution that the student attends.
Texas public college students may be eligible for the TEXAS Grant Program if they demonstrate financial need. Recipients can receive up to $5,195 off tuition and fees per semester.
Texas residents with financial need who are seeking undergraduate or graduate degrees can apply to receive up to $3,497 a year to attend a non-profit private college in Texas. The degree must be the first of its level that the student is pursuing. Those with exceptional financial need may receive up to $5,246.
Employment Outlook for College Graduates in Texas
About 30% of Texas residents over 25 hold a bachelor's degree, which is slightly lower than the nationwide amount of 32%. This could indicate less competition for jobs in Texas than in states with more degree holders. What's more, many jobs in the state's boom industries require a bachelor's degree for entry-level employment. These industries include technology and manufacturing, aerospace and defense, information technology, petroleum refining, and energy.
Education generally pays in Texas: bachelor's degree holders earn median weekly earnings of $1,305, which is significantly higher than the $781 median earnings of those without a college education. College graduate salaries have great potential buying power in Texas, a state with the 14th-lowest cost of living in the nation. Further, unemployment rates are also lower among Texans with a bachelor's degree and even lower among those with a graduate degree.

Popular Career Paths for College Graduates in Texas
Several of Texas's fastest growing occupations are also among the state's top industries for alumni of the best online colleges in Texas. Graduates can explore Texas Career Check for more information about opportunities in the state and learn more about some of the jobs available in these popular industries below.
Accountant and auditor roles might be a good fit for math-savvy students who study accounting or finance. Accountants analyze the finances of businesses, households, and government offices to help them understand their inflows and spending, where auditors investigate employer balance sheets to ensure compliance with legal reporting requirements. Both types of employee can improve their career prospects by earning a master's degree in accounting and a Certified Public Accountant license. These professionals make median wages of $73,560 nationwide, and the BLS expects this field to grow 7% in the 2020-2030 period.
General and operations managers
General and operations managers lead teams of employees at private companies, government agencies, and non-profits. They ensure that operations run smoothly, plan and oversee budgets, and hire and develop new talent. These professionals commonly study business administration, management, or organizational leadership. They earn median annual wages of $103,650, and projections show the field growing by about 9% by 2030.
Elementary school teachers
Elementary school teachers generally major in education, but because of a critical K-12 teacher shortage, Texas offers alternative certification programs for students who majored in other fields in order to fill the demand. These teachers make median yearly wages of $60,940 and can expect a 7% job growth rate through the end of the decade.
High school teachers specialize in subjects such as math, science, or humanities. They tend to earn more than elementary teachers, with median yearly salaries of $62,870 in Texas. The field will likely grow 8% in the 2020-2030 period.
Registered nurses care for patients in all types of healthcare facilities. They often specialize in certain care settings or patient populations and keep their skills sharp through continuing education. Graduates can register as nurses with an associate degree, but a Bachelor of Nursing Science (BSN) degree often helps improve their marketability. RNs earn median pay of $75,330 per year and the BLS expects the field to grow at a 9% rate from 2020-2030.
This website offers school details to prospective students as an informational resource. The appearance of a school listing on this website should not be interpreted as an endorsement of the school by this site.
Related Articles
Most Affordable Online Colleges in Texas
Compare the most affordable online colleges in Texas based on manually researched tuition rates. The top school in 2021 is Midwestern State University.
Online Nursing Programs in Texas
Browse our list of accredited online nursing programs in Texas. Learn about licensure and how to become a nurse in Texas once you've earned your degree.