2021 Best Online Colleges in Texas
There are more than 120 colleges and universities in the state of Texas, and many offer online degrees. To help students find the best online colleges in Texas that meet their needs, we've ranked schools by affordability and salary. We've also selected Texas Tech University as our staff pick based on a variety of factors important to students. TTU has a relatively low tuition rate for online students and a high graduation rate compared to other colleges. In addition, Texas Tech alumni of a given program tend to earn more than graduates of the same program at other schools.
On this page, you'll find data-driven pros and cons that will help you assess the benefits and potential drawbacks of a given school or program. We also provide an overview of online learning in Texas, along with information about the costs of an online degree and potential careers for graduates in the state. View our methodology for more details or learn more about OnlineU.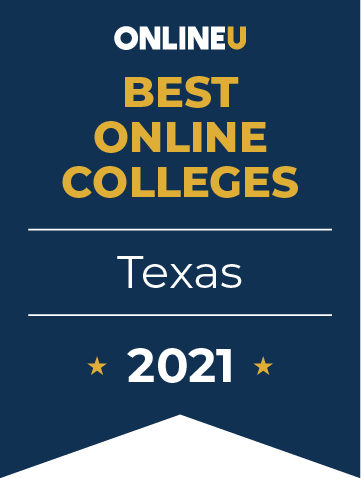 ---
---
Highest Salary
| | |
| --- | --- |
| Salary Score: | 76 |
| Acceptance Rate: | 89% |
| Annual Tuition: | $10,620 |
Bottom Line:
The University of Texas-Permian Basin alumni earn a higher average salary and tend to owe significantly less in student loan debt than graduates of other programs. However, the university has relatively low graduation and retention rates compared to other schools. Students should research what the university offers in terms of online services and support.
---
Pros:
| | |
| --- | --- |
| | UT-Permian Basin's Salary Score is 76, meaning that alumni tend to earn more than graduates from the same major at other schools. |
| | Students tend to graduate with less debt compared to other U.S. colleges, with a median debt of $16,149 per student. |
| | Online students pay the same tuition as in-state students, regardless of where they live, making UT-Permian Basin more accessible for out-of-state students. |
Cons:
| | |
| --- | --- |
| | This university has a graduation rate of 41%, which is lower than the median of 54% for all schools. |
Top Employers:
Ector County ISD
Midland ISD
Pioneer Natural Resources
Midland College
Chevron
Most Affordable

Midwestern State University
Wichita Falls
| | |
| --- | --- |
| Salary Score: | 43 |
| Acceptance Rate: | 81% |
| Annual Tuition: | $6,187 |
| Out-of-State Tuition: | $8,137 |
Bottom Line:
Midwestern State University, the most affordable Texas college with online programs, may be a good choice for students looking to save money on their education. The university's high acceptance rate and low tuition make it an accessible option. Those looking to maximize their investment, however, may opt for a school with a higher Salary Score.
---
Pros:
| | |
| --- | --- |
| | Midwestern State University offers affordable tuition rates for both in-state ($6,187) and out-of-state ($8,137) students. |
| | This school may be an accessible option for students, with an acceptance rate of 81%. |
| | While all ranked schools perform well in terms of the percent of alumni working one year after college, Midwestern State is among the highest at 97%. |
Cons:
| | |
| --- | --- |
| | Midwestern State's Salary Score of 43 is the lowest of ranked colleges in Texas, meaning alumni of a given program tend to earn less than graduates of the same programs at other schools. |
| | This university has a graduation rate of 42%, which is lower than the median of all U.S. colleges (54%). |
Top Employers:
United Regional Health Care System
Wichita Falls ISD
Baylor Scott & White Health
Texas Health Resources
United States Air Force
Staff Pick

Texas Tech University
Lubbock
| | |
| --- | --- |
| Salary Score: | 74 |
| Acceptance Rate: | 69% |
| Annual Tuition: | $8,760 |
| Out-of-State Tuition: | $21,030 |
Bottom Line:
Texas Tech University alumni tend to have higher salaries than graduates of other schools. This, alongside a relatively high graduation rate, may indicate robust student resources and programs. The upfront cost may be challenging for some, however, as fewer students receive financial aid here than at other schools.
---
Pros:
| | |
| --- | --- |
| | Texas Tech University's Salary Score is 74, meaning that alumni of a given program tend to earn more than graduates of the same programs at other schools. |
| | This university has a graduation rate of 60%, which is higher than the median of 54% for all U.S. colleges. |
| | Texas Tech offers a relatively affordable rate to in-state online students, and has the highest Salary Score of schools with annual tuition rates below $9,000. |
Cons:
| | |
| --- | --- |
| | 78% of students receive financial aid, compared to a median of 96% across U.S. colleges. |
| | Out-of-state online students pay more than double what in-state online students pay, so the cost may be less accessible for nonresidents. |
Top Employers:
Fidelity Investments
USAA
AT&T
Amazon
Dell Technologies
---
Rankings Eligibility


21 Colleges Considered


Regionally or Nationally Accredited


Offers 10+ Online Bachelor's Degrees
Our Methodology

Why Trust Us?
60,000 Degrees Researched Annually
20,000 Hours Spent on Research Annually
Launching Rankings Since 2009
Meet Our Team
Media Kit
If you would like a free, high quality version of any of our badges, please send a request to press@optimal.com.
---
Best Online Bachelor's Programs From Texas Colleges
---
---
---
---
---
---
Overview of Higher Education and Online Learning in Texas
Texas is the second-largest U.S. state by both population and landmass, so it's no surprise that it contains a large number of colleges. According to the National Center for Education Statistics (NCES), Texas is home to more than 120 institutions offering bachelor's degrees. Of these:
50 are public colleges and universities (including six university systems)
55 are private non-profit colleges
23 are private for-profit schools (including one fully online school)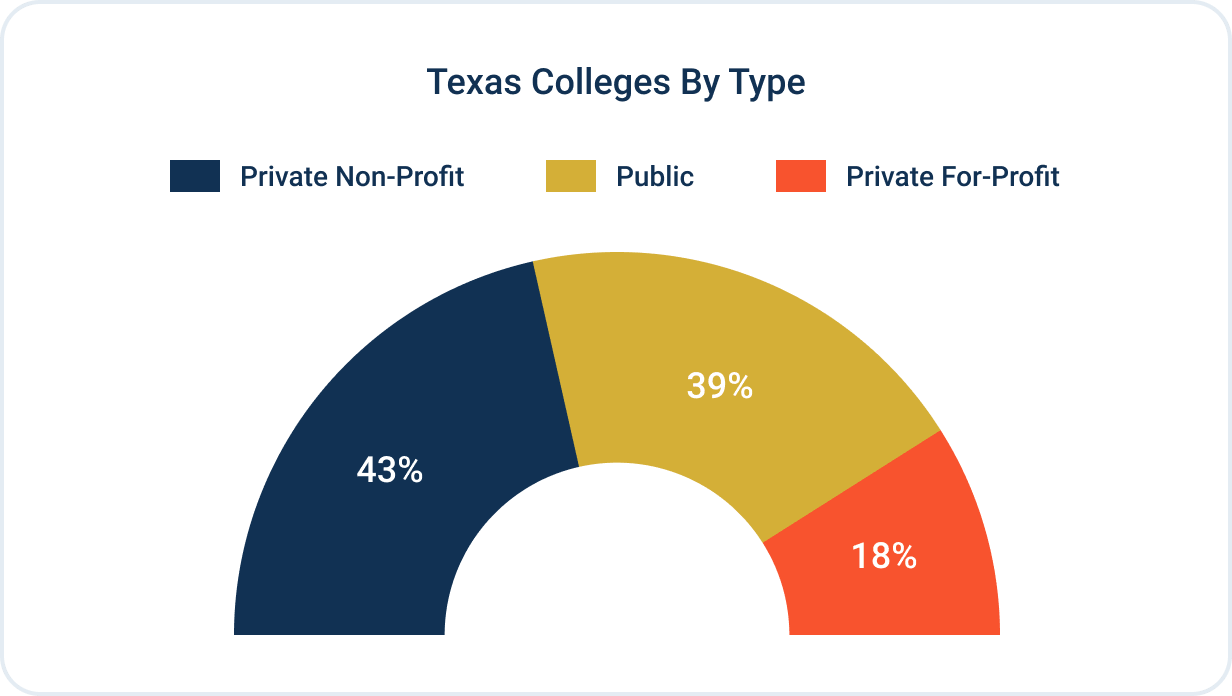 College enrollment has been climbing in Texas for years. Total enrollment in the state was 255,000 for the 2018-2019 year at Title IV schools (which are eligible to offer federal financial aid to students). About 93% of students were Texas residents and about 17,000 were from out of state. Additionally, the largest share of transfer students to Texas public universities came from associate degree holders who had taken general studies through the state's community college system.
Online Education
Given the variety of college choices in the state, students may want to explore the increasingly popular choice of online learning as it compares to the traditional experience. Dozens of Texas schools offer fully online bachelor's degrees, including the 34 public institutions comprising the state's six university systems. Many schools also offer online degree options for master's programs, doctoral degrees, and certificate programs. Across levels, students can find offerings in subjects like business administration, social work, and healthcare.
Dozens of Texas schools offer fully online bachelor's degrees, including the 34 public institutions comprising the state's six university systems.
Online bachelor's programs provide education through internet-based learning platforms where professors post recorded lectures, assignments, and discussion questions. Most programs have asynchronous e-learning options, meaning that students can log in at their convenience to complete coursework. Some online degree programs feature synchronous elements, such as live lectures or class discussions over video. Others offer hybrid delivery, in which students are required to attend regular class sessions but complete most course elements online.
Earning an undergraduate degree through an online program may be a more accessible option for students and can confer many of the same benefits as a traditional degree. However, students should note that online degrees hold some lingering stigma associated with low-quality programs in the for-profit sector. Still, the number and quality of online degrees has proliferated in recent years, and human resources (HR) and business leaders have indicated that they don't discount the value of distance education when hiring. Students should be sure to look for schools with accreditation, as this increases the likelihood a degree will be recognized and that students wil be eligible for financial aid.
College Costs and Financial Aid
A college degree is a weighty investment for most students, and it's important to understand the costs and how to possibly mitigate them. For Texas residents attending public colleges, the median cost was $4,943 per semester in 2020, or $9,886 annually. This includes tuition and mandatory fees but doesn't include room and board or supplies. Nonresidents who study on campus pay a higher tuition rate. By contrast, Texas private schools charged an average of $32,482 for tuition and fees in 2017. These tuition numbers are a helpful starting point in understanding how much a degree will cost, but they aren't specific to online students.
---
| | |
| --- | --- |
| | Online-specific costs aren't as widely reported, but according to our manual research of 21 Texas colleges offering undergraduate programs online, the median annual tuition is $10,350, and tuition rates range from $6,187 to $30,690 a year. |
---
Notably, most public Texas universities charge the in-state tuition rate to full-time online students regardless of residency. These lower tuition rates favor out-of-state students who would otherwise pay a higher amount per credit to study on campus. Many private colleges in Texas also charge less tuition to online students because the school doesn't need to spend as much in overhead costs for these students.
Students should keep in mind extra fees they'll need to pay on top of tuition, which vary by school and program. Online students usually have to pay a technology fee to cover the costs associated with data storage and learning management platforms for online courses. However, there are some costs online students can avoid, such as room and board or campus recreation fees.
To help reduce upfront costs, students can apply for financial aid. The best options are gift aid funds that don't need to be repaid, such as grants and scholarships. Texas provides several aid opportunities, including grants for public-school students who demonstrate financial need. In general, state programs are only available to state residents and can be renewed if the students maintain a certain GPA. Online students may be eligible for the following Texas financial aid programs:
I'm an Out-of-State Online Student - What Will I Pay for College?
Out-of-state students may be able to lower their costs at a Texas college by choosing a distance education program. Nonresidents who enroll in a campus program at a public school pay a higher tuition rate than residents, but most public colleges in Texas charge the in-state rate to all online students. For example:
At Lamar University, in-state and out-of-state online students pay an annual tuition of $8,190. If an out-of-state student attended that university in-person, they might pay upwards of $22,000 a year.
At Tarleton State University, out-of-state students pay the in-state online rate of $9,551.
There are schools, however, that charge a higher rate for online students who are out-of-state. Of 21 eligible colleges we analyzed (including public and private institutions), half charged a higher rate for out-of-state students. For example, at West Texas A&M University, online students who are in-state pay $8,179 a year while online students who are out-of-state pay $21,257 annually.
Prospective students should keep two more considerations in mind:
Attending a school out of state limits your financial aid options, because you won't be able to apply for state aid programs intended for residents of the state where the school is situated.
Some online programs have in-person requirements, such as a three-day orientation or intensive session. These can add cost and logistical hassles for students needing to travel from out of state.
Careers in Texas for College Graduates
College graduates nationwide earn higher salaries and face lower chances of unemployment than job seekers without bachelor's degrees. In Texas, about 30% of residents over 25 hold a bachelor's degree. This percentage is slightly lower than the nationwide amount of 32.1%, and the gap has been widening between Texas and other high-population states. This indicates that there may be less job competition for college graduates in Texas than in states with more degree holders.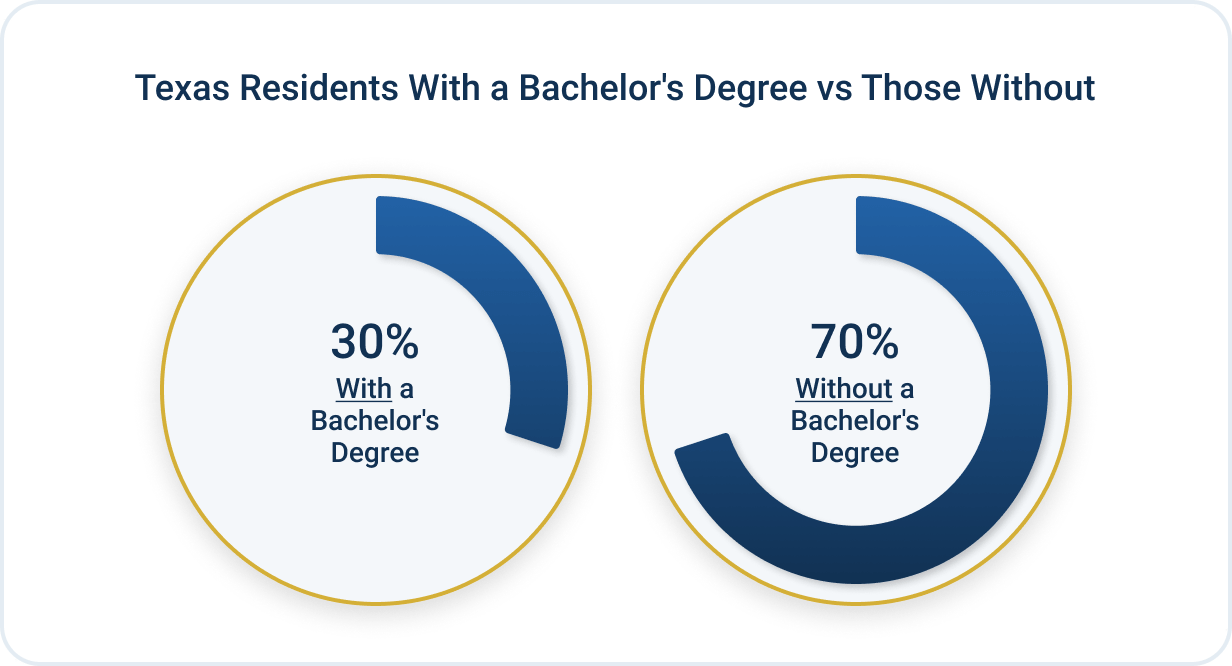 What's more, many jobs in the state's boom industries require a Bachelor of Science or Bachelor of Arts degree for entry, which include technology and manufacturing, aerospace and defense, information technology, petroleum refining, and energy. Fast-growing jobs within these industries include statistician, information security analyst, and operational research analyst, most of which start at the bachelor's degree level (though some do require a master's degree). The median salaries for these jobs start at $86,200, which is higher than the $61,900 median household income for all of Texas. These salaries have great potential buying power in Texas, a state with the 14th-lowest cost of living in the nation.
This website offers school details to prospective students as an informational resource. The appearance of a school listing on this website should not be interpreted as an endorsement of the school by this site.