Best Online Colleges in North Dakota
By James Holbrook | Updated 8/10/2022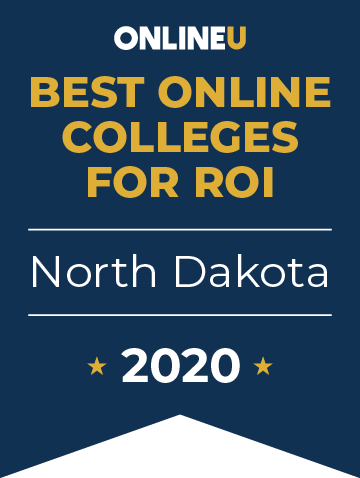 These schools are the best online colleges in North Dakota based on alumni salaries and low-cost tuition. Ranked #1, Bismarck State College offers a tuition rate of $6,498 per year and has a median alumni salary of $102,500. University of North Dakota, ranked #3, has over 50 online degrees available ranging from a Bachelor of General Studies to a Bachelor of Science in Petroleum Engineering. For those seeking an online BSN, North Dakota State University - Main Campus offers an annual tuition of $10,216 and has a median alumni salary of $84,700.
Alumni salaries were provided by PayScale. View our methodology for more details or learn more about OnlineU.
| Rank | School | Annual Tuition | Mid-Career Salary |
| --- | --- | --- | --- |
| # 1 | Bismarck State College | $6,498 | $102,500 |
| # 2 | North Dakota State University - Main Campus | $10,216 | $84,700 |
| # 3 | University of North Dakota | $11,970 | $82,800 |
| # 4 | University of Jamestown | $13,485 | $70,300 |
| # 5 | Mayville State University | $9,150 | $68,700 |
| # 6 | Dickinson State University | $6,947 | $61,400 |
| # 7 | Minot State University | $6,087 | $59,700 |
| # 8 | Trinity Bible College | $13,320 | $36,500 |
Salary data provided by

Online Colleges in North Dakota Ranking Details
For each school, we conducted manual research to provide prospective students with more details about the schools' online programs. Explore online degrees offered and accreditation information below.
Overview of Higher Education in North Dakota
North Dakota has a long history of quality education. In fact, the University of North Dakota was founded before North Dakota was even established as a state. It's also more affordable than other states, with lower tuition than the national average.
In all, North Dakota has 20 universities, including four Tribal colleges, two special focus universities, and two research-based universities. All 20 colleges in the state offer scholarships and grants, so pursuing an online degree is affordable and convenient. Furthermore, North Dakota colleges have a graduation rate of 55%, which is approximately equal to the national rate of 57%.
Online Colleges in North Dakota
North Dakota is following the countrywide trend of online, distance education. Overall, 43.2% of all university students in the U.S. earn their degrees fully online, while 34.1% take hybrid programs. Meanwhile, 62% of North Dakota's university students are pursuing their degrees online. That's nearly 40,000 people. Almost all of the 20 universities in North Dakota offer online degree programs. From certificate programs to PhDs, there are many programs to choose from.
62% of North Dakota's university students are pursuing their degrees online. That's nearly 40,000 people.
Most of the colleges accept military and work experience as credit, and they help students find internships. They provide online advisors, payment plans, and financial aid to make it as easy as possible to get your degree and pursue a successful career. Whether you're interested in self-paced courses or want to follow a typical semester schedule, there is a degree program for you.
Accreditation of Online Colleges in North Dakota
When choosing a university, make sure to check their accreditation status. An institution becomes accredited after an independent agency evaluates it and determines that it meets quality academic standards. Schools may be accredited by the U.S. Department of Education.
Popular Online Bachelor's Programs at North Dakota Colleges
The 2020 US Census data shows the most popular degree programs in North Dakota. Of the 167,975 students who graduated with a bachelor's degree in the last 5 years, 67.1% pursued these fields:
Business is a broad and varied category. A bachelor's degree in business provides students with the skills to succeed in a variety of industries. Since a business degree builds a solid foundation of skills — from problem-solving and data analysis to project management — it can translate to various career paths, such as sales, management, or finance. It can also lead to higher education in a more specialized field.
If you're interested in teaching, researching, or working at an educational institution in another capacity, consider a degree in education. A bachelor's degree program in education provides students with skills like communication, problem-solving, and organization.
Agriculture and Environmental Studies
Now more than ever, the field of environmental science is expanding, competitive, and lucrative. A degree in environmental science can lead to careers in ecology, advocacy, and environmental planning.
Social science is another wide-raning field that can lead to more specific careers, such as psychology, anthropology, or history. In general, these fields involve the study of people, society, and our world at large.
Cost of Online Universities in North Dakota
The average yearly tuition cost at public, 4-year North Dakota universities is $8,628, and at private universities, it's $15,732.
However, some of these universities lower the cost per credit hour for online courses. They may also offer payment plans, so don't let the cost be a barrier. You may be able to pay as you go and still work toward your degree. In addition to a potentially lower cost, earning your degree online means you aren't paying for housing and food. That can save you an average of $5,973 per year. For context, the average yearly cost of tuition in the nation is $9,349 for public universities and $32,729 for private universities.
Financial Aid for Online Students in North Dakota
North Dakota offers many scholarships and grants for students, both in-state and out-of-state.
For example, the North Dakota Dollars for Scholars scholarship creates statewide and local opportunities to encourage post-secondary education. There are also field-specific and college-specific scholarships.
Employment Outlook for College Graduates in North Dakota
Overall, college graduates have a fairly positive job outlook. The national employment rate is at 87% for those with a bachelor's degree or higher. Additionally, college graduates are 47% more likely to have their employer provide health care. However, the average salary for students who graduate from a North Dakota college is $41,176, which is slightly lower than the national average of $47,891.
A 2019 study by the Midwestern Higher Education Compact found that 72% of jobs require postsecondary education, and it's predicted that this number will continue growing. They also report that North Dakota places in the top five states in terms of full-time students who complete their degree.
FAQs about Online Colleges in North Dakota
Are Online Degrees Respected?
---
Yes. Online degrees have always been respected, and that respect continues to grow among employers, as an increasing number of courses and colleges are incorporating distance education into their degree programs.
Does North Dakota Have Good Online Colleges?
---
North Dakota has a history of providing quality distance education, as discussed above. From mailing in assignments to using the latest learning management systems, North Dakota's online colleges are committed to providing students with high quality education and experience.
Accreditation is a key indicator of an online college's quality, and all of the colleges we rank on our site are accredited.
Are There Scholarships in North Dakota for Online College?
---
Yes, the state and colleges within North Dakota offer many scholarships and grants, so students can afford a quality education. These scholarships and grants also apply to online students. For more information, check out our 2022 Scholarship Guide.
Related Articles
Online MSW Programs in North Dakota
Find CSWE-accredited online MSWs in North Dakota. Learn about licensure and how to become a social worker in the state.
Online Nursing Programs in North Dakota
Browse our list of accredited online nursing programs in North Dakota. Learn about licensure and how to become a nurse in North Dakota once you've earned your degree.