Best Online Colleges in New Hampshire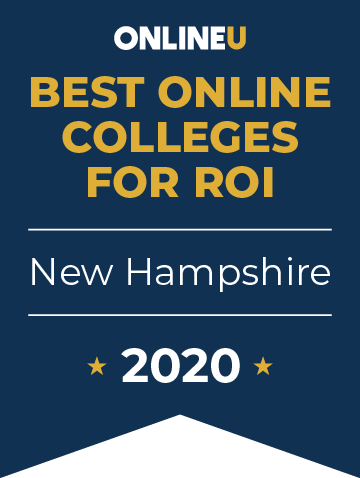 These six colleges and universities are the best in New Hampshire that offer online bachelor's degrees. New England College, ranked #1, has the highest reported alumni salary at $78,700. Tuition is and $12,150, and students can choose from programs such as a BA in Business Administration, a BA in Criminal Justice, and a BA in Psychology. Rivier University, the #3-ranked school, offers the lowest tuition at only $6,480 annually. At #5, Southern New Hampshire University Online offers over 140 online bachelor's degrees.
Alumni salaries were provided by PayScale. View our methodology for more details or learn more about OnlineU.
| Rank | School | Annual Tuition | Mid-Career Salary |
| --- | --- | --- | --- |
| # 1 | New England College | $12,150 | $78,700 |
| # 2 | Franklin Pierce University | $12,000 | $75,100 |
| # 3 | Rivier University | $6,480 | $72,400 |
| # 4 | Colby-Sawyer College | $9,000 | $72,600 |
| # 5 | Southern New Hampshire University Online | $9,600 | $70,400 |
| # 6 | Granite State College | $9,420 | $62,600 |
Salary data provided by

Online Colleges in New Hampshire Ranking Details
For each school, we conducted manual research to provide prospective students with more details about the schools' online programs. Explore online degrees offered and accreditation information below.
Overview of Higher Education in New Hampshire
For a small state with approximately 1,389,000 residents, New Hampshire has a rich tradition in higher education. According to the most recent census data, 37.6% of residents have a bachelor's degree, which is above the national average of 33.13%. The state's educational roots go back to 1769 with the founding of Dartmouth University, one of the country's elite Ivy League schools. Today, prospective students can select from a diverse range of college options in New Hampshire, especially online programs.
All types of colleges can be found in New Hampshire, from state-run universities and community colleges to private schools. According to the New Hampshire Department of Education's Status of Postsecondary Education in New Hampshire report, these schools conferred more than 34,000 degrees and postsecondary certificates in 2021. In the state's four-year university system, 89.7% of full-time students graduate within six years, which is higher than the national average of 83.7%.
The University System of New Hampshire (USNH) is made up of four accredited public universities with eight locations offering on-campus and online programs. These include the University of New Hampshire, which has a main campus in Durham, as well as Granite State College, Keene State College, and Plymouth State University. The University of New Hampshire School of Law is also included in this system. Approximately 30,000 students, including 30% of New Hampshire's high school graduates, attend USNH.
The state is also home to the Community College System of New Hampshire (CCSNH), which is made up of seven two-year public colleges, including River Valley Community College, Great Bay Community College, and White Mountains Community College. Altogether, these schools have 12 campuses across the state in cities such as Concord, Laconia, Nashua, and Berlin. The 26,000 traditional and online students enrolled in CCSNH schools can select from 80 associate degree programs and 120 short-term certificate programs.
As of Fall 2019, approximately 132,000 undergraduate and graduate students were enrolled in New Hampshire's private, nonprofit colleges. However, only about 24,000 were in-state residents attending on-campus classes. The remaining 108,000 in-state and out-of-state students were enrolled in online programs, especially at Southern New Hampshire University (SNHU), one of the largest primarily online colleges in the country. Other private institutions in the state include Dartmouth University, the Thomas More College of Liberal Arts, Saint Anselm College, and Antioch University New England.
All of these institutions of higher education will be instrumental to New Hampshire's economy in the future. Analysts predict that 65% of jobs in the state will require some type of postsecondary education, such as a degree or certificate.
Online Schools in New Hampshire
In New Hampshire, a higher percentage of the overall student body is currently enrolled in online programs than on-campus programs. The report also shows that many students in the state do not fit the traditional college student profile. For example, as of 2019, 75% of Granite State College students and 71% of Southern New Hampshire University students were over the age of 25. Many of these adult learners work full time and have families, and many delayed their entry into college to gain work or military experience.
Prospective students who are interested in New Hampshire's online schools will find a broad selection of degrees and subjects on offer. For example, Franklin Pierce University is known for its online programs in criminal justice and nursing, and Rivier University for its online psychology program. New England College is noted for its programs at both the bachelor's and master's levels. Granite State College has strong online programs in medical administrative services and human services. Among SNHU's most popular online bachelor's degrees are business, criminal justice, health and medical administrative services, and liberal arts.
Accreditation of Online Colleges in New Hampshire
Future students who are considering attending a New Hampshire online college may want to make sure it's accredited before applying. Enrollment in an accredited college may be important for students who are planning to apply for financial aid, transfer to another school at a later date, or pursue a graduate degree sometime in the future. Accreditation may also be required for licensing and certification, depending on the occupation and state criteria.
At the institutional level, New Hampshire online schools are most commonly accredited by the New England Association of Schools and Colleges or by the Distance Education Accrediting Commission. Individual programs within each school may also be accredited by subject-specific accreditation agencies.
Popular Online Degree Programs in New Hampshire
The most popular degrees held by New Hampshire residents are in the fields of science, engineering, business, and education. However, prospective students may want to consider selecting a major that aligns with New Hampshire's economic growth projections. Based on the state's future workforce needs, some possible fields of study include business, computer programming, accounting, teaching, project management, finance, marketing, and HR management.
Cost of Online Degrees in New Hampshire
Tuition fees for online degree programs in New Hampshire vary widely. Annual in-state tuition fees for a total of 30 credits range from approximately $7,800-$46,250. Additionally, although online students do not have to pay for room and board or transportation to and from school, they will need to pay for fees, books, and supplies. Some students, particularly current and former military service members, may be eligible for tuition discounts at select schools.
Financial Aid for Online Students in New Hampshire
As in most states, New Hampshire online college students are eligible for financial aid as long as they're attending an accredited school. However, they will probably receive most of their aid money from the federal government, the schools, and private sources since the state devotes relatively little to providing financial aid for students. The New Hampshire Education Department report shows that New Hampshire ranked 49th in the country for education appropriations per full-time equivalent student in 2020. Additionally, college students in this state top the charts for highest debt and come in second for the highest proportion of graduates with debt.
However, the Granite State does funnel some financial aid money toward college students attending state-run schools. In the 2019-20 school year, nearly 1,600 Pell-eligible students were able to attend USNH colleges tuition-free under the Granite Guarantee. This "promise" program covers the gap between Pell-grant aid and the total cost of in-state tuition.
To determine eligibility for Pell grants, the Granite Guarantee, and most other forms of financial aid, students should submit the Free Application for Federal Student Aid. Students may also want to apply for private scholarships and grants, which don't have to be repaid like student loans.
Employment Outlook for College Graduates in New Hampshire
New Hampshire's economy has experienced the same fluctuations over the last two years as the rest of the United States. However, a 2022 economic analysis report notes that some industry sectors have bounced back and are showing growth over pre-pandemic levels. These include construction, wholesale trade, finance and insurance, and professional, scientific, and technical services.
In the near future, the state's economic analysts are projecting the highest levels of growth in the following occupations: general and operations managers, software developers and quality assurance testers, accountants and auditors, elementary school teachers, and project management
The following table compares state and national wages for a sampling of some of the most common occupations in New Hampshire. For the most part, New Hampshire wages are on par with national data, but the cost of living in the state is slightly higher than average at 105.4.
Common Questions About Online Colleges in New Hampshire
Are Online Degrees Respected?
---
Yes, online degrees are respected. Especially in light of the pandemic, hiring managers and recruiters have gained a greater appreciation for distance education, understanding that online courses can be just as rigorous and thorough as on-campus classes. As long as your online degree is from a reputable, accredited university, it should command the same respect as a traditionally earned degree.
Does New Hampshire Have Good Online Schools?
---
How Long Does It Take to Get an Online Bachelor's Degree in New Hampshire?
---
Like most colleges around the country, New Hampshire colleges typically require students to earn approximately 120 credit hours to complete an online bachelor's degree. Full-time students may be able to fulfill these requirements in four years of study, but most students may need longer. Students who have already earned some academic credits while getting an associate degree may be able to complete the remaining credits for a bachelor's degree in two to three years.
Related Articles
2023 Best Online Colleges in Connecticut
Find the best college in Connecticut offering online degrees in 2023. Compare tuitions among the top-ranked online schools.
Best Online Community Colleges in New Hampshire
These are the best community colleges in New Hampshire offering online degrees. Compare tuitions for the top-ranked schools.