Best Online Colleges in Nevada
By Jordan Beliles | Updated 7/19/2022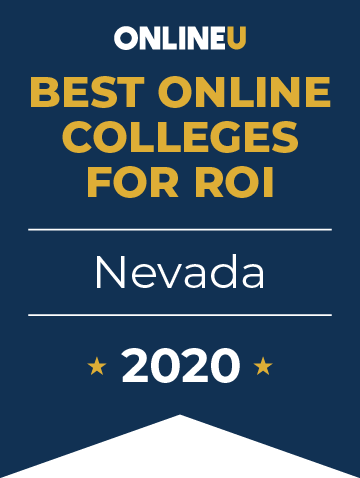 This list highlights the best schools in Nevada that offer online bachelor's degree programs, and ranks them based on tuition rates and reported earnings for alumni. The top school, the University of Nevada - Reno, has the highest reported alumni salary at $84,700. Tuition is also quite affordable at just $7,300 per year. Students at UNR can pursue an online RN to BSN, 14 different online master's programs including a Master of Public Health and a MSW, or an online DNP.
Alumni salaries were provided by PayScale. View our methodology for more details or learn more about OnlineU.
Salary data provided by

Online Colleges in Nevada Ranking Details
For each school, we conducted manual research to provide prospective students with more details about the schools' online programs. Explore online degrees offered and accreditation information below.
Overview of Higher Education in Nevada
Though Nevada may be best known for the getaway city of Las Vegas, it also offers plenty of options for students who are looking for a higher education. There are top tier universities and several community colleges in Nevada to choose from. With the rising popularity of online degrees, many of these schools offer remote learning opportunities in a wide variety of fields, from nursing to social work.
If you're looking for colleges in Las Vegas and beyond, our guide below will help you navigate how to find the best online universities in Nevada.
Online Colleges in Nevada
Thousands of students attend a Nevada online school each year.
The University of Nevada - Reno (UNR) is among the most noteworthy institutions in the state, which offers specialized programs in engineering and — mostly notably — earthquake research. The school offers several online degrees, but only three of them are at the bachelor's level with the only major program being the Nursing RN to BSN. There are far more online master's degree offerings to choose from. You can explore their justice management degree that will help you understand the theory and processes behind our country's justice system. Or, you may be interested in their creative writing master's program designed around storytelling and artistic expression, with a five-week residency included.
For online colleges in Las Vegas, another school worth mentioning is the University of Nevada - Las Vegas. UNLV was once a part of the UNR, but it has since gained its autonomy to operate as its own institution. Their online degrees and certificates span from gaming management — where students will learn about casino operations — to a variety of nursing tracks, such as family nurse practitioner and a post-master's nurse executive track.
Here are some quick facts about attending college in Nevada:
Statewide as of 2021, Nevada has 47,500 students enrolled in community colleges with the majority of graduates studying part-time.
In Nevada, approximately 51% of four-year college students graduated in 2020, according to the Nevada System of Higher Education.
Accreditation of Online Colleges in Nevada
As you search for the right school, it's important to consider the accreditation of your institution. This designation means that the college or university has been properly vetted by the U.S. Department of Education (USDE) or other regional accreditation institutions. In Nevada, however, they mandate that all colleges and universities are vetted by the USDE.
There are many reasons why you want to ensure your online school is legitimate. After all, you are paying thousands of dollars for an education that you want to use to better your future career. Furthermore, accreditation makes it easier for you to transfer credits if you were to pursue a master's or doctoral degree. Accreditation will also help you get financial aid to pay for your schooling.
Popular Online Bachelor's Programs at Nevada Colleges
It's no surprise that some of the state's most popular online bachelor's programs come from their top two universities. UNR offers a comprehensive Nursing RN to BSN degree, which is mostly online. The biggest draw of this program is that you can seamlessly transfer into their Master of Science in Nursing and then into the Doctor of Nursing program.
Nevada's other popular school, UNLV, offers several online bachelor's programs as well. Their Bachelor of Science in Urban Studies looks at the social, political, and physical issues of its dense, urban communities. They also have three bachelor of arts degrees in psychology, anthropology, and multidisciplinary studies.
Nevada State College offers a wide breadth of bachelor's programs, however only three of them are available online. If you're interested in another nursing track option, their Nursing RN to BSN track can be completed in as little as one year. They also have a Bachelor of Arts in History and a Bachelor of Arts in Interdisciplinary Studies, both of which can be completed online.
Cost of Online Universities in Nevada
The average cost of online colleges are already lower than those that are completed on-campus. Not to mention the savings you can see by not having to relocate, pay for a dormitory, or purchase school meal plans.
While school costs are going up each year, regardless of the state, the average cost of tuition for Nevada residents was only $3,398 during the 2019-2020 enrollment year.
This is far lower than most other states in the region, except for California, Arizona, and New Mexico, which cost less than $3,000. If you plan to attend school in Nevada, but want to become a resident first in order to receive the lowest tuition, you must live in the state for 12 months prior to enrollment.
For out-of-state students studying at online school Nevada, you can expect to pay anywhere from $7,000 to upwards of $17,000 for your tuition, plus fees. According to the Education Data Initiative, online colleges throughout the country charge an average of $51,091 for out-of-state students. This equates to $12,772 per year, which falls within the average of online colleges in Nevada.
Financial Aid for Online Students in Nevada
With college costs on the rise, many students are seeking financial aid to help cover their tuition and fees. For those studying in Nevada, there are several options for assistance outside of the standard Free Application for Federal Student Aid (FAFSA) that comes from the federal level. The Nevada System of Higher Education offers fee waivers for students who are Native Americans, National Guard members, veterans, or Purple Heart recipients, as well as those who grew up in the foster care system. There's also the Western Interstate Commission for Higher Education which may relieve 50% of the out-of-state tuition costs if you're studying at an approved university.
Employment Outlook for College Graduates in Nevada
In general, the career outlook in Nevada is subpar when compared to other states. As of May 2022, Nevada has the third highest unemployment rate (4.9%) in the country. Workers average a $51,080 salary across all job types, while the national average sits at $58,260 during the same time month in 2021. However, during the first quarter of 2021, Nevada gained 20,398 new jobs in the private sector.
While the state's annual salaries may sit below the national average, graduates of online degree programs can expect to earn more per year. For example, graduates from the UNR earn $84,700 a year. For those that study at the UNLV, you can expect an average salary of $77,300. That number drops slightly for graduates of Sierra Nevada College ($73,900) and Nevada State College ($63,00), but it remains well above the state's average.
FAQs About Online Colleges in Nevada
Are Online Degrees Respected?
---
Yes, online degrees are respected just as much as those from traditional universities. The stigma behind distance learning continues to diminish each year as four-year institutions begin to offer fully online programs alongside their on-campus programs.
Dr. Deb Geller, a higher education and HR expert, says "Hiring managers rarely care whether someone earned their degree in person or online." She goes on to say that the most important credential they look for is whether you have completed a college degree program in the first place.
Does Nevada Have Good Online Colleges?
---
UNR and UNLV are both well-established Nevada online schools with programs in a variety of fields. UNR, for example, offers over 200 online courses every year and boasts a 58% graduation rate. For online colleges in Nevada, you can explore Nevada State College as well, which has a fully online nursing track program with a low annual tuition cost of just $7,300.
Are There Scholarships in Nevada for Online College?
---
Many states offer scholarship opportunities for students who can't afford the full cost of tuition. Nevada has several options, depending on your qualifications.
UNR has two scholarships. The first one is for first-year students who apply for the FAFSA. This one does not require you to prove financial need. Another from UNR is the Nevada Guarantee, which promises free tuition, fees, and books for low-income families. Then there's the Governor Guinn Millennium Scholarship Program which is based on your grade-point average and curriculum achievements.
Related Articles
2023 Best Online Community Colleges in California
Explore the best community colleges in California offering online degrees in 2023. Compare the top-ranked schools.
2023 Best Online Community Colleges in New Mexico
Find the best community colleges in New Mexico offering online degrees in 2023 and compare tuitions for the top-ranked schools.