Best Online Colleges in Nebraska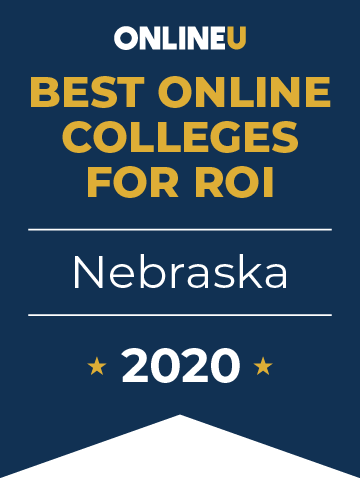 The schools on this list are the best online colleges in Nebraska, according to each school's high alumni salaries and annual tuition rates. Coming in at #1, the University of Nebraska at Omaha offers the second lowest tuition rate, at $8,550 per year, and the highest median alumni salary, at $79,000. Bellevue University, ranked #3, offers more than 180 online bachelor's and master's degrees in a wide variety of subjects.
Alumni salaries were provided by PayScale. View our methodology for more details or learn more about OnlineU.
| Rank | School | Annual Tuition | Mid-Career Salary |
| --- | --- | --- | --- |
| # 1 | University of Nebraska at Omaha | $8,550 | $79,000 |
| # 2 | Clarkson College | $18,976 | $76,200 |
| # 3 | Bellevue University | $13,600 | $74,200 |
| # 4 | University of Nebraska at Kearney | $7,830 | $70,800 |
| # 5 | University of Nebraska Medical Center | $9,960 | $69,400 |
| # 6 | Nebraska Methodist College | $9,856 | $66,600 |
| # 7 | Peru State College | $8,895 | $65,800 |
| # 8 | Chadron State College | $8,895 | $64,300 |
| # 9 | Wayne State College | $8,895 | $61,600 |
| # 10 | Bryan College of Health Sciences | $17,640 | $61,900 |
| # 11 | Midland University | $33,440 | $61,400 |
Salary data provided by

Online Colleges in Nebraska Ranking Details
For each school, we conducted manual research to provide prospective students with more details about the schools' online programs. Explore online degrees offered and accreditation information below.
Overview of Higher Education in Nebraska
In recent years, Nebraska has made a consistent effort to improve access to higher education. Since 2010, the state's college retention and high school graduation have both increased, and Nebraska continues to make progress towards improving college enrollment, retention, and graduation.
As the 16th largest state by population, Nebraska is home to 52 postsecondary institutions, including public two- and four-year schools, private universities, and liberal arts colleges. The Cornhusker State also boasts a number of career schools that offer programs in areas such as cosmetology, real estate, and modeling, to name a few. These institutions collectively serve a student population of roughly 134,000 — including individuals from various ethnic and racial minority groups — and award degrees in many different fields at both the undergraduate and graduate levels.
Nebraska's public postsecondary institutions are part of various institutional clusters. The largest by enrollment is the University of Nebraska system, which includes four campuses across the state. Additionally, the Nebraska Community College Association consists of five institutions, each of which grants two-year degrees and also supports students who aspire to transfer into a bachelor's program. Many of the state's liberal arts schools are Christian colleges affiliated with Lutheran and Presbyterian denominations.
Online Schools in Nebraska
Many colleges and universities in Nebraska offer distance education programs. In fact, the state's Comprehensive Statewide Plan for Postsecondary Education — which lays out a sweeping set of goals to promote higher education in Nebraska — has explicitly recognized the importance of supporting online learners.
Online learning allows students to complete degree requirements at their own pace and is therefore ideal for students who work full- or part-time or need to fulfill family obligations. Online degrees in Nebraska are also a good option for out-of-state students who find programs they're interested in the state's schools but are unable to relocate.
Accreditation of Online Colleges in Nebraska
Accreditation serves as an important signal of quality for colleges and universities. Accredited schools have been independently evaluated by a third-party organization, which assesses the standard of their faculty, student access to different facilities, program offerings, and a range of other factors that affect educational quality. Schools that receive accreditation have been judged to meet nationally-recognized standards for academic excellence.
While there are several different accrediting bodies in the U.S., most colleges and universities are evaluated by one of six agencies. Additionally, Nebraskan schools commonly receive accreditation from the Higher Learning Commission.
Popular Online Degree Programs in Nebraska
Business is the most popular degree at the bachelor's level in Nebraska. In the 2020-2021 academic year, roughly 4,800 students earned degrees in business fields such as management, marketing, and culinary services. Other widely-studied subjects include the health sciences, liberal arts, computer and information services, and agriculture.
At the master's level, students typically opt to pursue programs in education, though a large proportion also studies health and business topics. This is perhaps unsurprising, as graduate degrees in business and nursing remain a popular choice for students across the country.
Cost of Online Degrees in Nebraska
Tuition rates and other fees are typically lower in Nebraska when compared to median levels across the country. For instance, 2-year colleges range in annual tuition from $3,210 to $5,483. On the other hand, the cost of school at the bachelor's level can range from $7,160 to roughly $9,500 in tuition a year.
However, it's important to remember that tuition fees can vary considerably based on several factors, including if you're enrolled full- or part-time and whether you qualify for in-state tuition. Additionally, private and liberal arts colleges can charge significantly more than state or even national averages. For instance, Midland University, one of Nebraska's oldest liberal arts schools, has an annual tuition of $37,500.
Financial Aid for Online Students in Nebraska
Nebraska's Department of Education has recognized the need to improve access to education through need-based financial aid. In addition to federal opportunities, such as the Pell Grant, students in Nebraska can take advantage of state-aid programs and other tuition discounts. Popular scholarship programs include:
The NOG is available to residents of Nebraska who are accepted for admission in one of the state's postsecondary institutions. The average funding amount is $1,609, and applicants must meet a minimum expected family contribution to be eligible.
The ACE scholarship is specifically designed for high-school students who aim to enroll early in college or are taking college-level courses through dual enrollment. Eligible applicants must either demonstrate extreme financial hardship, qualify for a federal need program such as Supplemental Security Income, or participate in an approved Career Education program. Applicants must also be U.S. citizens or eligible non-citizens.
Additionally, some applicants may qualify for tuition waivers if they attend a public university in Nebraska — though waivers are awarded on a case-by-case basis. Lastly, some out-of-state students can avail the Midwest Student Exchange Program, a tuition reciprocity agreement that allows students from midwest states to qualify for in-state fees in Nebraska.
Employment Outlook for College Graduates in Nebraska
Having a graduate or undergraduate degree can position you to take advantage of Nebraska's evolving economy.
First, given that Nebraska has the second-lowest unemployment rate in the country, the employment outlook for college graduates in the state is extremely favorable. Second, though its economy has traditionally been based around agriculture and mining, Nebraska is increasingly catering to industries in the professional services, manufacturing, and hospitality sectors. Together, these factors are increasing the demand for individuals with a college degree.
Economic sectors that employ the highest number of workers in Nebraska include government, educational and health services, and trade, transport, and utilities. Sectors such as financial services, construction, business, and retail also have high employment rates, reflecting the state's diversifying economy and growing need for skilled workers. Furthermore, education, healthcare, and professional services are sectors that are projected to have the most number of workers through 2028.
Common Questions About Online Colleges in Nebraska
Are Online Degrees Respected?
---
Students enrolled in online programs receive the same education as their in-person peers, even though they may complete coursework at their own pace. This means that an online degree from an accredited college or university is generally respected by employers. For instance, according to a 2019 survey, 61% of HR managers said they considered an online credential to be of equal or even greater value than a traditional degree. Many organizations also acknowledged that they were open to hiring graduates with an online degree.
Does Nebraska Have Good Online Schools?
---
Accredited institutions in Nebraska that offer online degrees meet national benchmarks for educational quality and may therefore be considered good schools from an academic standpoint. However, it's important to note that the value of attending a specific school can vary from person to person and can be influenced by factors such as program offerings, location, employment outcomes for particular fields, and affordability.
How Long Does it Take to Get an Online Bachelor's Degree in Nebraska?
---
Online bachelor's degrees in Nebraska typically require 120-124 credits and are designed to be completed in four years of full-time study. Distance learners who take classes around a busy schedule may take longer, and part-time students typically spend an additional few semesters completing degree requirements. Some schools in Nebraska offer accelerated online programs which can be completed in less than four years.
Related Articles
2023 Best Online Community Colleges in New York
Find the best community colleges in New York offering 100% online associate degrees. They are ranked according to popularity.
Online Nursing Programs in Washington
Browse our list of accredited online nursing programs in Washington. Learn about licensure and how to become a nurse in Washington once you've earned your degree.