Best Online Colleges in Maine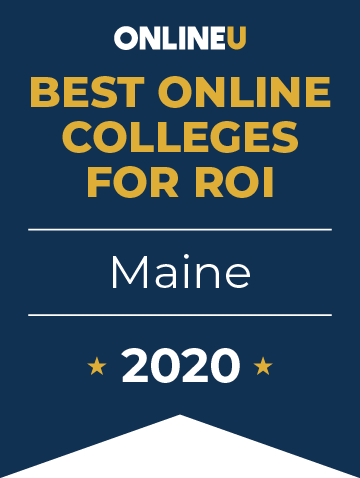 The northeasternmost state in the nation, Maine is known for its natural beauty and maritime history. The state's strengths are reflected in some of its more unusual colleges, such as the Maine Maritime Academy, which is focused on maritime technology and marine sciences, and Unity College, which specializes in environmental studies. However, prospective students interested in attending college in Maine can select from a full range of programs and degrees, including many online options
Alumni salaries were provided by PayScale. View our methodology for more details or learn more about OnlineU.
| Rank | School | Annual Tuition | Mid-Career Salary |
| --- | --- | --- | --- |
| # 1 | University of Maine | $9,000 | $83,400 |
| # 2 | University of Southern Maine | $8,430 | $69,900 |
| # 3 | University of Maine at Augusta | $7,409 | $64,200 |
| # 4 | Unity College | $14,100 | $58,700 |
| # 5 | University of Maine at Presque Isle | $7,170 | $54,900 |
| # 6 | University of Maine at Fort Kent | $7,170 | $53,800 |
| # 7 | University of Maine at Machias | $7,170 | $46,400 |
Salary data provided by

Online Colleges in Maine Ranking Details
For each school, we conducted manual research to provide prospective students with more details about the schools' online programs. Explore online degrees offered and accreditation information below.
Overview of Higher Education in Maine
Higher education is a high priority in Maine. Of the state's 1,341,000 residents, 52.6% have earned some type of college degree, certificate, or credential. However, recognizing that an educated workforce is integral to the state's economic growth in the future, Maine has set a degree attainment goal of 60% by 2025.
Currently, Maine has 38 colleges and universities that generate approximately $2.2 billion in revenue each year. As of 2019, just over 70% of college students enrolled in Maine schools were under the age of 25. Another 11% were aged 25-29, and nearly 19% were over 30. A few of the state's schools cater to older, "nontraditional" students, including Beal University in Bangor, Maine College of Health Professions in Lewiston, and the University of Maine at Augusta. Likewise, many Maine colleges participate in the Aspirations Program, which encourages state residents to earn college credits while still in high school.
Among Maine's public institutions are the University of Maine System's seven campuses. These include the University of Maine's main campus in Orono, as well as five smaller campuses in Augusta, Farmington, Fort Kent, Machias, and Presque Isle. The University of Southern Maine, which has three campuses in Portland, Lewiston, and Gorham, is also part of the state's university system. Maine's community college system encompasses seven campuses across the state in locations such as Kennebec Valley, Washington County, and York County.
Maine is also home to a number of other private colleges and universities. Some are broad-based institutions, offering degrees in a wide range of subjects. These include Colby College and Thomas College in Waterville, Bowdoin College in Brunswick, Saint Joseph's College in Standish, and the University of New England with campuses in Portland and Biddeford. Other private colleges are tightly focused on specific fields, such as the Maine College of Art & Design in Portland, the New England School of Communications in Bangor, and the New England Bible College in South Portland.
Online Schools in Maine
Many schools within the University of Maine System offer fully online degree programs. Virtually all applicants are welcome at the University of Maine at Fort Kent, at Presque Isle, and at Augusta. However, other schools in the system are more selective. The University of Maine's main campus has an acceptance rate of 92.2% and the Machias campus has a rate of 94%. The average acceptance rate for the University of Southern Maine's three campuses is 87.9%. Outside the system, Unity College, which offers a hybrid learning format, accepts 99.8% of applicants.
Some Maine online schools participate in the State Authorization Reciprocity Agreement (SARA), which is a multi-state agreement among online colleges primarily located in the northeast. SARA is designed to protect consumers by ensuring accurate information, fair admissions criteria, and compliance with institutional and possibly programmatic accreditation guidelines among participating schools.
A few of the state's leaders in higher education have recently proposed additional initiatives to improve the quality of Maine's online colleges. Not only are they suggesting extensive training for online educators, they are advocating for online schools to provide more academic, financial, technical, and mental health support systems for online students. Additionally, they have acknowledged the need for expanded broadband coverage for all distance learners.
Accreditation of Online Colleges in Maine
Prospective students who are thinking about attending a Maine online college should confirm that the school is accredited before applying. Enrollment in an accredited college is required for students who are applying for financial aid, and may be required for students who plan to transfer to another school at a later date or pursue a graduate degree sometime in the future. Accreditation and participation in SARA may also be required for licensing and certification, depending on the student's chosen occupation and state criteria.
At the institutional level, Maine online schools should be accredited by the New England Association of Schools and Colleges or by the Distance Education Accrediting Commission. Individual programs within each school may also be accredited by subject-specific accreditation agencies.
Popular Online Degree Programs in Maine
In recent years, Maine's workforce has seen the greatest growth in business management, finance, construction, and real estate. Although these occupations may serve as a guide to selecting an online degree program, prospective students may want to consider choosing a major that aligns with Maine's workforce projections. Based on the state's future workforce needs, the fields of health care and business are expected to offer the best employment opportunities for residents.
For students interested in health care careers in Maine, some possible higher educational options include online associate degrees and certificates for medical assistants; online bachelor's degrees for respiratory therapists, diagnostic sonographers, and medical and health services managers; and online advanced degrees for nurse practitioners, physician assistants, and speech language pathologists.
In business, fields of study with high potential include online bachelor's degrees in business management, finance, and marketing, as well as computer programming and cybersecurity.
Cost of Online Degrees in Maine
Tuition fees for online degree programs in Maine are somewhat varied. For in-state residents, total annual tuition fees for 30 credits over two semesters range from $7,350-$12,640. Although online students do not have to pay for room and board or transportation to and from school, they will likely have additional expenses for fees, books, and supplies. Some students, particularly current and former military service members and possibly their family members, may be eligible for tuition discounts at certain schools.
Financial Aid for Online Students in Maine
In general, the state of Maine is a fairly generous supporter of college education, especially at state-run institutions. In 2021, Maine provided $9,246 in education appropriations per full-time equivalent student, which is on par with the national average. Of the total expenditures, 84.7% went to students attending public institutions and 15.1% went to students attending private institutions.
As in most states, Maine online college students who are attending accredited schools are eligible for financial aid. In addition to funding from the federal government and schools themselves, college goers may receive funding from the Maine State Grant Program or the Maine State Grant Program for Adult Learners over the age of 25. Applicants with demonstrated financial need may receive up to $2,500 in grant money through these programs.
To determine eligibility for Maine State Grants, Pell grants, and most other forms of financial aid, students should submit the Free Application for Federal Student Aid. Students may also want to apply for private scholarships and grants, which don't have to be paid back with interest as is required with student loans. The Finance Authority of Maine offers a Maine Scholarship Search tool that will guide applicants to programs like the following:
Employment Outlook for College Graduates in Maine
From 2015-2020, many of the top growth occupations in Maine occurred in the fields of business management, finance, real estate and property management, professional/scientific/technical services, and construction. The health care industry also experienced significant growth, especially for employers such as MaineHealth and Northern Light Health.
Looking to the future, Maine expects to see continued growth in health care with employment opportunities at all levels, requiring varying types of education. Projections are high for personal care aides, physical therapy assistants, and medical assistants, as well as nurse practitioners, physician assistants, and mental health and substance abuse social workers. The state also expects an increased need for health care administrators and nursing instructors.
Maine's labor department is also projecting increased job openings in business. Some of the high-growth occupations include management analyst, financial manager, operations research analyst, market research analyst, and marketing specialist. Related occupations include software developer and information security analyst.
The following table compares state and national wages for a sampling of some of the most common occupations in Maine. For the most part, Maine wages fall below national medians, but the overall cost of living in the state is also slightly lower than average at 96.5.
FAQs about Online Colleges in Maine
Are Online Degrees Respected?
---
Yes, online degrees are respected in the job market. Over the last two decades, hiring managers and recruiters have gained a greater appreciation for distance education, and especially because of the pandemic, people have learned that online courses can be as rigorous and demanding as traditional on-campus classes. If an online degree is earned through a reputable, accredited university, it should command the same respect as a degree earned on campus.
Does Maine Have Good Online Schools?
---
According to data on our companion website, GradReports.com, Maine is home to several highly respected online programs. The University of Maine, for example, has been recognized for its online bachelor's degree program in engineering. The University of Southern Maine is known for its online bachelor's and master's degrees in psychology, and Unity College is noted for its environmental programs, particularly its online bachelor's degree in animal biology.
How Long Does it Take to Get an Online Bachelor's Degree in Maine?
---
Full-time students in Maine typically earn an online bachelor's degree in four to five years. Like most schools around the country, Maine colleges require students to earn approximately 120 credit hours to complete an online bachelor's degree. Students who have already earned some academic credits or perhaps an associate degree may be able to complete the remaining credits for a bachelor's degree in two to three years.
Related Articles
2023 Best Online Community Colleges in Maine
Find the best community colleges in Maine offering 100% online degrees. Compare 2023 tuitions for the top-ranked schools.
Online Nursing Programs in Maine
Browse our list of accredited online nursing programs in Maine. Learn about licensure and how to become a nurse in Maine once you've earned your degree.