Best Online Colleges in Louisiana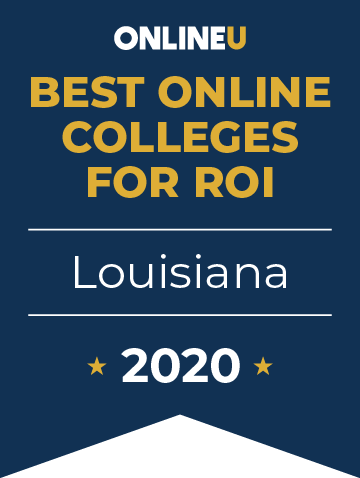 Online colleges in Louisiana help thousands of students achieve their higher educational goals each year. The University of Louisana system has nine distinct colleges serving over 90,000 students, making it one of the nation's largest statewide education systems. We've ranked the top 11 colleges in Louisiana based on annual tuition and career salary. This way, students can weigh the initial cost of tuition with their future return on investment.
Alumni salaries were provided by PayScale. View our methodology for more details or learn more about OnlineU.
| Rank | School | Annual Tuition | Mid-Career Salary |
| --- | --- | --- | --- |
| # 1 | Louisiana Tech University | $6,890 | $92,400 |
| # 2 | University of Louisiana - Monroe | $12,000 | $81,100 |
| # 3 | University of Louisiana-Lafayette | $11,198 | $80,800 |
| # 4 | University of New Orleans | $9,354 | $80,000 |
| # 5 | Southern University and A & M College | $9,142 | $78,100 |
| # 6 | University of Holy Cross | $16,200 | $76,900 |
| # 7 | Loyola University New Orleans | $13,500 | $75,700 |
| # 8 | Louisiana State University - Shreveport | $8,520 | $73,800 |
| # 9 | Southeastern Louisiana University | $8,494 | $66,200 |
| # 10 | Louisiana College | $17,500 | $60,300 |
| # 11 | New Orleans Baptist Theological Seminary | $11,315 | $50,500 |
Salary data provided by

2020 Online Colleges in Louisiana Ranking Details
For each school, we conducted manual research to provide prospective students with more details about the schools' online programs. Explore online degrees offered and accreditation information below.
---
Overview of Online Education in Louisiana
Approximately 240,000 students are enrolled at colleges and universities in Louisiana, with many completing their associate, bachelor's, master's, or doctoral degree online. For example, Louisiana State University (LSU) offers over 100 online degree programs, and the University of Louisiana at Monroe (ULM) offers 44. Popular programs in Louisiana include engineering, education, healthcare, business, public administration, and homeland security/law enforcement.
The median annual tuition of the top 11 online schools in Louisiana is $11,198.
Many of these schools, such as LSU-Shreveport and ULM, charge in-state or flat tuition rates for distance education,, regardless of where students live. The median annual tuition of the top 11 online schools in Louisiana is $11,198. It's important to note that these schools are accredited, which is crucial for students to use federal financial aid toward these tuition costs. The Southern Association of Colleges and Schools Commission on Colleges confers regional accreditation.
For college options in other locations, view OnlineU's best online college rankings by state or best online colleges by degree level.
Louisiana Financial Aid and Scholarship Opportunities
Funding an online education starts with completing the Free Application for Federal Student Aid (FAFSA). Students may be eligible for federal scholarships or grants that don't require repayment or low-interest federal student loans. Other public education programs may also help defray tuition costs, such as Louisiana's Chafee Educational and Training Voucher Program. Below are some programs Louisiana offers to make online college more affordable and accessible:
BESE Tuition Program for Teachers pays the tuition of teachers enrolled in courses throughout Louisiana's higher education system. The Louisiana Office of Student Financial Assistance opens up the process three times a year to select participants.
The GO Grant supports nontraditional and low-income students pursuing higher education. Requirements include completing a FAFSA, receiving a Federal Pell grant, and being a Louisiana resident. Awards range from $300 to $3,000, varying each academic year.
The Taylor Opportunity Program for Students (TOPS) is a program of state scholarships for college students attending public universities, such as the University of Louisiana system. There are four awards available for students with a minimum 2.5 GPA, minimum ACT or SAT score of 20, and 19 completed core units of TOPS core curriculum. Award amounts vary.
Careers in Louisiana for College Graduates
Louisiana ranks 49th overall for educational attainment in the U.S., with only 31% of working-age residents holding a degree, potentially contributing to higher unemployment rates. Louisiana's unemployment rate is 5.4% as of October 2021, which is higher than the national average of 4.6%.
---
According to Burning Glass, the top Louisiana industries currently hiring are healthcare and social assistance (#1), retail trade (#2), and accommodation and food services (#3).
---
Approximately 53% of all jobs in Louisiana require a career credential or college degree, with registered nursing topping the list, requiring a BSN, master's degree, or higher credential.
Louisiana's annual mean wage for all occupations is $46,460, which is lower than the national mean wage of $56,310. However, Louisiana's cost of living — which measures how far a person's salary will go toward living expenses — is also lower than the national average. New Orleans and Batton Rouge are where the majority of jobs are located.
This website offers school details to prospective students as an informational resource. The appearance of a school listing on this website should not be interpreted as an endorsement of the school by this site.
Related Articles
Online Nursing Programs in Louisiana
Browse our list of accredited online nursing programs in Louisiana. Learn about licensure and how to become a nurse in Louisiana once you've earned your degree.
Online Nursing Programs in Mississippi
Browse our list of accredited online nursing programs in Mississippi. Learn about licensure and how to become a nurse in Mississippi once you've earned your degree.