Best Online Colleges in Kentucky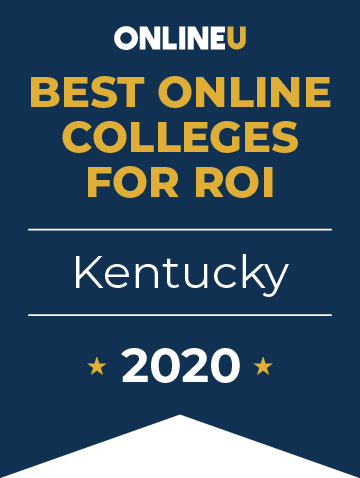 Kentucky recently launched a campaign to create a better prepared, more competitive workforce by encouraging residents to earn college degrees and diplomas. Our list of the best online colleges in Kentucky is designed to help students meet these goals and offer a variety of distance education options, including fully online degrees. Our rankings are based on annual tuition and mid-career salary data to evaluate a program's potential return on investment. Below the list, we've included information about online degree programs in the state, education costs, and state-sponsored financial aid programs, as well as the importance of accreditation. We also look at the employment outlook and career opportunities across Kentucky.
Alumni salaries were provided by PayScale. View our methodology for more details or learn more about OnlineU.
| Rank | School | Annual Tuition | Mid-Career Salary |
| --- | --- | --- | --- |
| # 1 | University of Kentucky | $17,100 | $85,800 |
| # 2 | Kentucky Wesleyan College | $13,650 | $77,900 |
| # 3 | University of Louisville | $16,170 | $77,400 |
| # 4 | Brescia University | $13,600 | $75,600 |
| # 5 | Northern Kentucky University | $13,440 | $73,300 |
| # 6 | Eastern Kentucky University | $12,270 | $72,200 |
| # 7 | Murray State University | $13,710 | $71,800 |
| # 8 | Western Kentucky University | $16,200 | $71,500 |
| # 9 | Spalding University | $12,900 | $67,200 |
| # 10 | Union College - KY | $6,750 | $64,100 |
| # 11 | Morehead State University | $8,970 | $64,000 |
| # 12 | Midway University | $11,850 | $58,100 |
| # 13 | University of Pikeville | $21,400 | $59,100 |
| # 14 | Lindsey Wilson College | $12,570 | $57,900 |
| # 15 | Kentucky Christian University | $19,996 | $57,400 |
| # 16 | University of the Cumberlands | $6,368 | $54,100 |
| # 17 | Campbellsville University | $11,970 | $52,700 |
Salary data provided by

2020 Online Colleges in Kentucky Ranking Details
For each school, we conducted manual research to provide prospective students with more details about the schools' online programs. Explore online degrees offered and accreditation information below.
---
Overview of Higher Education in Kentucky
In recent years, Kentucky's leadership has recognized an impending workforce shortage, particularly of college graduates. To address the need for a more skilled and educated workforce, the state has developed and implemented the 60x30 Goal, which sets a target for 60% of Kentuckians to have earned a postsecondary degree or certificate by 2030. Government officials are working with Kentucky's higher education system to promote degrees and certificate programs that prepare individuals to meet the state's current and future employment needs, especially in areas such as advanced manufacturing, healthcare, information technology, transportation, and construction.
To address the need for a more skilled and educated workforce, the state has developed and implemented the 60x30 Goal, which sets a target for 60% of Kentuckians to have earned a postsecondary degree or certificate by 2030.
So far, the state is meeting or exceeding most of its incremental goals. In the 2019-20 academic year, the six-year graduation rate at four-year public universities reached 56.4%, an increase from 49.8% in the 2014-15 school year. Similarly, the three-year graduation rate at two-year schools in the Kentucky Community and Technical College System rose to 36.3% from 25.5% during the same time period. Approximately 260,000 students attend postsecondary institutions in the state, which include eight public four-year universities, 16 community colleges and technical schools, and more than 30 private colleges and universities. Several of these schools offer online associate degrees, certificates, and diplomas. At least a dozen offer online bachelor's degrees and online master's degrees, and a few also offer online Ph.D.s.
Online Colleges in Kentucky
From private, faith-based colleges to research-oriented public universities, all types of schools in Kentucky offer online classes and degrees. Some of the most popular online degree programs include business management, nursing, computer science, criminal justice, accounting, psychology, and logistics. Not only do these distance learning programs give students greater flexibility in balancing college with other commitments, they provide a broader range of options that enable students to choose the program that's best suited to their budget and career goals.
Distance learning programs give students greater flexibility in balancing college with other commitments.
Most online schools follow a similar application process that requires students to submit transcripts of high school or prior college coursework along with the application form and fee. Standardized test scores are frequently optional, although all Kentucky high school students are required to take the ACT. Many schools offer fully online programs with asynchronous online courses, but some programs, such as nursing and social work, may require fieldwork at approved facilities. Online students can take advantage of various student services, depending on the school. These may include tech support, library assistance, tutoring, academic advising, and career coaching.
For college options in other locations, view OnlineU's best online college rankings by state or best online colleges by degree level.
Cost of Online Colleges in Kentucky
The price of a college education has been steadily increasing, and statistics show that college expenses have tripled over the last 20 years. According to the National Center for Education Statistics, Kentucky's average cost of tuition and fees is higher than the national average for most postsecondary institutions. The average annual cost of in-state tuition and fees in 2019-20 was $10,888 at public four-year institutions and $4,395 at public two-year institutions. The average cost of tuition and fees at private four-year institutions was $26,928.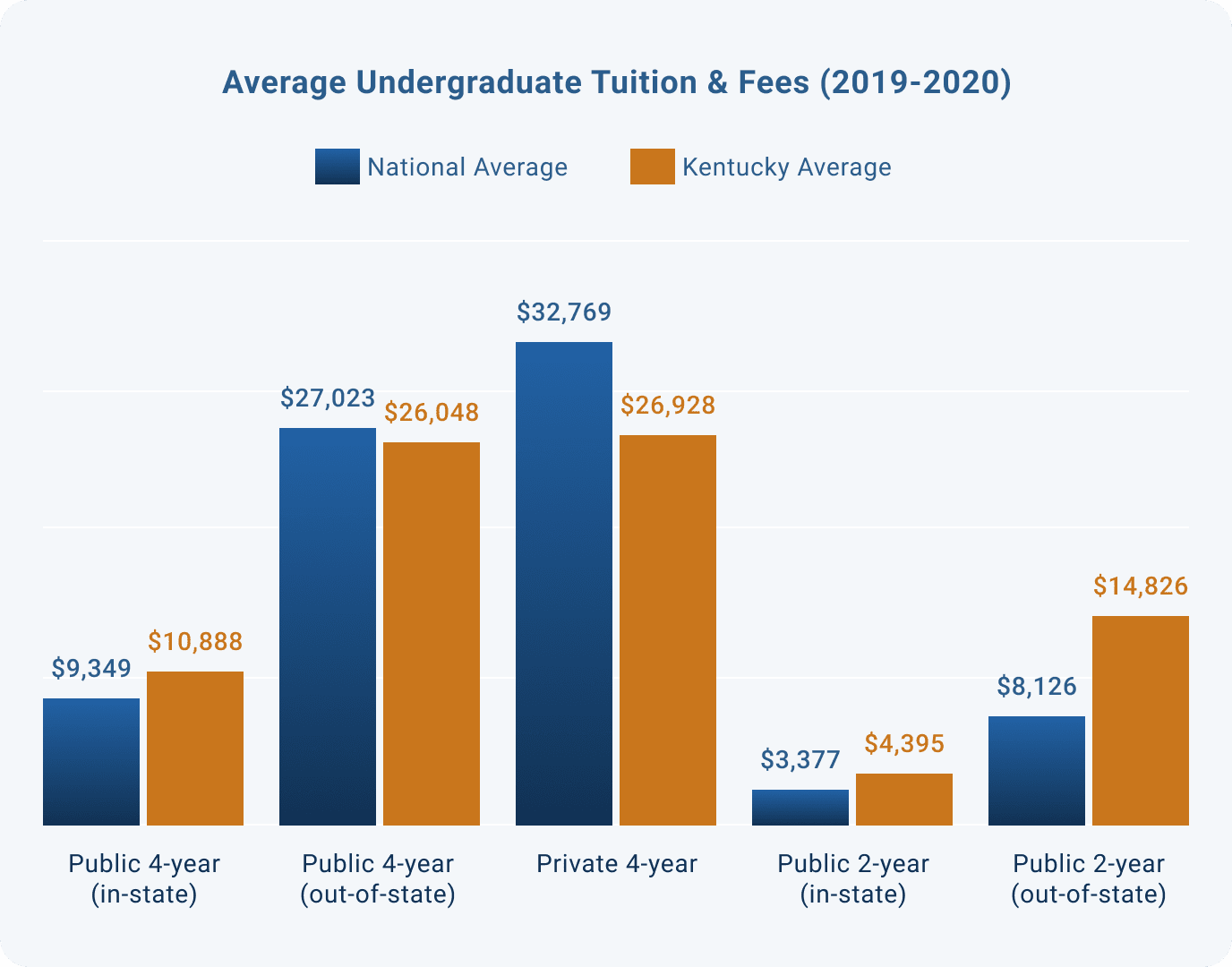 By opting for online learning programs, however, students may be able to reduce their overall costs. Some schools charge lower tuition fees for online students, and some charge the same in-state tuition rates, which benefits out-of-state residents who choose to earn online degrees in Kentucky. Schools may also waive some of their additional fees for on-campus services. Other ways students can save include:
Completing general education courses at an accredited two-year school before transferring earned credits to a four-year university.
Enrolling in accelerated programs.
Taking full 18-credit courseloads at schools that charge flat tuition fees.
Requesting credit for prior work and military experience.
Finally, although online students usually pay the same amounts for books and supplies, they can eliminate certain transportation and on-campus living expenses by not having to relocate for school.
Financial Aid for Students in Kentucky
Of the 50 states, Kentucky ranks 17th for total financial aid dollars spent on college students. The state provides $258.1 million in aid annually, or an average of $1,615 per undergraduate. In terms of state-provided student loans, 20.3% of undergraduates at two-year schools receive an average amount of $5,324 each, and 46.7% of undergraduates at four-year schools receive an average amount of $6,770 each.
Kentucky-based online students are eligible for many types of financial aid, provided they are enrolled in accredited schools.
Kentucky-based online students are eligible for many types of financial aid, provided they are enrolled in accredited schools. Grants and scholarships — which may be funded by the federal or state government, colleges, and private organizations — are preferred because they don't have to be repaid. Student loans may also be a valuable means of funding a college education, but students should thoroughly review the loan terms before accepting one. Federal and state-sponsored loans generally have more favorable terms. Students can begin the financial aid process by filling out the Free Application for Federal Student Aid. For assistance in researching and applying for financial aid, students can contact the financial aid office at their school. Among the many opportunities available to Kentucky-based students are the following four programs sponsored by the state's lottery:
CAP Grants are need-based awards of up to $2,900 for full-time undergraduates enrolled at eligible schools.
The KTG program provides need-based grants of up to $2,980 for full-time undergraduate students attending private colleges and universities.
Awards for these merit-based scholarships are determined on a sliding scale with the greatest amounts going to students with the highest high school GPAs. Bonus awards go to those students who've completed advanced coursework or earned high ACT scores.
Teacher education majors may receive up to $2,500 per semester if they commit to teaching at a public or certified non-public school in Kentucky after graduating and earning their credentials.
Kentucky Employment Outlook
Kentucky's centralized location, strong infrastructure, and business-friendly environment all contribute to attracting new and existing businesses to the state, bringing an increasing number of jobs and economic growth with them. Current projections from the 2018-2028 KY Occupational Outlook indicate promising job expansion in management, engineering, and transportation. Additional increases are projected in occupational categories that support the state's workforce — 11.65% job growth in community and social services, 9.8% in legal services, 10.4% in healthcare practitioners, and 5.3% in K-12 education.
Despite these job growth projections, median salaries in the state are generally 10-20% lower than national median salaries. However, it is relatively cheap to live in Kentucky, which helps compensate for the lower wages. The state's overall cost of living index is 90.9, as compared to the national standard of 100. The table below uses data from the 2021 Statewide Wage & Employment report, which is based on data from the state's May 2020 Occupational Employment and Wage Statistics surveys. These salaries are compared to national wages found in the 2020 Bureau of Labor Statistics Occupational Outlook Handbook.
| | | |
| --- | --- | --- |
| HR Specialist | $57,090 | $63,490 |
| Database Administrator | $93,622 | $98,860 |
| Mechanical Engineer | $81,572 | $90,160 |
| Substance Abuse, Behavioral Disorder, and Mental Health Counselor | $39,516 | $47,660 |
| Elementary School Teacher | $54,330 | $60,660 |
| Computer and IT Systems Manager | $120,653 | $47,660 |
| Financial Manager | $97,938 | $134,180 |
| Medical and Health Services Manager | $85,347 | $104,280 |
| Market Research Analyst | $54,006 | $64,810 |
| Statistician | $78,328 | $92,270 |
Careers for College Graduates in Kentucky
Louisville, Bowling Green, and Lexington are just some of the Kentucky cities where college graduates are likely to find a diverse array of jobs. Popular employers include Yum! Brands, Humana, ResCare, and GE Appliances. A 2021 report published by the Kentucky Center for Statistics indicates that some occupations are experiencing steady growth while others are declining. For example, demand is decreasing for workers in mining, textiles, general manufacturing, and various trades. However, demand is projected to increase for a number of occupations that generally require a college education, including the following examples found in the 2018-2028 KY Occupational Outlook report:
Computer and Information Systems Managers
Computer and information systems managers assess their organization's computer and system needs, install new equipment, implement security measures, and oversee the work of other departmental employees. Most complete a bachelor's degree and several years of work experience in IT before landing a management role, and some also have graduate degrees. Kentucky state data projects this occupation to grow by 15.6% or 44 new jobs per year through 2028.
Financial managers are employed by many types of business organizations, as well as banks and investment firms. Adept at accounting and investing, they develop financial reports and make strategic decisions regarding long-term financial activities. Bachelor's degree holders typically need at least five years of experience in another financial occupation before moving into a management position. The state projects that demand for these professionals will increase by 18% or 116 new jobs per year through 2028.
Medical and Health Services Managers
Medical and health services managers often work in larger healthcare facilities, such as hospitals, nursing homes, and group practices. These managers need a broad range of skills because they plan and coordinate business activities, hire and train staff, monitor finances, and ensure quality and safety. Most have earned a minimum of a bachelor's degree, and many in the field pursue master's degrees. Through 2028, the need for healthcare managers in Kentucky is projected to grow by 16.3% or 87 new jobs per year.
Market research analysts can be found in almost every type of business organization. Using math and analytical skills, they gather data on market conditions, forecast sales trends, and measure the success of marketing campaigns. Most market research jobs require a bachelor's degree, and some require a master's in market research analysis. The state projects a growth rate of 22.6% or 112 new jobs per year through 2028.
Statisticians use math and data to solve problems related to business, engineering, science, and more. After determining what data is needed, they design surveys or experiments to collect the data and create statistical models to analyze it. A master's degree is required for most entry-level positions. Although the state projects a growth rate of 33.7% for this occupation through 2028, that translates into only three new openings per year.
Accreditation For Online Colleges in Kentucky
Accreditation ensures that college students are getting a quality education. Enrollment in an accredited school is required to be eligible for most financial aid, and it may also be required to attend graduate school and to obtain licensure for some occupations.
In higher education, there are several types of accreditation. Colleges and universities typically earn regional accreditation, which means all of their programs, faculty, services, and facilities are evaluated by an approved accreditation agency. The Southern Association of Colleges and and Schools Commission on Colleges is the accrediting agency for the state of Kentucky. All of the schools on our list of the best online colleges in Kentucky are accredited by SACSCOC.
Schools that offer primarily online degrees may have earned national accreditation from the Distance Education Accreditation Commission. Individual programs within a school may have also earned programmatic accreditation, typically from a professional organization related to the program's subject matter. The Kentucky Council on Postsecondary Education conducts additional reviews to ensure that schools' programs align with the state's strategic goals and academic standards.
This website offers school details to prospective students as an informational resource. The appearance of a school listing on this website should not be interpreted as an endorsement of the school by this site.
Related Articles
Online Nursing Programs in Kentucky
Browse our list of accredited online nursing programs in Kentucky. Learn about licensure and how to become a nurse in Kentucky once you've earned your degree.
Online MSW Programs in Kentucky
Find CSWE-accredited online MSWs in Kentucky. Learn about licensure and how to become a social worker in the state.