Best Online Colleges in Illinois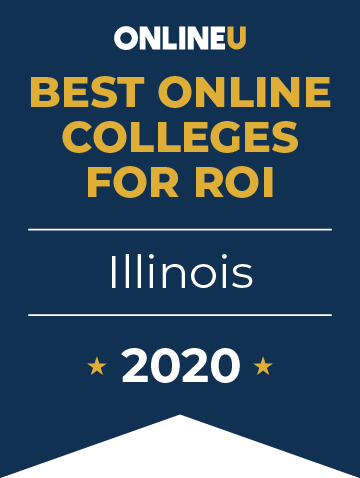 High return on investment, affordability, and convenience motivate students to enroll in online colleges in Illinois. In fact, nearly 51% of students in Illinois enrolled exclusively in distance learning programs in 2020. Our ranked list of the best online colleges in Illinois features schools with low annual tuition and promising alumni salary outcomes. Programs at these schools are designed to prepare students for careers in the state's top industries, including energy, agribusiness, and life science.
Alumni salaries were provided by PayScale. View our methodology for more details or learn more about OnlineU.
| Rank | School | Annual Tuition | Mid-Career Salary |
| --- | --- | --- | --- |
| # 1 | University of Illinois Urbana - Champaign | $12,270 | $103,400 |
| # 3 | St. John's College of Nursing - IL | $23,850 | $93,600 |
| # 4 | DePaul University | $23,040 | $89,300 |
| # 5 | Northern Illinois University | $11,146 | $85,000 |
| # 6 | Illinois State University | $11,908 | $82,400 |
| # 7 | Rush University | $26,280 | $83,600 |
| # 8 | Loyola University Chicago | $20,790 | $82,700 |
| # 9 | Southern Illinois University - Carbondale | $9,637 | $81,000 |
| # 10 | Methodist College | $19,800 | $80,000 |
| # 11 | Elmhurst College | $20,000 | $79,800 |
| # 12 | Lewis University | $19,200 | $79,400 |
| # 13 | Western Illinois University | $8,883 | $76,500 |
| # 14 | Roosevelt University | $30,876 | $79,300 |
| # 15 | University of St. Francis | $11,970 | $76,000 |
| # 16 | Saint Xavier University | $33,300 | $78,600 |
| # 17 | Southern Illinois University - Edwardsville | $9,123 | $75,000 |
| # 18 | Dominican University | $14,252 | $75,400 |
| # 19 | Eastern Illinois University | $10,380 | $74,300 |
| # 20 | Aurora University | $12,750 | $72,100 |
| # 21 | McKendree University | $13,800 | $71,700 |
| # 22 | Quincy University | $11,400 | $69,800 |
| # 23 | Governors State University | $9,390 | $68,200 |
| # 24 | Millikin University | $15,469 | $67,700 |
| # 25 | Lincoln Christian University | $13,590 | $66,700 |
Salary data provided by

2020 Online Colleges in Illinois Ranking Details
For each school, we conducted manual research to provide prospective students with more details about the schools' online programs. Explore online degrees offered and accreditation information below.
---
Online Higher Education in Illinois
Illinois' higher education system consists of nine public universities across 12 campuses and 48 private institutions. These schools serve more than 725,000 students and in 2019, awarded more than 200,000 associate, bachelor's, master's, and doctoral degrees. Demographic figures show women outnumber men and over 58% of students identify as white, followed by Hispanic at 16%, Black at 11%, and Asian at 7%. While the exact number isn't known, many of these students attend online, earning popular bachelor's degrees in nursing, liberal arts, and business administration.
Attending an online school in Illinois is appealing because of the state's commitment to increasing college accessibility for low-income students. For example, the University of Illinois system has a free tuition program called Illinois Commitment for qualified students and has increased the amount of financial aid awarded. They also set tuition rates in the first year for Chicago, Urbana-Champaign, and Springfield students, guaranteeing rates won't change for four years once enrolled.
Attending an online school in Illinois is appealing because of the state's commitment to increasing college accessibility for low-income students.
What to Look For in an Online College
Accreditation is one of the most important factors when considering an online degree. Accreditation ensures that an institution consistently meets high academic standards. The Council for Higher Education Accreditation and the U.S. Department of Education recognize 19 national and seven regional accreditation boards. Most non-profit universities are regionally accredited, preferred over national accreditation because of its prestige and longevity.
There are several other factors to consider when choosing an online school:
Is the program affordable while still meeting your educational needs?
Does the curriculum meet industry demands?
Are there additional admissions requirements for your major?
Is the program 100% online or are there on-campus requirements?
How do you access online support services, including instructors and advisors?
Are faculty members credentialed, and are they the same instructors who teach on-campus classes?
Tuition For an Online Degree in Illinois
The average in-state tuition and fees for residents at Illinois' public four-year colleges were $14,455 in the 2019-2020 school year, higher than the $9,349 national average. You are a resident if you have lived in Illinois for 12 consecutive months before the first day of classes. This tuition is also significantly higher than in other midwest states, such as neighboring Wisconsin where average tuition and fees are $8,764. The average tuition for non-residents of Illinois was $29,515 during that same time period, just slightly higher than the national average of $27,023.
Several federal and state programs can help make college more affordable. Completing the Free Application For Federal Student Aid (FAFSA) determines eligibility for federal grants, scholarships, work-study programs, or low-interest federal loans. State aid programs include the Illinois Monetary Award Program, which awards grants based on need, and the Illinois Student Assistant Commission's loan repayment programs designed to ease the financial burden of college. The Illinois Commitment program pays tuition for qualified students whose families earn less than $67,000 a year.
For college options in other locations, view OnlineU's best online college rankings by state or best online colleges by degree level.
Scholarships for Illinois Students
Private scholarships and grants provide an additional resource if you need help paying for college. Scholarships and grants don't have to be repaid. Your school's financial aid office may be able to direct you to additional aid once you've completed the FAFSA.
There are also scholarships specifically for Illinois residents, including those awarded to both on-campus and online students:
Chicago Engineers Foundation Awards
The CEF supports Chicago high school students who intend to pursue engineering degrees. Awards start at $1,200 to $1,500 and may increase when renewed each year during a four-year undergraduate degree program.
Illinois American Veterans Scholarships
Illinois AMVETS awards several scholarships to veterans and the children and grandchildren of honorably discharged veterans. Awards range from $500 to $2,000 and include high school seniors and second-year nursing students.
Illinois CPA Society Scholarships
The ICPA offers three scholarship programs for students interested in pursuing an accounting career and one internship preparation program that includes a scholarship. Scholarships are worth $500 to $4,000.
Illinois Student Assistance Commission Scholarships
The state sets aside federal funds for five ISAC scholarships. There are three teaching scholarships available, one POW/MIA scholarship and one nursing scholarship. ISAC gives priority to minority students and in some cases, are only for undergraduates. Award amounts vary.
Careers and Employment in Illinois
Illinois is home to 34 Fortune 500 companies. More specifically, Chicago has a large concentration of corporate headquarters and is also considered the transportation and distribution center of the Midwest. Key industries include advanced manufacturing, biotechnology, transportation distribution and logistics, and professional services. Illinois also has a burgeoning tech industry that may attract college graduates.
Key industries in Illinois include manufacturing, biotechnology, transportation distribution and logistics, and professional services.
The unemployment rate in Illinois is 6%, higher than the 4.6% national average as of October 2021. However, the rate is steadily decreasing from the mid-pandemic highs of 2020. The Chicago metro area's unemployment rate is 5.4%. In Champaign-Urbana, the unemployment rate is relatively low at 4.1% because of the University of Illinois' Research Park and employment opportunities in healthcare and government.
The need for information security analysts is expected to grow the fastest of all occupations requiring a bachelor's degree in Illinois at 23% through 2028. These professionals keep an organization's computer infrastructure safe from hackers and cyberattacks. They earn an annual median salary of $108,850 in Illinois.
There are several other high-growth and lucrative careers requiring a bachelor's degree projected in Illinois:
Financial managers direct the economic activities of an organization. They develop long-term financial plans and help manage and make financial decisions.
Management analysts review and evaluate an organization's systems and policies. They often prepare policy and procedure manuals to improve business operations.
Operations Research Analysts
Operations research analysts collect and analyze data to assist business leaders. They use mathematical modeling to develop and interpret information.
Software developers design and implement computer applications and operating systems. They analyze user needs to develop software solutions or enhance existing software capabilities.
This website offers school details to prospective students as an informational resource. The appearance of a school listing on this website should not be interpreted as an endorsement of the school by this site.
Related Articles
Online Nursing Programs in Illinois
Browse our list of accredited online nursing programs in Illinois. Learn about licensure and how to become a nurse in Illinois once you've earned your degree.
Best Online Colleges in California
Prospective students have many options for online colleges in California. Our tuition and salary data will help you narrow down your college options.