Best Online Colleges in Georgia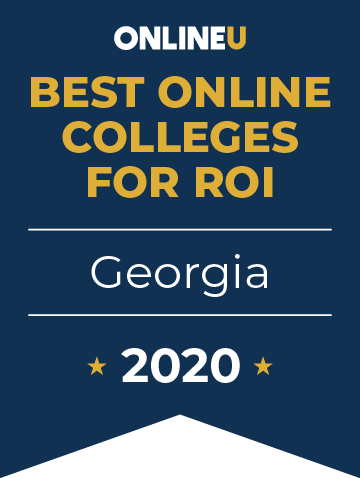 Online colleges in Georgia give students a wide array of choices. Learners can opt for degree programs from some of the largest schools in the state, such as the University of Georgia and Georgia State University, as well as small specialty schools like the Savannah College of Art and Design.
Our ranked list of the best online colleges in Georgia includes annual tuition rates and alumni mid-career salaries to help prospective students weigh the initial degree expense against the potential return on investment. Following the list, we provide information on scholarships, costs, and career paths.
Alumni salaries were provided by PayScale. View our methodology for more details or learn more about OnlineU.
| Rank | School | Annual Tuition | Mid-Career Salary |
| --- | --- | --- | --- |
| # 1 | University of Georgia | $9,790 | $86,700 |
| # 2 | Georgia State University | $8,948 | $79,600 |
| # 3 | Augusta University | $6,892 | $75,300 |
| # 4 | Georgia Southern University | $5,766 | $74,400 |
| # 5 | University of North Georgia | $6,090 | $72,400 |
| # 6 | University of West Georgia | $5,463 | $72,000 |
| # 7 | Albany State University | $5,487 | $70,000 |
| # 8 | Mercer University | $14,250 | $70,800 |
| # 9 | Columbus State University | $6,510 | $67,500 |
| # 10 | Valdosta State University | $6,060 | $67,100 |
| # 11 | Georgia Southwestern State University | $5,970 | $65,900 |
| # 12 | Brenau University | $19,530 | $67,600 |
| # 13 | Georgia Military College | $7,110 | $65,700 |
| # 14 | Clayton State University | $5,490 | $65,200 |
| # 15 | Savannah College of Art and Design | $37,575 | $68,200 |
| # 16 | Savannah State University | $5,286 | $61,100 |
| # 17 | LaGrange College | $18,450 | $61,900 |
| # 18 | Middle Georgia State University | $8,670 | $58,800 |
| # 19 | Toccoa Falls College | $11,040 | $57,100 |
| # 20 | Reinhardt University | $13,950 | $57,200 |
| # 21 | Dalton State College | $3,204 | $55,200 |
| # 22 | Fort Valley State University | $5,363 | $54,000 |
| # 23 | College of Coastal Georgia | $3,204 | $51,400 |
| # 24 | Life University | $12,126 | $52,300 |
Salary data provided by

2020 Online Colleges in Georgia Ranking Details
For each school, we conducted manual research to provide prospective students with more details about the schools' online programs. Explore online degrees offered and accreditation information below.
---
Overview of Online Colleges in Georgia
Georgia was the first state in the nation to fund a public university, and today, Georgia boasts a total of 111 public and private colleges and technical schools. The University System of Georgia alone is made up of 26 public institutions that range from smaller state colleges to larger comprehensive and research universities. Nine of the state's universities are HBCUs (historically Black colleges and universities), which include Albany State University, Morehouse College, and Spelman College, and 22 schools are technical colleges that provide vocational training. Most of these institutions are regionally accredited by the Southern Association of Colleges and Schools Commission on Colleges, which assures students they're getting a quality education. Accreditation is also an important factor when qualifying for financial aid, transferring credits to another school, and applying to graduate school.
A significant number of these schools offer fully online programs, enabling Georgia's college students to earn online degrees at all levels in a broad array of subjects. Distance education has both advantages and disadvantages, however, so students should carefully consider these programs before enrolling.
Perhaps the biggest advantage is flexibility. Coursework for online classes can usually be completed at any time each week, but students have to manage their schedules effectively to stay on track with assignments.
A potential drawback, however, is the inability to connect with peers and faculty in person, which may require online students to put more effort into establishing relationships and building professional networks.
For college options in other locations, view OnlineU's best online college rankings by state or best online colleges by degree level.
Scholarship Options
Greenhouse Scholars Program: Open only to high school students with a minimum 3.5 GPA in Georgia and four other states, the Greenhouse Scholars Program is a renewable award of up to $5,000 a year.
Watson-Brown Foundation Scholarships: High school and undergraduate college students who are residents of select counties in Georgia and South Carolina may be eligible for these annual scholarships of $3,000-$5,000.
Cost of Online Georgia Colleges
---
The median annual tuition fee for the colleges on our list is $6,701. We studied 846 schools across the country and found that the median annual tuition rate for online bachelor's degrees is $13,919.
---
Not only do online programs eliminate expenses associated with on-campus housing and transportation, they often feature lower tuition rates. Non-resident students in particular may benefit from choosing distance education, as many colleges charge online tuition rates that are lower than their out-of-state student tuition rates. Two examples of schools with affordable tuition rates are Dalton State College and the College of Coastal Georgia, which are tied at $3,204 on our list of the cheapest online colleges in Georgia.
Paths to Earning an Education for Free
Depending on their circumstances, some students may be able to go to college in Georgia for free, or at least tuition-free. For example, students enrolled in specific, high-demand majors, such as computer programming, may be eligible for HOPE grants that cover tuition costs. The state's dual enrollment program allows high school students to take up to 60 credit hours of college courses during their junior and senior years. Qualifying students do not pay for tuition, books, or additional fees. The state university system also allows residents over the age of 62 to attend college without paying tuition.
Careers in Georgia for Online Graduates
Georgia currently has a robust economy, ranking ninth in the nation by gross domestic product. Although the median annual household income is slightly lower than the national median — $58,700 as compared to $67,521 — the cost of living is also lower. Georgia's cost of living index is 93.4, below the national average of 100. Affordable housing, groceries, and healthcare contribute to this lower index rating. Helping to drive the state's economy are the 31% of adults age 25 and older who hold bachelor's degrees and the additional 8% who've earned associate degrees.
Amazon, Piedmont Healthcare, Wellstar Health System, and Emory Healthcare are among the organizations currently hiring, according to Burning Glass, a data analytics company.
College graduates are most likely to find jobs in the more populous cities, such as Atlanta and Savannah. Some of the largest employers include the U.S. military, Delta Airlines, Home Depot, UPS, and Coca-Cola. Amazon, Piedmont Healthcare, Wellstar Health System, and Emory Healthcare are among the organizations currently hiring, according to Burning Glass, a data analytics company. The Bureau of Labor Statistics notes that some of the most common professional occupations in the state are general and operations manager, accountant, and project manager, to name just a few. In the near future, the Georgia Department of Labor is projecting increasing demand for college-educated workers.
This website offers school details to prospective students as an informational resource. The appearance of a school listing on this website should not be interpreted as an endorsement of the school by this site.
Related Articles
Online Nursing Programs in Georgia
Browse our list of accredited online nursing programs in Georgia. Learn about licensure and how to become a nurse in Georgia once you've earned your degree.
Best Online Community Colleges in Georgia
These are the best community colleges in Georgia offering online degrees. Compare tuitions for the top-ranked schools.