Best Online Colleges in Delaware
By James Holbrook | Updated 7/28/2022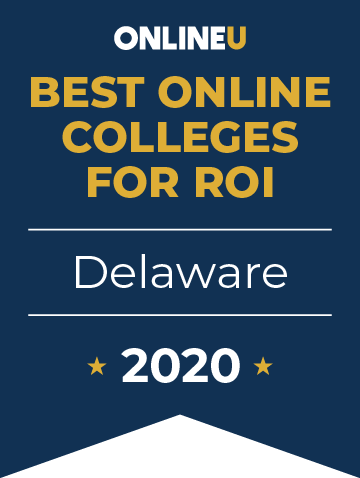 The schools on this list represent Delaware's best online programs, based on affordable tuition rates and alumni salaries. The University of Delaware tops the list, with the highest reported alumni salary. Tuition for UD's online bachelor's programs is $15,900, and students can choose from an online Associate of Arts, an online RN to BSN, 30 different master's programs in subjects such as business and cybersecurity, and an online DNP.
Alumni salaries were provided by PayScale. View our methodology for more details or learn more about OnlineU.
Salary data provided by

Online Colleges in Delaware Ranking Details
For each school, we conducted manual research to provide prospective students with more details about the schools' online programs. Explore online degrees offered and accreditation information below.
#1
University of Delaware
Annual Tuition:

$15,900

Median Salary: $92,800
Locations: Newark
Accreditation:

MSCHE
The University of Delaware, founded in 1833, is a public research university and the largest university in the state. It is located in Newark. The institution offers two undergraduate degrees online—an Associate in Arts and Bachelor of Science in Nursing (RN to BSN). Additionally, a doctoral degree and a variety of master's degrees are available online. Popular subjects include business administration, literacy, cybersecurity, and mechanical engineering. UD's online learning platform includes video lectures, audio components, guided readings, interactive assignments, real-life case studies, chat rooms, discussions, and digital resources. Coursework is delivered primarily through the Canvas online management system. Tech support is available for distance learners.
#2
Delaware State University
Annual Tuition:

$10,590

Median Salary: $67,000
Locations: Dover
Accreditation:

MSCHE
Established in 1891, Delaware State University is a public historically black university in the state's capital, Dover. The university's fully online college programs include several bachelor's and master's degrees. Distance learners can choose from such programs as accounting, psychology, social work, and sports administration. Internet-based learning is available in two other formats: web-enhanced, where classes are held on campus but instructors may distribute some information online; and blended, where some of the course discussions, lectures, exams, and assignments take place online. The Blackboard online learning management system is used to deliver coursework, and a mobile app makes it possible to conveniently access courses anywhere and at any time.
#3
Wilmington University
Annual Tuition:

$11,430

Median Salary: $59,600
Locations: New Castle
Accreditation:

MSCHE
Founded in 1968 as Wilmington College, the institution was granted university status in 2007. WU is a private university with its main campus in New Castle. More than 125 online degree programs are offered, including graduate, undergraduate, associate, and certificate programs. Popular degree fields include digital media, nursing, psychology, school leadership, and education. Degree programs are available 100 percent online, but students can also choose to attend some classes on campus. Online classes are offered in 7- and 15-week formats. Coursework is delivered via the Blackboard online learning management system, and the university offers resources for students to become familiar and comfortable with the online learning environment. Tech support and online tutoring are available for distance learners as well.
Overview
Delaware has six universities, and five of them offer online degree programs. These universities' programs exist at all levels, so whether you're interested in a certificate or a PhD, there's something for you.
Despite its small size, Delaware has 59,983 students enrolled in higher learning. The state supports college readiness in its high schools, and dedicates significant resources to adult education, too. Whether you're 18 and just graduated high school or you're going to college later in life, Delaware offers support.
In general, Delaware's universities are cheaper than the national average,based on College Scorecard data. They also lead to higher than average earnings.
The following tables illustrate Delaware's scope of online college offerings:
| University | Institution Type | Graduation Rate | Annual Tuition | Median Earnings |
| --- | --- | --- | --- | --- |
| Delaware State University | 4-Year | 41% | $14,866 | $42,994 |
| Delaware Technical Community College | 2-Year | 25% | $8,479 | $37,143 |
| Goldey-Beacom University | 4-Year | 46% | $17,375 | $45,965 |
| The University of Delaware | 4-Year | 81% | $18,967 | $67,298 |
| Wilmington University | 4-Year | 45% | $15,186 | $48,187 |
| Type of Institution | Graduation Rate | Annual Tuition | Median Earnings |
| --- | --- | --- | --- |
| 4-Year | 57% | $19,534 | $47,891 |
| 2-Year | 30% | $8,843 | $35,996 |
Online Colleges in Delaware
Of the six universities in Delaware, five — in total — currently offer online programs. Some offer all levels of education, but a couple only offer graduate degrees online.
Delaware State University
Delaware State University (DSU) is a medium-sized, historically black university located in Dover. DSU offers an online certificate in Alcohol & Drug Counseling Program, in addition to bachelor's degrees in accounting, human resource management, liberal studies, management, psychology, public health and social work. These online BS programs require between 120-122 credit hours and can be completed in four years with a full time schedule. Along with their undergraduate programs, DSU offers online Master's programs in business administration, nursing, public administration, social work, and sports administration. These programs can be completed in one to two years with a full time schedule.
Delaware Technical Community College
Delaware Technical Community College (DTCC) is a medium-sized, public university located in Dover. Rather than work toward a singular degree, DTCC offers individual courses or career training programs. These online programs prepare students for immediate entrance into the workforce, with hands-on training and courses designed to teach the skills necessary to begin a new career. For example, if you're interested in working as a website designer, you can choose classes that teach the programming languages you're interested in and finish with a portfolio of work that can be used in a job application process.
Goldey-Beacom University
Goldey-Beacom University (GBU) is a small, private university located in Wilmington. GBU only offers two degree programs online: a Master of Science in Finance and a Master of Arts in Counseling Psychology. These programs can be completed completely online through Zoom TV. Online students attend the in-person classes through this online video program, allowing them to participate in the regular program from a distance. These programs require 60 and 36 credits, respectively, and they can be completed in two to three years with a full-time schedule.
University of Delaware
The University of Delaware (UD) is a large, public university located in Newark. Most of the online programs UD offers are master's degree, electrical degrees and professional certificates. The master's programs UD offers are accounting practice, cybersecurity, educational technology, computer engineering, international business, business administration, public administration, and strategic communication. These programs can be completed in one to two years with a full-time schedule. UD also offers online certificates in clinical trials management, socially responsible & sustainable apparel business, and telehealth coordinator, along with an RN refresher program. The graduate certificate in socially responsible and sustainable apparel business takes one to two years with a full time schedule, but the other certificate programs take between three and four months.
Wilmington University
Wilmington University (WilmU) is a medium-sized, private university located in New Castle. WilmU offers over 130 degree programs online at all levels. In addition to online undergraduate and graduate programs, WilmU offers online certificate programs and minors. Their online classes are offered in either seven or 15 week formats with three semesters and six blocks offered each year. With a large catalog, take the time to look through the programs they offer and see if they have the right program for you.
Popular Online Bachelor's Programs at Delaware Colleges
Using the 2020 U.S. Census data, we can see the most popular degree programs in Delaware:
Business - "Business" may seem like a broad category, and it is! Pursuing a bachelor's degree in business, students learn important skills, such as problem-solving, data analysis, project management, and more. These skills can translate to various careers, from sales and management to finance. It can also lead to graduate school opportunities.
Education - Individuals interested in teaching, conducting research, or pursuing library science should consider a degree in education. A bachelor's program in education provides students with important skills like communication, problem-solving, and organization.
Engineering - Infrastructure and invention are core parts of our society, so studying engineering can lead to a wide range of careers. While "engineering" is a degree path in itself, there are also more specific areas of study, such as computer engineering, electrical engineering, and civil engineering, among others. Consider which engineering degree is right for you, and if you'll need a higher degree to work in the field.
Environmental Science - A rapidly growing field, environmental science is very competitive and lucrative. If you're interested in the environment, environmental policy, and research, environmental science may be the best degree for you. This degree can lead to careers in ecology, advocacy, and environmental planning.
History - Delaware is rich in history, so it only makes sense that students look to the state to learn about the past. Studying history can prepare graduates to work as teachers, archivists, researchers, and museum curators. Graduating with a bachelor's in history is just the first step toward learning about our country and the world.
Cost of Online Universities in Delaware
Because you're getting your degree online, there are fewer costs involved than an in-person degree. There's no cost for board, meal plans, or parking, so you only have to think about tuition.
According to our manual research, the average cost for online colleges in Delaware vary by degree level. For undergraduate degrees, the average cost per credit hour is $519, with the most expensive being the University of Delaware ($1,495) and the cheapest being Delaware Technical Community College ($153). The average cost per credit hour for online graduate degrees is $548, with the most expensive being The University of Delaware ($979) and the cheapest being Delaware Community College ($381.25).
Financial Aid for Online Students in Delaware
The Delaware Department of Education offers scholarships and aid, so make sure to apply through their website. In addition to state-subsidized scholarships, there are many scholarships and grants available to individuals attending school in Delaware.
Accreditation of Online Colleges in Delaware
Making sure your university is accredited is an important part of choosing an online program. The U.S. Department of Education requires an institution be accredited in order for its students to apply for financial aid. Many institutions won't accept transfer credits from a non-accredited university, and graduate programs look more favorable on undergraduate degrees from accredited universities.
Employment Outlook for College Graduates in Delaware
The employment outlook for college graduates in Delawareis improving. A May 2022 survey by the National Association of Colleges and Employers (NACE) showed that employers expect to hire 31.6% more graduates than they did in 2021. That's 5% more than they predicted in their last survey.
According to Ziprecruiter, the average salary for recent college grads in Delaware is $42,957, which is only slightly below the national average of $44,891.
FAQS about Online Colleges in Delaware
Are Online Degrees Respected?
---
Since many schools offer the same programs on-campus and online, employers consider online degrees as equivalent to traditional, in-person ones. The important part about earning your degree is the degree itself. In fact, earning your degree online while working also shows prospective employers that you're committed to your career and ready to hit the ground running.
Does Delaware Have Good Online Colleges?
---
Delaware is a hub of industry and history. Because of its proximity to New York City, Boston, and D.C., industries — especially agriculture, manufacturing, and finance — have grown and thrived in Delaware. For example, The DuPont Company, J.P. Morgan Chase & Company, and General Motors Corporation all base themselves in Delaware. The state also offers scholarships and financial aid to its students, making it even easier to earn your degree.
Are There Scholarships in Delaware for Online College?
---
Related Articles
2023 Best Online Community Colleges in Mississippi
Learn about the best community colleges in Mississippi offering online degrees. Compare tuitions for the top-ranked schools.
2023 Best Online Community Colleges in Pennsylvania
Find the best online community colleges in Pennsylvania for 2023 to compare tuitions and choose the best school for you