2020 Best Online Colleges in California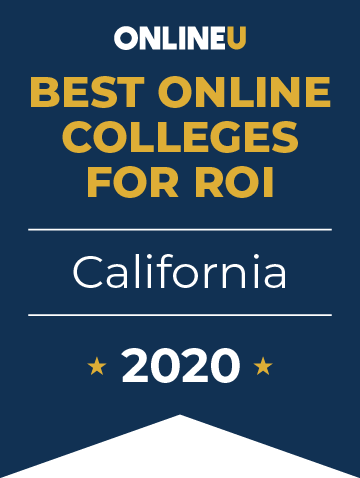 These are the best online colleges in California. Golden Gate University is ranked #1 with an annual tuition of $20,460 and a reported alumni salary of $93,100. Ranked #2, California State University-Chico offers a tuition rate of $17,622 and has the second-highest alumni salary, at $92,700. California Baptist University offers 29 online bachelor's degrees, the most of any school on the list. Students at CBU can study business administration, psychology, cybersecurity, public health, education, and more. On this page, we've also provided an overview of online learning in California, in addition to information about the cost of an online degree and careers in the state for graduates.
Alumni salaries were provided by PayScale. View our methodology for more details or learn more about OnlineU.
| Rank | School | Annual Tuition | Mid-Career Salary |
| --- | --- | --- | --- |
| # 1 | Golden Gate University | $20,460 | $93,100 |
| # 2 | California State University-Chico | $17,622 | $92,700 |
| # 3 | San Diego State University | $7,510 | $90,100 |
| # 4 | Loma Linda University | $13,455 | $90,700 |
| # 5 | California State University-Sacramento | $12,750 | $90,100 |
| # 6 | California State University-East Bay | $6,984 | $88,800 |
| # 7 | California State University-Northridge | $6,972 | $86,100 |
| # 8 | California State University-Fullerton | $7,650 | $86,100 |
| # 9 | California State University-Fresno | $6,589 | $85,000 |
| # 10 | Humboldt State University | $5,742 | $83,200 |
| # 11 | California State University-Stanislaus | $5,742 | $81,800 |
| # 12 | Mount Saint Mary's University - CA | $41,592 | $85,000 |
| # 13 | California State University-Bakersfield | $9,600 | $79,800 |
| # 14 | California State University-Channel Islands | $5,742 | $78,200 |
| # 15 | Concordia University-Irvine | $14,850 | $79,000 |
| # 16 | California State University-San Bernardino | $11,340 | $78,400 |
| # 17 | University of La Verne | $19,350 | $78,200 |
| # 18 | California State University-San Marcos | $9,867 | $76,200 |
| # 19 | Point Loma Nazarene University | $36,350 | $77,300 |
| # 20 | California Baptist University | $18,390 | $68,000 |
| # 21 | California State University Monterey Bay | $15,750 | $65,000 |
| # 22 | Palo Alto University | $17,456 | $62,500 |
| # 23 | Hope International University | $13,500 | $55,200 |
| # 24 | San Diego Christian College | $14,012 | $52,300 |
Salary data provided by

2020 Online Colleges in California Ranking Details
For each school, we conducted manual research to provide prospective students with more details about the schools' online programs. Explore online degrees offered and accreditation information below.
Overview of Higher Education and Online Learning in California
California has more residents than any other state and a significant number of higher education institutions to match. According to the National Center for Education Statistics (NCES), California is home to 214 colleges offering bachelor's degrees. Of these schools:
47 are public (including two state university systems)
106 are private non-profit (including four that are exclusively online)
61 are private for-profit (including four that are exclusively online)
Just over 400,000 first-time undergraduates enrolled in California Title IV schools for the 2018 academic year, most of whom were state residents. Nearly half of the state's bachelor's graduates earned their degree through the California State University (CSU) system, the largest public university system in the country. About 80,000 transfer students each year move from the state's community college system to the CSU or University of California (UC) system. Note that the UC system doesn't offer any fully online bachelor's degrees.
Online Education
According to our manual research, there are 159 schools in California offering fully online degree programs. The state's eight fully online schools enroll over 50,000 students combined, and dozens of traditional public and private institutions offer degrees with at least some online elements.
The state's eight fully online schools enroll over 50,000 students combined.
Distance programs, which are increasing in popularity, deliver courses through online learning platforms where students can usually sign in asynchronously to complete coursework. Asynchronous learning allows students the flexibility to complete assignments, watch recorded lectures, and interact in forums at their convenience. Some courses and degree programs feature live lectures or class discussions over video technology, and others run on a hybrid model with a mix of in-person classes and online elements.
Accreditation
It's important to consider accreditation when researching bachelor's degree programs. Colleges achieve accreditation by passing a voluntary quality check by an accrediting body at the national or regional level. This allows schools to offer federal financial aid and makes transferring credits easier among accredited institutions.
Schools that offer bachelor's degrees usually seek regional accreditation because the academic standards are higher. The Western Association of Schools and Colleges (WASC) is the regional accrediting agency in California, so prospective students can check the WASC directory for institutions they want to research. Another possible accrediting body is the Distance Education Accreditation Commission (DEAC), which reviews colleges that offer more than 51% of their courses via distance education. Most schools also list their accreditation on their websites.
Online College Costs and Financial Aid in California
The cost of an online or in-person bachelor's degree varies widely in California, ranging from relatively low costs for in-state students at public schools to almost $60,000 a year at some private colleges. Interested applicants should research individual programs, because the costs can differ by program, delivery mode (on-campus or online), or residency (California resident or non-resident) even within the same school or university system. For example, CSU charges identical tuition across campuses to its in-person students, but the costs for its online degrees vary by program.
According to our manually researched data, the median tuition cost for an online bachelor's degree is $13,470 a year. This cost is nationwide and not specific to California, but can serve as a helpful starting point in understanding what a student might pay for an online degree.
According to our manually researched data, the median tuition cost for an online bachelor's degree is $13,470 a year.
In addition to tuition, there are other fees that students should consider. They'll need to pay for books and supplies, for example, including regular access to a computer and a reliable internet connection. However, online students won't need to pay costs associated with campus life, such as room and board, meal plans, and certain fees that only apply to campus students.
Choosing an affordable program is the first step toward lowering college costs, but financial aid is another important consideration. Students should apply for all possible sources of gift aid that don't need to be repaid, such as:
Scholarships
Grants
Work-study funds
Any student at an accredited California school can apply for federal aid, but only California residents can apply for the state's programs. For the academic year 2018-2019, the state spent an average of about $1,300 on each of these students, all of which was based on financial need.
Some California aid programs are below — check your school's website or talk to a financial aid adviser to make sure you meet eligibility requirements:
What Will Out-of-State Online Students Pay for College?
In many states, online undergraduates can receive the in-state tuition rate at public colleges regardless of residency, but this is not always the case in California. Instead, costs differ by program. For example, CSU Monterey Bay's Bachelor of Science in Computer Science costs $525 per credit regardless of residency. However, San Jose State University's Bachelor of Science in Information Science and Data Analytics charges four-year online students based on residency but charges a flat rate to online transfer students regardless of residency.
Students in online programs at private schools generally pay the same tuition and fees no matter where they live. For example, neither Golden Gate University nor Loma Linda University distinguish between in-state or out-of-state students when discussing costs. Even if tuition and fees are identical, applicants should determine whether an online program has any in-person commitments requiring their presence on campus — out-of-state travel could add extra costs for non-resident students.
Careers in California for College Graduates
A bachelor's degree confers salary and career benefits, including a median $26,100 more in annual earnings for degree holders than high school graduates. In California, one-third of adults over 25 hold a bachelor's degree, which is slightly higher than the nationwide average. This high rate of educational attainment, could indicate fierce competition for available jobs requiring a bachelor's degree for entry.
In California, one-third of adults over 25 hold a bachelor's degree, which is slightly higher than the nationwide average.
One sector that is thriving in California is technology. Centered in Silicon Valley, this industry is hiring college graduates at steady rates. Nationwide, professionals with college degrees were more likely to keep their jobs during the pandemic. In California, this meant that many graduates with information technology and computer science skills held onto their jobs and even more were able to enter this high-paying, fast-expanding field.
It's unclear how many alumni of online programs in California take jobs at Silicon Valley tech companies. However, of the five California schools that feed the most students to these companies, none offer online bachelor's degree programs.
California has a large and dynamic economy beyond the tech industry. Other major sectors include:
Energy
Trade and Tourism
Government
These industries require educated workers to serve in roles such as engineer, marketing specialist, policy analyst, accountant, and business manager. None of these industries is insulated from fluctuations, though. For example, the state's green energy sector lost 71,000 jobs in 2020, and the industry isn't expected to return to pre-2020 levels until 2023. California is also one of the nation's most expensive states, and even a high salary may not stretch as far as it would elsewhere.
References
This website offers school details to prospective students as an informational resource. The appearance of a school listing on this website should not be interpreted as an endorsement of the school by this site.
Related Articles
2020 Best Online Community Colleges in Nevada
These are the best community colleges in Nevada offering online degrees. Compare tuitions for the top-ranked schools.
Best Online Colleges by Salary in Texas
Compare the best online colleges by salary in Texas based on data from the U.S. Department of Education. The top school in 2021 is UT Permian Basin.