Best Online Colleges in Arkansas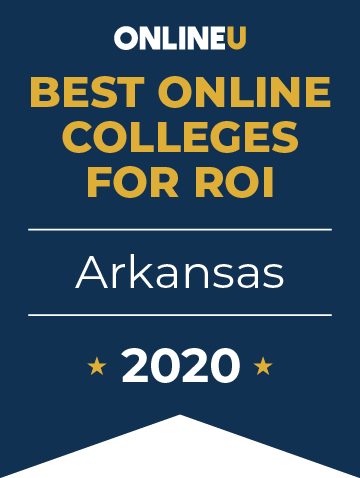 Many online colleges in Arkansas are dedicated to preparing students for future employment within the state. Our ranked list of the best online schools in Arkansas includes annual tuition rates and mid-career alumni salary information so prospective college students can evaluate a degree's initial cost against the potential return on investment. According to the Bureau of Labor Statistics, management, healthcare, and education are among the most popular professional occupations, and the schools on our list offer degrees in all of these subjects.
Alumni salaries were provided by PayScale. View our methodology for more details or learn more about OnlineU.
| Rank | School | Annual Tuition | Mid-Career Salary |
| --- | --- | --- | --- |
| # 1 | University of Arkansas | $6,159 | $87,100 |
| # 2 | Harding University | $21,344 | $80,000 |
| # 3 | Southern Arkansas University | $6,420 | $73,300 |
| # 4 | Ouachita Baptist University | $9,750 | $73,700 |
| # 5 | University of Arkansas for Medical Sciences | $4,500 | $71,500 |
| # 6 | Central Baptist College | $13,350 | $72,000 |
| # 7 | University of Arkansas at Little Rock | $8,400 | $69,100 |
| # 8 | John Brown University | $12,750 | $68,400 |
| # 9 | University of Central Arkansas | $8,550 | $67,700 |
| # 10 | Arkansas Tech University | $6,960 | $67,300 |
| # 11 | University of Arkansas at Monticello | $5,979 | $61,200 |
| # 12 | University of Arkansas-Fort Smith | $5,130 | $55,900 |
Salary data provided by

Online Colleges in Arkansas Ranking Details
For each school, we conducted manual research to provide prospective students with more details about the schools' online programs. Explore online degrees offered and accreditation information below.
---
Overview of Online Education in Arkansas
Since the mid-20th century, the state's economic reliance on farming has diminished, and Arkansas has sought to attract manufacturing and service-sector businesses to the region through tax incentives and other benefits. Notable names that have established business hubs here include Walmart, Frito-Lay, and Amazon. To support this economic growth with a skilled workforce, Arkansas has prioritized advanced education and vocational training.
Today, the Natural State is home to more than 40 institutions of higher learning. These include 10 public four-year universities, 12 private four-year universities, a network of 22 two-year community colleges, and one academic health center. At least one-fourth of these schools offer fully online degrees in a wide array of subjects. A recently enhanced state-wide course transfer system makes it easier for students to begin their college education at a two-year institution before transitioning to one of the four public colleges.
For college options in other locations, view OnlineU's best online college rankings by state or best online colleges by degree level.
How Much Do Online Colleges in Arkansas Cost
---
Based on data collected from 846 schools across all 50 states, we found that the median annual tuition fee for bachelor's degrees is $13,919. Meanwhile, the median annual tuition fee is $7,680 for the 12 Arkansas schools on our rankings list.
---
Students may reduce the overall cost of earning a degree by opting for an online education program, as they can be more affordable. Distance learners must still pay for books and supplies — like all students — and may even have to pay additional technology fees. However, they may be able to save on transportation and on-campus living expenses, such as room and board. Many schools charge online students the in-state tuition rate even if they live outside the state.
In recent years, Arkansas has made a demonstrable commitment to educating its future workforce by supporting students with financial aid. The state spends an average of $1,171 annually per student at the undergraduate level, which is higher than the national average of $1,051. Additionally, 19.4% of students at two-year schools receive an average of $4,815 in student loans, while 45% of students at four-year schools receive approximately $6,896.
Although it's not possible to go to college for free in Arkansas, some students may be able to fund nearly all of their tuition through federal and state aid. For example, students may be eligible for the Arkansas Future Grant if they are working toward an associate degree in STEM or another subject related to popular regional industries. Under this program, if a student's combined federal and state financial aid does not cover the full cost of tuition and fees, they may receive a grant for the remaining balance. If students are interested in state-provided financial aid programs, they must submit the Arkansas Division of Higher Education's YOUniversal System application.
For tips about online college, including scholarship information and expert advice, visit our resource hub.
Scholarship Opportunities
This website offers school details to prospective students as an informational resource. The appearance of a school listing on this website should not be interpreted as an endorsement of the school by this site.
Related Articles
Online Nursing Programs in Arkansas
Browse our list of accredited online nursing programs in Arkansas. Learn about licensure and how to become a nurse in Arkansas once you've earned your degree.
Online MSW Programs in Arkansas
Find CSWE-accredited online MSWs in Arkansas. Learn about licensure and how to become a social worker in the state.