Best Online Colleges in Arizona
By Jordan Beliles | Updated 8/2/2022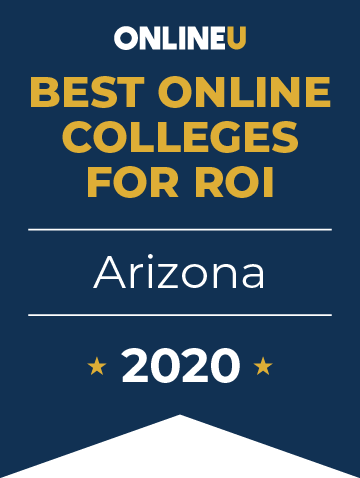 These schools offer the best online bachelor's degrees in Arizona, based on their tuition rates and reported alumni salaries. Ranked #1, Arizona State University has the highest alumni salary, at $87,600. Students at ASU can choose from 143 different online bachelor's programs, 122 different online master's programs, and 11 different online doctoral programs. Arizona Christian University offers the lowest tuition rate, at only $10,200 per year.
Alumni salaries were provided by PayScale. View our methodology for more details or learn more about OnlineU.
Salary data provided by

Online Colleges in Arizona Ranking Details
For each school, we conducted manual research to provide prospective students with more details about the schools' online programs. Explore online degrees offered and accreditation information below.
Overview of Higher Education in Arizona
If you plan to attend one of Arizona's online colleges, you shouldn't have much competition when it comes to enrollment. The good news is that you may be more likely to be accepted to your college of choice if you meet their criteria. The University of Arizona, for example, has a higher acceptance rate than the national average.
Online colleges in Arizona now comprise 33.4% of all students. This means that more and more students are enrolling in fully-online programs.
The bad news for Arizona, as a whole, is that the rate of high school graduates attending college is decreasing. According to the Arizona Board of Regents, the entity that oversees the state's public university system, only 46.3% of high school graduates in 2020 enrolled in a two- or four-year university. If this track continues to decrease, the study says, only 16.8% of 9th graders will graduate from a four-year university by the year 2029.
The good news for 2022, however, is that online colleges in Arizona now comprise 33.4% of all students. This means that more and more students are enrolling in fully-online programs. What's more is that the state's public universities have seen an 82.1% increase in online degree program enrollment since 2017. While Arizona residents may not be attending higher education at the rates of other states, online enrollees now have more opportunities to attend some of the best schools the state has to offer.
Online Colleges in Arizona
An Arizona online college comes in several forms. There are traditional four-year universities that offer online degree programs, online state colleges, and you even have the option to attend an online community college in Arizona.
Arizona State University (ASU) is another noteworthy four-year university that offers an extensive list of online programs. You can study for a bachelor's degree, master's degree, or even achieve a graduate certificate in an area of specialization, such as biomimicry, crime analysis, or addiction and substance use related disorders.
If you're looking for a program from a smaller institution, Prescott College has dozens of online degrees to choose from. This includes their online marriage and therapy master's program, which OnlineU rated as the 9th best program of its kind in the country. Graduates of this degree will be prepared to apply for a therapists license in Arizona, or whichever state they are attending remotely from.
Accreditation of Online Colleges in Arizona
Verifying a school's accreditation is an important step in your search for the best online colleges in Arizona. Accreditation happens when the U.S. Department of Education, or other regional accreditors, go through the process of investigating a school's facilities, financials, faculty, and programs, among other items.
Accreditation can offer many benefits for students. First and foremost, you want to ensure that you are attending a legitimate online college. Also, this designation means that the students attending the school are eligible for financial aid through federal programs.
---
If you're unsure if your school falls into this category, you can use the U.S. Department of Education's
accreditation search tool
.
---
Schools that were accredited years, or even decades ago, still undergo regular review from an accreditation board. For example, UA was originally accredited in 1917, but received its most recent review in 2021.
Accreditation can also be beneficial when it comes to transferring credits. Some schools won't accept credits from non-accredited colleges. This could affect your goals of obtaining a master's or doctoral degree down the line. Even beyond that, when it comes to your career aspirations, non-accredited schools may be a red flag for employers, particularly when they compare your application to graduates from accredited schools.
Popular Online Bachelor's Programs at Arizona Colleges
ASU is a sprawling institution that spreads across downtown Phoenix, but it also offers high-quality online bachelor's programs for distance learners. Their business degrees, in particular, are offered in a variety of specializations, allowing students to find their niche in the industry. ASU also has a thriving collegiate sports scene as well, which makes it a great place to earn a Bachelor of Arts in Sports Business.
Similarly, UA's online degree selection features several business-centric offerings from their business school, the Eller College of Management. The programs include a Bachelor of Science in Business Administration as well one with an accounting concentration.
Ottawa State University (OSU) is a baptist school in Arizona specializing in liberal arts studies. Between their School of Business, School of Arts and Sciences, and School of Education, there are 27 online bachelor's programs to choose from. For aspiring educators, you may be interested in their Bachelor of Arts in Early Childhood Education or Bachelor of Arts in Elementary Education. There's even a Bachelor of Arts in Secondary Education, which prepares students to teach at the high school and middle school level.
Cost of Online Universities in Arizona
According to one of the best online schools in Arizona, UA, the cost of earning their online bachelor's degrees is $13,000 per year. Similarly, ASU can cost $14,342 per year. However, the cost can drop to $12,072 for the same degree if you're a resident of the state.
The Education Data Initiative, says that the average cost of an online bachelor's degree is $51,091. When averaged out per year for each of the four years that it takes to complete a standard BA, most students throughout the country will wind up paying $12,772 annually in tuition.
Keep in mind, you may significantly reduce your tuition costs if you attend a local community college. The Education Data Initiative also says that an in-state student can attend an Arizona community college that can cost as little as $2,220 in tuition. However, that number can reach $8,310 if you're studying from out-of-state.
Financial Aid for Online Students in Arizona
The most common way that students seek financial assistance is through the Free Application for Federal Student Aid (FAFSA). Of course, these loans will have to be repaid to the federal government, but they do help those that don't have the means to pay for college tuition costs upfront.
The Arizona Commission for Postsecondary Education (ACPE) also offers two programs for students seeking financial assistance, including loan forgiveness post-graduation:
The Arizona Leveraging Educational Assistance Partnership (AzLEAP) may award up to $2,500 for students that meet their needs-based criteria. This includes low-income, undergraduate students who can demonstrate a need for financial help.
Then there's the Arizona Teacher Student Loan Program that helps ease the burden of tuition for students studying to become educators. Up to $7,000 in forgivable loans can be awarded to those that meet their criteria.
Employment Outlook for College Graduates in Arizona
Students who graduate from an online college in AZ can expect a slightly lower median income than the rest of the country, depending on their chosen career path. The Bureau of Labor Statistics (BLS) states that Arizonans earn an average income of $55,170 per year. The national average for all occupations sits slightly higher at $58,260. Keep in mind, nearby states such as New Mexico, Utah, and Nevada all have lower median salaries for employees than Arizona.
The unemployment rate for Arizona is just below the national average: 3.2% compared to 3.6%. More good news for graduates of both online colleges and traditional universities in Arizona is that you're likely to earn $20,706 more per year than students who don't pursue post secondary education, according to the Arizona Board of Regents 2020 Alumni Wages Report. Furthermore, bachelor's degree graduates are likely to earn $15,061 more per year than those with an associate degree or just some college under their belt.
FAQs about Online Colleges in Arizona
Are Online Degrees Respected?
---
Earning an online college Arizona will grant you just as many opportunities as one from a traditional four-year university or on-campus college. There may have been a stigma attached to distance learning when it first gained popularity decades ago. Today, however, with many prominent universities offering fully-online degrees, that stigma no longer plays a role among employers.
Does Arizona Have Good Online Colleges?
---
There are several online colleges in AZ that can be considered top-tier learning institutions. UA and ASU are among the two best schools in the state, each of which offer many online degree programs covering a wide variety of subjects. UA also has a 64% graduation rate — which rises above the national average for four-year schools at 57%.
Are There Scholarships in Arizona for Online College?
---
Seeking financial aid is one thing, but scholarships can also help pay for a significant portion of your tuition, books, and school fees from many online universities in Arizona.
The state's official website offers a selection of scholarship resources for students to search for programs that apply to schools in Arizona. UA has a similar section on their website for several scholarship tools and links that take you directly to relevant scholarship programs in the area. This includes the Dorrance Scholarship that awards $12,000 to first-year students that meet their academic criteria, as well as the very competitive Arizona Flinn Scholars program.
Related Articles
2023 Best Online Community Colleges in Arizona
Discover the best community colleges in Arizona offering online degrees. Compare tuitions for the top-ranked schools.